Found November 30, 2012 on Optimum Scouting:
The NFL's week 13 MNF matchup between the Carolina Panthers and the Philadelphia Eagles put the spotlight on a pair of 3-8 teams who are headed towards empty postseasons.  For the Carolina Panthers, they appear to be an organization that will look to shuffle the deck once more this offseason.  They pulled the plug on longtime General Manager Marty Hurney several weeks ago and second year head coach Ron Rivera's seat is plenty warm. Meanwhile, the Philadelphia Eagles are experiencing the most tumultuous stretch during the Andy Reid era where a Super Bowl caliber roster has yielded less than satisfactory results.  With owner Jeff Lurie's preseason comments which stated that Reid would not return for a 15th season if the team could not surpass last years "unacceptable" 8-8 record, the direction of the Eagle franchise is uncertain. Lets take a look at what the culture of an NFL locker room looks like after their playoff hopes have crashed before seasons end. The NFL regular season is a battle of attrition.  Every team begins with great expectations and high hopes.  Team goals are established, and always include a ticket to the postseason.  Players use the sight of these goals as added motivation and incentive to keep pressing forward each week with optimism.  Once those team goals are shattered, a locker room can quickly become a circus. As players begin planning to ship their vehicles to their off season homes, make vacation reservations, and prepare to depart their playing cities, the realization sets in.  What was once a team that saw players unify and set aside individual goals for team success, was now a team unraveling from the seat of their pants in an instance.  I can distinctly remember witnessing a veteran teammate bringing the biggest and fluffiest white pillow to meetings and propping it up against the wall to sleep.  He expressed very little shame as he assumed his normal front row seat during meetings and film sessions. This infectious behavior triggered a snowball effect as another anonymous player decided against participating in team warm up drills following a demotion from his normal starting responsibility.  It wasn't much that the head coach could say to these vested players whose salaries became guaranteed after making the opening day roster following training camp.  He'd lost the team.  These players have become disgruntled and no longer have value on a team.  They are cancerous and set improper examples for the younger players who are experiencing this atmosphere for the fist time.  Or are these vexed veterans shedding light on the big bad business side of the NFL?  Where players who are close to reaching performance incentives are mysteriously left out of the game plan.  Or where stars such as ex Philadelphia Eagle pro bowl defensive end Jason Babin are cut loose and used as a scapegoat of some sort.  Could Babin be the problem in Philly?  Sure his production has suffered some this year but such is the case with the rest of the "high-dollar" crew that was brought in over the last couple of off-seasons. Don't get me wrong; you do have your "pros pro" type of players who always maintain a level of professionalism that won't allow them to conform to an "end of season" circus.  They realize the importance of maintaining sound relationships with coaches and upper level management as the probability of crossing paths again is higher then you'd think.  Burning bridges isn't an option. For those veteran players who are nearing the end of their contracts and haven't been discussing extensions with the team, the writing is on the wall.  More than likely your final games of the season are spent auditioning for 31 other teams as you head towards free agency.  It is imperative that these players maintain a high level of play while staying healthy to give themselves the best shot at maximizing their worth in the offseason. The lower half of the roster including some practice squad players enter by far their most important time of the season.  Often times practice squad players are called up to the active roster for the last few games to evaluate their progression with live bullets.  Signing these players to active rosters also ensures that teams are able to lock them into "futures contracts", or in other words, an invite back to camp without another team getting involved in the off-season.  Nonetheless, the remainder of the season becomes a live audition for the lower half of the roster to validate their worth to the league.  Does he belong?  Does he deserve an extension?  Should we re-sign him? These are just a few of the questions that will get answered on account of how they perform throughout the final games. For most fans, a non-playoff team has little to offer outside of fantasy football scoring, but for the bulk of these rosters, the battle of attrition intensifies.  A 3-ring circus can accompany these locker rooms and provide a much tougher environment to work in. High profile casualties like Jason Babin will have little trouble finding a new NFL home and is due the rest of his $5.57 million salary this season while he sits and waits on a suitor, but the rest of the roster is left to wonder whether or not they can withstand the circus and survive a hurricane of changes that is sure to come at seasons end.   This is but a snapshot of what a turbulent NFL locker room that has fallen short expectations can look like.
Original Story:
http://www.optimumscouting.com/uncata...
THE BACKYARD
BEST OF MAXIM
RELATED ARTICLES
In a year that began with the team owner saying that another 8-8 season wouldn't be enough for Andy Reid to keep his job and the starting quarterback claiming that the Eagles were about to be a dynasty, a 3-8 start with seven consecutive losses surely wasn't the way the long-time Philly head coach drew things up. So if team owner Jeffrey Lurie is true to his word and lets Andy...
If, in fact, Philadelphia Eagles head coach Andy Reid is fired at season's end, we'll be in the market for a new leader on the grid iron.  Besides the aspects of personality characteristics, track record and reputation, one big question is whether or not we should bring in an offensive or defensive-minded head coach. And furthermore, does that matter? Well, since winning the...
Jason Babin doing his QB sack celebration, something he hasn't done much in 2012. Bye bye, Jason Babin. The Philadelphia Eagles defensive end was released on Tuesday, the first prominent player this season to see that fate. Babin, acquired during 2011's free agent spending frenzy, has not performed anywhere near last season's Pro Bowl level. His 18 sacks last year have met...
The Eagles have checked out and they are playing terrible.  Andy Reid should be spared the embarrassment the rest of the way. After an average Thanksgiving week of picks I'm sitting at 114-63.  I need to step my game up as we sprint to the postseason. Jacksonville at Buffalo - Chad Henne is proving that he can play QB in the NFL.  I liked him in Miami and thought...
One year removed from an 18-sack season, Philadelphia Eagles DE Jason Babin was abruptly released yesterday.  I don't mean to pile-on here, but I can't say I'm sad to see him go. In fact, I was very surprised they signed him (again) in 2011. I normally do not play the "I told you so" game, but…I told you so.  Back in June of 2011, I wrote an article saying why I didn't...
Image via Business Insider Poor performance breeds drama. In addition to being disappointing, this has been an incredibly dramatic season for the Philadelphia Eagles. The multitude of storylines show no sign of slowing down, particularly not as they relate to the quarterback position. Friday saw a report from ESPN's Ed Werder stating that Mike Vick felt that the Birds were "playing...
Philadelphia Eagles quarterback Michael Vick is preparing for his return.  He spent Tuesday night getting sized for a protective skull cap that he will wear under his helmet to help protect him from suffering another concussion. Vick met with Unequal Technology Corporation CEO Rob Vito to be fitted for their new "dome" device Click link below to read more!
Casey Matthews is suffering through a miserable season under head coach Andy Reid with the Philadelphia Eagles. After a 3-1 start, the Eagles have dropped seven straight and Reid has lost control of this team. It is all but inevitable that 2012 will be Reid's final season coaching the eagles, and if that is indeed the case, Matthews has a suggestion for who the next head coach...
In a somewhat shocking move on Tuesday, the Philadelphia Eagles released defensive end Jason Babin. Last season, Babin was the anchor of the Eagles defense when he recorded a career-high 18 sacks. He had only 5.5 sacks this year prior to his release and was one of the more highly-paid players on a defense that has completely lost its identity. Like most of us, Babin was surprised...
As bad as things are going for the Dallas Cowboys, it's that much worse for the Philadelphia Eagles. These injury-plagued NFC East rivals meet Sunday night at Cowboys Stadium, with the Eagles out to avoid their longest losing streak in 44 years. Dallas (5-6) is tied for second place in the division with Washington, two games behind the Super Bowl champion New York Giants. The...
NFL News

Delivered to your inbox

You'll also receive Yardbarker's daily Top 10, featuring the best sports stories from around the web. Customize your newsletter to get articles on your favorite sports and teams. And the best part? It's free!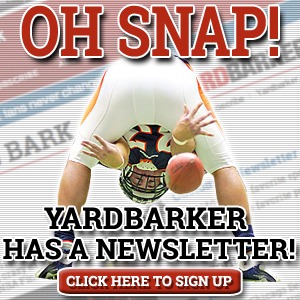 Latest Rumors
Best of Yardbarker

Today's Best Stuff

For Bloggers

Join the Yardbarker Network for more promotion, traffic, and money.

Company Info

Help

What is Yardbarker?

Yardbarker is the largest network of sports blogs and pro athlete blogs on the web. This site is the hub of the Yardbarker Network, where our editors and algorithms curate the best sports content from our network and beyond.