Found May 06, 2013 on Purple Jesus Diaries:
Look at this photo. Look at this god damn thing. Look at it and tell me you have ever seen anything more spectacular. You can't. You would be lying. And I hate liars. I have no real context for this image. I just thought it was important enough to show you all this today on a crappy Monday. I was found from a rather random Twitter account, and that didn't really provide any context either. All they said was "Cris Carter and Randy Moss play an intense game of ping pong." OK. I can see that fairly clearly from the image, as well. But frankly it doesn't matter. Would context even help? I don't need it. JUST LOOK AT THAT PICTURE! Seriously. Those two guys are awesome. This has to be early in Moss' career, don't you think? I thought Randy has an afro or braids during most of his late tenure with the Vikings, so I'm thinking this is like 1999 or 2000 or so. That would mean Carter deserves to look every bit as much of a dad as he obviously does in this picture, with the grey-suit and white tennis shoes, while the young Moss is freaking out like only the Super Freak can do. Those were the times. As an aside, what the crap kind of ping pong table is that? A table for ants? You can't have a 6'4" receiver play ping pong on a table that's half as long as he is tall. That's just stupid. Randy could just as easily reach across and under that table than he could adroitly propel a plastic ball forward between those white lines. And don't tell me that's the only ping pong table either of those guys could afford at that point in their lives. Come on now. Anyway ... I guess if I have to try and make this relevant to TODAY'S Vikings, Cris Carter's son, Duron Carter, attended the Vikings rookie camp this past weekend. He's not a very good football player, and it's a real damn stretch that he can even make the practice squad, let alone the active roster this year, but he seemed to settle in after having a rough start to the weekend, dropping his first three passes. Granted, they were from undrafted quarterbacks, so they weren't the most accurate, but he wasn't doing himself any favors. And that, is your Vikings Monday. Salute. [follow]
Original Story:
http://www.purplejesusdiaries.com/201...
THE BACKYARD
BEST OF MAXIM
RELATED ARTICLES
According to Chris Wesseling of NFL.com, the San Francisco 49er could receive a 2nd round pick for the Alex Smith trade with Kansas City. The 49ers collected an additional 2014 3rd round choice that could turn into a 2nd rounder if the Chiefs reach .500. The 49er received a 2013 2nd round pick and selected defensive lineman Tank Carridine. It's not out of the realm of possibility...
According to Matt Barrows of the Sacramento Bee, 49ers offensive lineman Mike Iupati underwent offseason shoulder surgery and will likely miss San Francisco's upcoming OTA's sessions. Add Mike Iupati to the list of 49ers who had surgery this offseason. The team's All-Pro and Pro-Bowl left guard had a procedure on his shoulder and is unlikely to take part in the team's upcoming...
When Marcus Lattimore was selected in the fourth round of this year's NFL draft by the San Francisco 49ers, he and his family couldn't hold back their emotion and with good reason. Lattimore would have certainly been a first round pick if he didn't tear up his knee during his final season at South Carolina.  Now he'll have a chance to prove that he can have a successful...
Colin Kaepernick recently got some face time with the First Lady Michelle Obama, and he took full advantage of it. Colin posted a photo to his Instagram of him and the First Lady both Kaepernicking, and the expressions on their faces are priceless. The 49ers quarterback had a break out season last year, and Kaepernicking emerged during his race through the Playoffs. Article found...
The San Francisco 49ers announced today that they've hired form Raiders wide receiver Ronald Curry as an offensive assistant coach. "The 49ers and our staff are pleased to be initiating Ronald's NFL coaching career," said 49ers head coach Jim Harbaugh. "Our team will greatly benefit from Ronald's athletic experiences, and we are happy that he and his wife, Stacie, are...
According to Peter King of SI.com, the Chiefs will have to give the 49ers a 2nd round pick for quarterback Alex Smith if they end up finishing with an 8-8 record or better in 2013. A third- or second-rounder from Kansas City, the remnant of the Alex Smith deal. Now it can be told: The second draft choice San Francisco will receive from the Smith deal will be K.C.'s second-rounder...
San Francisco 49ers, RISING: The 49ers walked away from April's draft with eleven players, six of which should be solid players for years to come. Their later picks could prove to be worthy of selection too, it's just too early to make any sort of judgment on picks, especially late round picks. In addition, the 49ers added Anquan Boldin for next to nothing in the offseason...
According to Larry Brown Sports, San Francisco 49ers quarterback Colin Kaepernick teamed up with  Michelle Obama in order to help promote physical education in schools.  The name of the program is "Let's Move." While taking some photos together, Kaepernick showed the first lady the art of Kaepernicking.  He then posted the pictures on his Instagram account.   Need NFL Tickets?
The San Francisco 49ers have signed guard Adam Snyder to a two-year contract, bringing him back to the franchise after a year with the Arizona Cardinals. The NFC champion Niners already have a steady offensive line intact to protect quarterback Colin Kaepernick, so Snyder might be fighting for playing time in his return. Arizona released the 31-year-old Snyder last Monday after...
When the first lady of the United States is doing your trademark celebration, I think you know that you made it. Earlier today, San Francisco 49ers quarterback Colin Kaepernick got the chance to meet Michelle Obama and shared his Instagram account: (Courtesy of Bleacher Report)
Cris Carter had no problem toeing the rubber on the pitchers mound at Great American Ball Park Monday night for the ceremonial first pitch. He took a big wind up, complete with leg kick, and threw a strike with some breaking action to older brother Butch behind the plate. I didnt practice. Dusty Baker and (players) told me to throw some underneath but I didnt practice at all, said...
NFL News

Delivered to your inbox

You'll also receive Yardbarker's daily Top 10, featuring the best sports stories from around the web. Customize your newsletter to get articles on your favorite sports and teams. And the best part? It's free!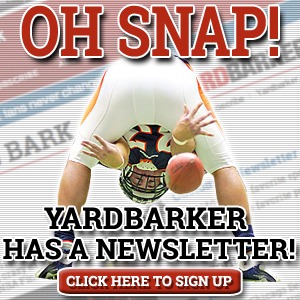 Latest Rumors
Best of Yardbarker

Today's Best Stuff

For Bloggers

Join the Yardbarker Network for more promotion, traffic, and money.

Company Info

Help

What is Yardbarker?

Yardbarker is the largest network of sports blogs and pro athlete blogs on the web. This site is the hub of the Yardbarker Network, where our editors and algorithms curate the best sports content from our network and beyond.