Found July 24, 2012 on WhoDeyFans:
On Monday, Pete Prisco of CBS Sports reported his results after being given the difficult (and silly) task of predicting every NFL game for the 2012 season. We could hammer him for some of his picks. The Patriots go 16-0 again? Child, please. The Browns to go 1-15? I enjoy a good Browns-bashing as much as anyone, and the Browns might be bad, but they aren't that bad. But if I had to do Prisco's job and guess the unguessable, I'm sure I'd have some duds, too. How did he treat the Bengals? Better than you might assume. One of the reasons I like Prisco better than guys like Peter King is that he is not afraid to defy the group-think that pervades sports journalism, welcoming the heat that will invariably come from daring to follow his own hunches, even if they turn out wrong in the end. There is no doubt that his column is drawing howls across Pennsylvania and Maryland for picking the Bengals to come out on top in the AFC North. I have filtered his full season of predictions to show just the Bengals' results. Wk 1: CIN @ BAL — Ravens 20, Bengals 17
Wk 2: CLE @ CIN — Bengals 24, Browns 17
Wk 3: CIN @ WAS — Bengals 17, Redskins 16
Wk 4: CIN @ JAX — Bengals 24, Jaguars 17
Wk 5: MIA @ CIN — Bengals 27, Dolphins 10
Wk 6: CIN @ CLE — Bengals 21, Browns 14
Wk 7: PIT @ CIN — Bengals 23, Steelers 20
Wk 8: bye
Wk 9: DEN @ CIN — Bengals 24, Broncos 23
Wk 10: NYG @ CIN — Giants 21, Bengals 20
Wk 11: CIN @ KC — Chiefs 26, Bengals 17
Wk 12: OAK @ CIN — Bengals 31, Raiders 14
Wk 13: CIN @ SD — Chargers 23, Bengals 20
Wk 14: DAL @ CIN — Bengals 17, Cowboys 14
Wk 15: CIN @ PHI — Eagles 26, Bengals 17
Wk 16: CIN @ PIT — Steelers 23, Bengals 20
Wk 17: BAL @ CIN — Bengals 17, Ravens 13 In the end, he picks the Bengals to go 10-6, getting the tie-breaker against the 10-6 Steelers and taking the #3 seed in the AFC to host either the Steelers or Chargers in the first round of the playoffs. 10-6 feels pretty close to right. I'd be more inclined to guess 11-5, with the Bengals punching the Ravens in the mouth on MNF in Week 1 as well as winning out over the Chiefs in Week 11. And I can see the Bengals letting one slip against the Denver Mannings, since they can never seem to beat either Denver or Peyton. Much has been said about the need for the Bengals to beat the better teams this year in order to see the playoffs again, and Pricso has them splitting with both the Steelers and Ravens by winning both home games. Going 4-2 in the division would be a welcome step forward this year. He also expects a mixed bag against the other tough opponents on the schedule this year. He has the Bengals beating the Broncos and Cowboys, while slipping to the Eagles, Chargers and Giants. Going 2-3 against that group and 2-2 against the Ravens and Steelers would represent significant progress over last year's 0-7 against winning teams. Performing that well with such young talent would probably make the Bengals one of the sexy picks of the 2013 offseason. My favorite score from Prisco's predictions is the 31-14 beatdown of the Raiders. Six sacks and a pick-6 en route to a 17-point win would be an utterly sweet way to send CP3 away from his (likely) last visit ever to PBS.
Original Story:
http://whodeyfans.com/2012/07/24/look...
THE BACKYARD
BEST OF MAXIM
RELATED ARTICLES
Fate could have just shut the lights out on the start of Dre Kirkpatrick's career as the promising cornerback from Alabama could miss a large chunk of training camp with a knee injury that could also involve a broken bone in his leg according to... Please click the link below to read this story.
The long offseason is finally over, Training Camp is here! The Bengals report to camp tomorrow with their first practice Friday. In this week's show: Dre Kirkpatrick sidelined with an apparent knee fracture Brandon Thompson finally signs his rookie deal Defensive Coordinator Mike Zimmer agrees to an extension through 2014 We're looking for writers! If you're a Bengals fan and...
A white-topped tent is anchored at the entrance to the Cincinnati Bengals' practice field. Workers are cleaning seats inside Paul Brown Stadium, getting ready for a franchise first. The team opens training camp this weekend without leaving home. The Bengals spent their first 44 training camps at Wilmington College and Georgetown College, small schools that were more than an...
The Cincinnati Bengals decided to revisit their running back situation, allowing Cedric Benson to leave for free agency while creating a running back committee between Bernard Scott and one of the team's high-profile free agent signings. On March 21, 2012, Cincinnati signed former New England Patriots running back BenJarvus Green-Ellis to a three-year deal worth $9 million. ...
For yet another season, Razzball will be interviewing local NFL beat writers for some in-depth actual football knowledge to sway some insight in our fantasy football knowledge.  Keep your eye out for an interview for every NFL team through the summer and check out each one on the "2012 Fantasy Football Team Previews" link.  This installment comes courtesy of Josh Kirkendall...
Defensive tackle Brandon Thompson, a third-round pick in April's NFL Draft, signed with the Cincinnati Bengals, the team announced Wednesday. Thompson, 6-foot-2, 320 pounds, played collegiately at Clemson, where he started 37 of 53 games he played. He had a 208 tackles and 22.5 tackles for loss while at the ACC school. He was the last of 10 Bengals draft selections to sign a contract.
AP Photo According to Jason La Canfora of CBSSports.com, Cincinnati Bengals rookie cornerback Dre Kirkpactrick told his teammates that he suffered an injury in his knee area and that he could miss a good part of training camp. This isn't good for Kirkpatrick, since he's a rookie.  With him having to sit out because of an injury now, he's going to miss out on vital on the field...
The Red Rifle is the definition of professional. We've got approximately 48 hours until training camp starts for our beloved Bengals. I don't know how you all feel, but this has been the longest off season I can ever remember. Not only has this been an incredibly exhausting time off for all us fans, but I'm sure Roger Goodell is ready to get this season started. There have...
Jamison Hensley at ESPN has been counting down the top-25 players in the AFC North Division for the past couple of weeks. The list will likely end around Training Camp, as he's been roughly been doing one player writeup per day. Hensley has a good pulse on the players in the AFC North as he is the "four-letter network's" division blogger. In case you've missed...
Bengals News

Delivered to your inbox

You'll also receive Yardbarker's daily Top 10, featuring the best sports stories from around the web. Customize your newsletter to get articles on your favorite sports and teams. And the best part? It's free!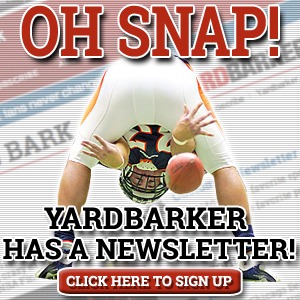 Latest Rumors
Best of Yardbarker

Today's Best Stuff

For Bloggers

Join the Yardbarker Network for more promotion, traffic, and money.

Company Info

Help

What is Yardbarker?

Yardbarker is the largest network of sports blogs and pro athlete blogs on the web. This site is the hub of the Yardbarker Network, where our editors and algorithms curate the best sports content from our network and beyond.