Found October 08, 2012 on Fox Sports Wisconsin:
PLAYERS:
Aaron Rodgers
,
Jordy Nelson
,
Jermichael Finley
,
Donald Driver
,
Cedric Benson
,
Alex Green
,
Vontae Davis
,
Justin King
,
James Jones
,
Randall Cobb
,
Greg Jennings
,
James Starks
,
John Kuhn
,
Donald Brown
,
B.J. Raji
,
Mike Neal
,
Arian Foster
,
Reggie Wayne
,
Marques Colston
,
Tramon Williams
,
Andrew Luck
,
Charles Woodson
,
Casey Hayward
,
Mason Crosby
,
Tim Masthay
TEAMS:
Green Bay Packers
,
Indianapolis Colts
,
Houston Texans
,
New Orleans Saints
,
Jacksonville Jaguars
,
Chicago Bears
As injuries to key players piled up, Green Bay's 18-point halftime lead continued to shrink. With the Packers unable to get anything going in the second half, the emotional Colts (2-2) -- playing less than one week after their head coach Chuck Pagano was diagnosed with leukemia -- came back to defeat Green Bay (2-3) in Indianapolis on Sunday afternoon. Handing out grades following the Packers' 30-27 loss to the Colts: Passing Offense: C Nearly every aspect of the Packers' performance in Indianapolis was completely different from the first half to the second half, and their passing offense was just the start of it. Prior to halftime, quarterback Aaron Rodgers had orchestrated touchdown drives of 56, 65 and 66 yards as Green Bay took a commanding 21-3 lead. Not everything about the first two quarters was perfect, with Rodgers missing wide receiver Jordy Nelson deep down the right sideline on a pass that, if well thrown, would have likely been a touchdown. Plus, Jermichael Finley and Donald Driver both dropped a pass in the first half that led to a punt. But the first half remained a positive for the Packers' passing offense overall because Rodgers did not throw an interception and was not sacked at all. In the second half, however, just about everything went wrong for Green Bay. After running back Cedric Benson left the game in the second quarter due to injury, play-calling head coach Mike McCarthy practically abandoned any ground attack, opting to throw on the first seven plays of the third quarter. The results of those decisions proved costly for the Packers in multiple ways. With McCarthy obviously not trusting backup running back Alex Green as much as he does Benson, the Colts were able to shut down Green Bay's offense by pressuring Rodgers and locking in on the receivers downfield. After halftime, Rodgers was sacked five times and threw an interception. In eight second-half drives, the Packers only came away with six points. The fact that Indianapolis was able to be this effective despite playing without starting cornerback Vontae Davis or nickelback Justin King makes it even more of a disappointment for Green Bay. Rodgers finished the game 21 of 33 passing for 243 yards with three touchdown passes and one interception. James Jones continued his productive season by adding two more touchdowns as he and Randall Cobb tied for the team lead with four receptions each. The effects of playing without Greg Jennings proved obvious yet again that the Packers' passing offense is just not as good when he's not on the field and healthy. Rushing Offense: B In the Packers' first 17 plays, Benson touched the ball on more than half of them, being given seven carries and catching two passes. That strategy was working well, with Green Bay's offense having already scored a touchdown and driving for what would soon turn into a second one. Then Benson got hurt, had to be carted to the locker room and did not return. After that, Packers running backs only got 11 touches throughout the final 43 minutes of the game. With James Starks once again inactive despite being healthy, Green Bay had only Green and fullback John Kuhn to work with in the backfield. But neither was given the same opportunities that Benson had gotten early in the first quarter. Green's very first run following Benson's injury went for nine yards and set up a touchdown on the very next play. In the Packers' next five drives combined, Green only ran the ball twice. The vast difference in run-to-pass ratio before and after Benson's injury was a clear indication of just how differently McCarthy viewed the two running backs. Green's final run of the game, a 41-yard burst that displayed two elite-level cutbacks, once again set up a touchdown on the next play. One thing that became even more apparent in this game for the Packers is that whether it's Benson or Green, running the ball sets up better passing opportunities for Rodgers. Rodgers actually led the team in rushing with 57 yards on five scrambles. Green finished with nine carries for 55 yards (6.1 average) and Benson had seven rushes for 20 yards (2.9 average) before leaving with his foot injury. Kuhn scored the only rushing touchdown of the game on one of his two attempts that totaled nine yards. Rushing Defense: C Donald Brown is a fine player, but the Packers' defense should have been able to prevent the Colts' starting running back from putting together a game of 17 carries for 84 yards (4.9 average). Losing nose tackle B.J. Raji early in the second quarter was a big loss, especially because Green Bay does not have a true backup at that position. Raji's skill level at 337 pounds is a disruption simply with his presence on the field, and without him, the Packers struggled to stop the run. Raji's absence gave more snaps to returning defensive lineman Mike Neal, but he's more of a pass rusher than a run-stopper. Indianapolis had this success on the ground even without several of its starting offensive linemen. As a team, the Colts finished with 119 rushing yards, boosting their season average up to 90.3 per game, which still ranks as the 21st-best in the NFL. If Raji is out next weekend against the Houston Texans and star running back Arian Foster, Green Bay's rushing defense is in for a long day if several players don't significantly step up their games. Even if Raji returns, there is plenty for the Packers' group upfront to improve upon. Passing Defense: C- Colts receiver Reggie Wayne could not be stopped. Even outdoing the stellar performance that Saints receiver Marques Colston put up against the Packers in Week 4, Wayne finished with 13 catches for 212 yards and one touchdown. In consecutive games, Tramon Williams, who's expected to be the team's shutdown No. 1 cornerback, has gotten beat up badly by Colston and now Wayne. Williams needs help, though, and he has gotten very little of it recently. Playing against a rookie quarterback in Andrew Luck, despite his status as the No. 1 overall pick in the draft, Green Bay needs to perform much better than it did Sunday. Last season, veteran Charles Woodson picked off rookie quarterbacks Cam Newton and Christian Ponder twice each, but couldn't come up with one in this game. Luck did throw one interception on a perfectly played ball by rookie cornerback Casey Hayward. There has been improvement from Hayward on a weekly basis and his progression is at least one encouraging sign for the Packers. But other than that, Luck looked like a proven quarterback, not a rookie, leading the Colts on a 13 play, 80 yard game-winning drive in less than four minutes that had Green Bay overwhelmed. Special Teams: D It was not a good day for Mason Crosby. Though both of his missed field goals were from beyond 50 yards, they are kicks that McCarthy expects him to make. Crosby's first miss was from 52 yards out midway through the third quarter. Later, with a chance to tie the game in the final seconds of regulation, Crosby did not even come close to the goal post. These were the first two missed field goals this season for Crosby, but they were both very costly. On the positive side, punter Tim Masthay continues to be one of the NFL's best at the position, once again helping the Packers create difficult field position for the opposing team's offense. Overall: C- It was a loss to a rookie quarterback on a rebuilding team that went 2-14 last season. It was a loss to a team that just two weeks ago couldn't beat the lowly Jacksonville Jaguars at home. It was a loss to a team that gave up 41 points to the Chicago Bears in Week 1 while losing by 20. This was just a really bad loss for the Packers to fall to the Colts in this manner. Unless significant changes are made quickly, the previously inconceivable idea that Green Bay may not even make the playoffs could become reality. With a trip to Houston to face the well-rounded Texans in Week 6, the Packers are in danger of falling two games below .500 at 2-4. The dominant Green Bay offense from last season is nowhere to be found and the Packers' defense isn't forcing turnovers at nearly the same rate that they did a year ago. It's difficult to imagine the team that went 15-1 has fallen this far so quickly, but through five games, that appears to be the case. Follow Paul Imig on Twitter.
Original Story:
http://www.foxsportswisconsin.com/10/...
THE BACKYARD
BEST OF MAXIM
RELATED ARTICLES
A 21-3 halftime lead for the Green Bay Packers was the type of first-half performance that the team expected. The second half, however, was a struggle for the Packers in nearly every area of the game as Green Bay (2-3) lost to the Indianapolis Colts, 30-27. Five things we learned from the Packers' loss: 1. A loss that can't happen: If the Packers are going to be a legitimate...
The twists and turns of the 2012 NFL season continue to unfurl, and not even the old officials can stave off the surprises each week seems to bring.The Indianapolis Colts, just days after learning of Head Coach Chuck Pagano's diagnosis with leukemia, overcame a 21-3 halftime deficit to beat the visiting Green Bay Packers 30-27 in a game that could come back to haunt the 2010...
As if the Green Bay Packers weren't already reeling from their loss against the Indianapolis Colts, things got worse on Monday morning when Mike McCarthy announced RB Cedric Benson would not play this week against the Houston Texans.Early in the 2nd quarter against the Colts, Benson got his ankle rolled up (above) and had to be helped off the field by team trainers. Benson was...
With Cedric Benson out for at least 8 weeks, Alex Green should have some nice fantasy value going forwardChristian Ponder MIN QBThe young Vikings QB has been very impressive this season. Sure, he still comes off as a game manager, but that perception is starting to change. In standard leagues, he has scored 18 points or more in 3 of the last 5 games and he is on pace to nearly...
According to the Green Bay Press-Gazette via Rotoworld.com, the Packers will likely consider starting James Starks at running back with Cedric Benson out for at least the next eight weeks.Starks looked very unimpressive during the preseason and hasn't played yet in the regular season because of a turf toe injury.  Alex Green will also likely get some carries this Sunday against the Texans.
GREEN BAY, Wis. -- A loss to the Colts was not the only issue for the Packers coming out of Sunday's game in Indianapolis. The injuries to running back Cedric Benson (foot), tight end Jermichael Finley (shoulder) and nose tackle B.J. Raji (ankle) were all serious enough that none of those three were able to return to the game.Benson's foot injury appears to be the most problematic...
Green Bay Packers running back Cedric Benson is likely to miss eight weeks with a Lisfranc foot injury. While multiple reports indicated Monday night that the injury was more serious, Benson said Sunday night after the Packers' loss at Indianapolis that he felt his injury was a common sprain, which might've put him on the sideline for only 1-2 weeks. "I was able...
Green Bay Packers running back Cedric Benson left Sunday's game after a leg injury. Benson had his leg rolled up at the end of a three yard catch early in the second quarter. Benson was able to leave the field but was carted to the locker room. Alex Green replaced him. Benson had totaled 41 yards prior to the injury. Benson had 228 yards gained at 3.6 yards per carry entering this game.
Green Bay Packers running back Cedric Benson suffered a leg injury during today's loss to the Colts. "Benson got his foot/leg rolled up at the end of a three-yard reception early in the second quarter. He walked off the field under his own power, but was carted to the locker room for further evaluation. It's unclear if his afternoon is through, but that's likely the case...
Green Bay Packers running back Cedric Benson, who injured his foot in Sunday's loss to Indianapolis, will not play in next Sunday's game against Houston, Packers coach Mike McCarthy told reporters Monday. Benson's foot was encased in a boot on Monday, and his injury adds to a list of health problems for the Packers. Tight end Jermichael Finley and nose tackle B.J. Raji...
Green Bay Packers running back Cedric Benson was carted off the field at Lucas Oil Stadium in Indianapolis with a foot injury. The team announced his return was questionable. With No. 2 running back James Starks in active, the Packers were left with fullback John Kuhn and Alex Green as tailback options without Benson.
Week 5 in the 2012 season will likely be remembered for two significant events: the Colts came back to win after an 18-point halftime deficit the game after their coach was diagnosed with Leukemia and Drew Brees broke Johnny Unitas' record with his 48th straight game with a touchdown pass. Two starting quarterbacks - Matt Cassel and Robert Griffin III - exited their respective...
NFL News

Delivered to your inbox

You'll also receive Yardbarker's daily Top 10, featuring the best sports stories from around the web. Customize your newsletter to get articles on your favorite sports and teams. And the best part? It's free!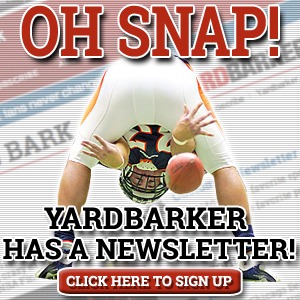 Latest Rumors
The Backyard

Today's Best Stuff

For Bloggers

Join the Yardbarker Network for more promotion, traffic, and money.

Company Info

Help

What is Yardbarker?

Yardbarker is the largest network of sports blogs and pro athlete blogs on the web. This site is the hub of the Yardbarker Network, where our editors and algorithms curate the best sports content from our network and beyond.