Found October 08, 2012 on Fox Sports:
PLAYERS:
Peyton Manning
,
Andrew Luck
,
Jamaal Charles
,
Liam Neeson
,
Brady Quinn
,
Alfred Morris
,
Mike Shanahan
,
Victor Cruz
,
Hakeem Nicks
,
Reggie Wayne
,
Tony Gonzalez
,
Michael Vick
,
Adam Sandler
,
LeSean McCoy
,
DeSean Jackson
,
Brent Celek
,
Jeremy Maclin
,
Carson Palmer
,
Cam Newton
,
Chris Johnson
,
Javon Ringer
,
Fred Jackson
,
C.J. Spiller
,
Greg Jennings
,
Wes Welker
,
Justin Blackmon
,
Blaine Gabbert
,
Julio Jones
,
Antonio Gates
,
Scott Chandler
,
Mario Williams
,
Mark Anderson
,
Stephon Gilmore
,
Robert Griffin III
TEAMS:
Indianapolis Colts
,
Kansas City Chiefs
,
Washington Redskins
,
New York Giants
,
Atlanta Falcons
,
Seattle Seahawks
,
Philadelphia Eagles
,
Oakland Raiders
,
Tennessee Titans
,
Buffalo Bills
,
Green Bay Packers
,
New England Patriots
,
Jacksonville Jaguars
,
San Diego Chargers
,
Pittsburgh Panthers
Though the calendar states Columbus Day as a time to venerate the maiden voyage to the Americas, the holiday receives little admiration. Banks are closed, but pretty sure the financial district gets respite for such "celebrations" as Oktoberfest and National Pancake Day. The Canadians think so little of the festivities that they coincided their Thanksgiving with the commemoration to Cristobal Colon. Besides, should we really revere a man, who by all accounts was a terrible person, for an accident? The observance does serve one purpose, however: the perfect juncture for evaluating the early-season performances from the fantasy world, as all teams have at least four games under their belts with most squads competing in five contests. Here are the risers and fallers of the fledgling 2012 campaign: Rising stock QB: Peyton Manning, Broncos The forecast looked rocky in Mile High following a forgettable foray in a Week 2 matchup with Atlanta, as the Broncos field general no...
Original Story:
http://msn.foxsports.com/fantasy/foot...
THE BACKYARD
BEST OF MAXIM
RELATED ARTICLES
Chris Hummer put out a pretty good article on Andrew Luck after yesterday's game, around how little Luck looked like (say that five times fast) a rookie against Green Bay. He finished with 362 yards and two touchdowns but his no-huddle offense, cool demeanour, and quick feet won the Colts the game. In fact, the only other thing Hummer could have touched on was, arguably, Luck...
Evan Hilbert's Colts Notebook over at CBSSports.com this week focuses on Andrew Luck's command of the no-huddle, a rarity among rookies.  Hilbert goes over some upcoming matchups that look winnable and recounts the flurry of moves at the bottom of the roster this week.  He also has something from Interim Coach Bruce "B.A." Arians that I found very interesting...
The Indianapolis Colts entered Sunday's game against the Green Bay Packers without their head coach and uncertain of the direction this season was taking. Andrew Luck more than answered the call in such a big moment, though, establishing the Colts as legitimate playoff contenders. Luck, the first pick in April's NFL draft and a perennial superstar for a few years now, undertook...
Andrew Luck had his best game yet in leading the Colts back from a 21-3 halftime deficit over the Green Bay Packers. It ties the largest comeback win of the season, and the largest by a rookie since Matthew Stafford's 21-point comeback over Cleveland in 2009. For the third straight game Luck led the offense on a go-ahead scoring drive with less than a minute to go, and Green...
All Andrew Luck and Reggie Wayne wanted to do was honor coach Chuck Pagano the best way they knew how - by winning. The two biggest playmakers on Indy's offense teamed up in the second half, wiping out an 18-point halftime deficit and hooking up on a 4-yard TD pass with 35 seconds left that gave the Colts a stunning 30-27 victory over Green Bay. It was a wild finish to an emotionally...
Green Bay Packers linebacker Nick Perry drilled Indianapolis Colts quarterback Andrew Luck in the chest during the second quarter of Sunday's NFL game in Indy. Luck fumbled and the ball was recovered by Packers linebacker D.J. Smith, but the play was nullified as Perry was called for an unsportsmanlike conduct penalty for leading with his helmet. Fortunately...
Hosts Steve Bennett and Don Russ interview the biggest names in sports media and pop culture each week on Football Nation's The Sports-Casters podcast.Their guest this week is Ian Rapoport from NFL Network and NFL.com. Rapoport was in Indianapolis Sunday to witness the Colts comeback win against the Packers. He was impressed enough by Andrew Luck's performance to say that...
Colts Authority's Todd Smith has some postgame grades for the Colts after their inspiring win over Green Bay.  Todd graded and analyzed everyone from Andrew Luck (A) to Josh Gordy (B-), and he saw some good work from some members of the offensive line (no, not all of them), defensive line, and the linebackers: Robert Mathis: A- He got a hit on Rodgers in the redzone, forcing...
Bob Lamey, the voice of the Colts gives a very upbeat Colts Midday Update today on 1070 The Fan.  Bob has excerpts from Reggie Wayne, Jim Irsay, and Andrew Luck, who said of Reggie: "Reggie Wayne is, he's the best football player I've ever played with, and I'm very blessed, fortunate to be on the same team as him." Sunday's win over the Packers mean a...
No gremlins tonight! So glad to be back rocking and rolling without technology issues! We are back and better than ever!Great show tonight and we definitely ran the gamut from the highs (the Colts) the lows dumb fans doing dumb things (Athens, GA, Atlanta, Jacksonville and Kansas City) and of course Bikini Basketball (it's legit folks!)Special thanks to Tommy Schoegler from Indiana...
This guy just tossed his hat in for the most embarrassing moment for an NFL fan this week.Seen here is an Indianapolis Colts supporter mining for gold throughout his nasal passages during Sunday's home contest against the Green Bay Packers. Apparently the fact that the Colts rallied from behind to win in thrilling fashion (30-27) wasn't enough to keep him interested.Let...
The Green Bay Packers begin a consecutive three-game road trip today in Indianapolis. The Colts are coming off their bye week during which their head coach, Chuck Pagano, left the team to receive treatment for recently diagnosed leukemia. The Colts have a record of 1-2. The Packers are coming off a hard-fought battle against the Saints -- and the referees, for a second week in a...
NFL News

Delivered to your inbox

You'll also receive Yardbarker's daily Top 10, featuring the best sports stories from around the web. Customize your newsletter to get articles on your favorite sports and teams. And the best part? It's free!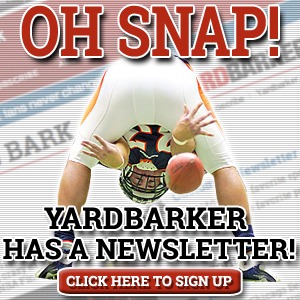 Latest Rumors
Best of Yardbarker

Today's Best Stuff

For Bloggers

Join the Yardbarker Network for more promotion, traffic, and money.

Company Info

Help

What is Yardbarker?

Yardbarker is the largest network of sports blogs and pro athlete blogs on the web. This site is the hub of the Yardbarker Network, where our editors and algorithms curate the best sports content from our network and beyond.