Found September 12, 2012 on The Victory Formation:
Tell me you don't miss John Madden. We all do. We all miss his color commentary, we grew up with him saying the most obvious things while doodling on the telestrator. We also miss his over-the-top gushing over certain players *cough* Favre *cough* that he was known for. We don't even get to enjoy him on his own video game anymore. We are left to little quotes here and there from appearances on radio shows.
During a recent visit on SiriusXM NFL Radio, Madden made a comparison that probably many didn't expect with regards to Washington Redskins rookie quarterback, Robert Griffin III:
"You know, the thing that he did that was so amazing was he reminded me — and I don't mean to throw names around — but he reminded me of a Tim Tebow that can pass."
So, he didn't mean to throw a name around, but he did throw THE biggest name that divides NFL households.
"You know, Tim Tebow, when he was playing for Denver last year, he would tend to freeze the defenses, because they weren't sure if it was run or pass, if he was gonna hand off or run. I mean, he couldn't pass like RGIII — [Griffin] can throw the ball — but he has a tendency to freeze the defense."
If you didn't actually hear the interview, you can just imagine how it sounded when Madden said it. It reads exactly the way he sounds. Oh, and he wasn't done. Remember the over-the-top gushing we just talked about? Here it comes.
"It's darn near an impossible task to open up and play the Saints in their place," Madden said. "I mean, no one wins down there, so I didn't expect him to do anything like he did. But I did want to see him, and I wanted to see what he had. And at some point, I have to admit that I said this, it just came out, I said RGIII's the best player in the NFL today. That's what I really thought. Those words did come out."
Boom. There it is. Madden is already head over heels for RGIII. I guess we are somewhat lucky that he actually retired from the booth, because having to hear it every single week would get kinda nauseating.
(Listen to the interview here)
Also from The Victory Formation:
Photo: Colorado farmers have a Peyton Manning corn maze
John Harbaugh on Joe Flacco: 'Pay the man'
Kansas City Chiefs apologized to fan they called 'clueless'

Original Story:
http://www.thevictoryformation.com/20...
THE BACKYARD
BEST OF MAXIM
RELATED ARTICLES
After a week in which he threw for 320 yards, Robert Griffin III has gained the respect of New York Giants Osi Umenyiora (Credit: AP Photo) This summer, Giants defensive end Osi Umenyiora said he wasn't referring to Robert Griffin III by his initials and number until he earned it. "Who is this RG3 guy you guys keep talking about?'' Umenyiora said on WFAN. "You talking...
Back in July during an interview on WFAN, Giants defensive end Osi Umenyiora wondered why people were calling Redskins rookie quarterback Robert Griffin III "RG3". In Umenyiora's eyes, Griffin hadn't done anything in the NFL yet so he didn't deserve to have that nickname. So instead, he would call him "Bob Griffin". Predictably, Griffin said he was fine with being called...
Still stinging from the thrashing they took from Robert Griffin III, the New Orleans Saints have turned to their attention toward defending another dual threat quarterback in Carolina's Cam Newton. Like Griffin Newton is capable of breaking down a defense with his feet as well as his arm, and presents many of the same challenges for the Saints the Washington rookie did. Saints...
Matt Barkley's Heisman campaign began on December 22nd, 2011, the day he decided to return for his senior season. Denard Robinson's and Montee Ball's began even earlier in the month, on December 10th immediately after Robert Griffin III won the trophy. That's the way the Heisman works these days. The first thing I was asked [...]
OK, so Week 1 could have gone a little bit better, but that's why there are 17 of these. The NESN.com NFL picks podcast got off to a rough 7-9 start in Week 1, but that's to be be expected. After all, what can you really expect out of anyone in Week 1? One team that took the podcast -- and a lot of others by surprise -- was the play of Robert Griffin III and the rest of the...
It was the first week of the 2012 NFL season, and there was plenty to be excited about.  There were great match-ups across the board, to go along with many fascinating story lines. We got to witness Peyton Manning's debut as the Broncos quarterback, Cowboys and Giants (after lots of trash talking), Mark Sanchez's season opener with the dramatic filled Jets, and five rookie quarterbacks...
Hosts Steve Bennett and Don Russ interview the biggest names in sports media and pop culture each week on Football Nation's The Sports-Casters podcast.Their guest this week is Don Banks from Sports Illustrated and SI.com. Each week, Banks posts his weekly power ranking column on the Sports Illustrated website. Banks chats with the guys about the long NFL off-season, overreactions...
I am sure that Washington Redskins fans are over the top on rookie sensation Robert Griffin III who did the impossible last Sunday. Griffin exceeded our excessive expectations of him. For once, the Daniel Snyder hype machine doesn't feed the excess. It is spontaneous and it affects everyone. Madden: RGIII is "a Tim Tebow that can pass": thevictoryformation.com/2012...
Redskins News

Delivered to your inbox

You'll also receive Yardbarker's daily Top 10, featuring the best sports stories from around the web. Customize your newsletter to get articles on your favorite sports and teams. And the best part? It's free!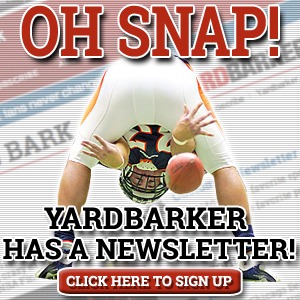 Latest Rumors
Best of Yardbarker

Today's Best Stuff

For Bloggers

Join the Yardbarker Network for more promotion, traffic, and money.

Company Info

Help

What is Yardbarker?

Yardbarker is the largest network of sports blogs and pro athlete blogs on the web. This site is the hub of the Yardbarker Network, where our editors and algorithms curate the best sports content from our network and beyond.