Tell me you don't miss John Madden. We all do. We all miss his color commentary, we grew up with him saying the most obvious things while doodling on the telestrator. We also miss his over-the-top gushing over certain players *cough* Favre *cough* that he was known for. We don't even get to enjoy him on his own video game anymore. We are left to little quotes here and there from appearances on radio shows.
During a recent visit on SiriusXM NFL Radio, Madden made a comparison that probably many didn't expect with regards to Washington Redskins rookie quarterback, Robert Griffin III:
"You know, the thing that he did that was so amazing was he reminded me — and I don't mean to throw names around — but he reminded me of a Tim Tebow that can pass."
So, he didn't mean to throw a name around, but he did throw THE biggest name that divides NFL households.
"You know, Tim Tebow, when he was playing for Denver last year, he would tend to freeze the defenses, because they weren't sure if it was run or pass, if he was gonna hand off or run. I mean, he couldn't pass like RGIII — [Griffin] can throw the ball — but he has a tendency to freeze the defense."
If you didn't actually hear the interview, you can just imagine how it sounded when Madden said it. It reads exactly the way he sounds. Oh, and he wasn't done. Remember the over-the-top gushing we just talked about? Here it comes.
"It's darn near an impossible task to open up and play the Saints in their place," Madden said. "I mean, no one wins down there, so I didn't expect him to do anything like he did. But I did want to see him, and I wanted to see what he had. And at some point, I have to admit that I said this, it just came out, I said RGIII's the best player in the NFL today. That's what I really thought. Those words did come out."
Boom. There it is. Madden is already head over heels for RGIII. I guess we are somewhat lucky that he actually retired from the booth, because having to hear it every single week would get kinda nauseating.
(Listen to the interview here)
Also from The Victory Formation:
Photo: Colorado farmers have a Peyton Manning corn maze
John Harbaugh on Joe Flacco: 'Pay the man'
Kansas City Chiefs apologized to fan they called 'clueless'

MORE FROM YARDBARKER
Redskins News

Delivered to your inbox

You'll also receive Yardbarker's daily Top 10, featuring the best sports stories from around the web. Customize your newsletter to get articles on your favorite sports and teams. And the best part? It's free!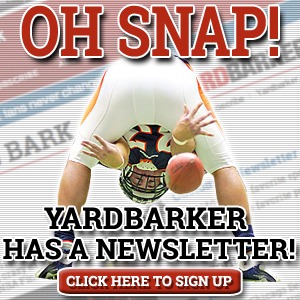 Latest Rumors
Best of Yardbarker

Today's Best Stuff

For Bloggers

Join the Yardbarker Network for more promotion, traffic, and money.

Company Info

Help

What is Yardbarker?

Yardbarker is the largest network of sports blogs and pro athlete blogs on the web. This site is the hub of the Yardbarker Network, where our editors and algorithms curate the best sports content from our network and beyond.