Found December 04, 2012 on Turn On The Jets:
New York Jets head coach Rex Ryan will likely announce a decision on his starting quarterback within the next 24 hours. There have been various reports on who prefers who in the Jets hierarchy, but at this point who can really trust any sources from this organization? We know this much, it isn't going to be Tim Tebow. Rex Ryan, Mike Tannenbaum and the entire coaching staff have never shown a hint of interest of giving Tebow a major role and that isn't going to change now. This was 100% a PR trade and at this point, it is almost an act of defiance and protest by everybody not named Woody Johnson to keep him on the bench. Tebow will never start a game here, may never play another snap again here, and without question will be let go this off-season. This leaves the decision down to Greg McElroy and Mark Sanchez. From what I can tell about 95% of the fanbase wants McElroy to start because the backup quarterback is always the most popular guy in town and he did provide a needed shot of energy to the Jets huddle on Sunday. Outside of that, there is a reasonable argument to give him the ball for the final four games of this disappointing season. Considering how Mark Sanchez looked on Sunday from the opening snap and his general play throughout this season, it is fair to surmise that he is mentally finished as a quarterback in this market. Doesn't Rex Ryan have to hold his players accountable for porous play on the field…especially his quarterback? You can't watch the game tape from the past two weeks and say Sanchez gives the Jets a very good chance to win. Simply put, he is playing like a bottom three starting quarterback in the league right now and could jeopardize four very winnable games down the stretch for his team. McElroy looked decent enough in his first NFL action and could be a viable contender for a starting job next season. The only way the Jets will find that out is by giving him a chance here. His arm strength is suspect but at a minimum, it is fair to expect relatively smart, mistake free football from him which could be all the Jets need to finish 4-0 and keep themselves distantly relevant in the playoff race into week 16 and week 17. On the other hand, Mark Sanchez is owed over 8 million guaranteed dollars from the team next season. Unless they want to take a massive cap hit, he is likely going to be on the roster next year. He is a former first round pick who has been successful here, no matter how much certain people want to act like it never occurred, shouldn't you give him every last chance to turn it around…particularly in a generally meaningless final four games? If there is a place to build somebody's confidence back up, it is on the road the next two weeks against awful Jacksonville and Tennessee defenses. If you permanently send him to the bench here, is there any way he is viable competitor to start next year or do you just accept a 8 million dollar cap hit or spending that on a backup? People are going crazy for McElroy but is there any reason to believe his ceiling is anything higher than "game manager?" Are the Jets in such a rush to usher in another era of that type of football or will they finally look to do better than that at quarterback? If McElroy plays okay down the stretch and the Jets finish well, the team can't be blinded by that and must still bring in veteran competition for him. There is an argument for both sides at this point despite the fan's angst towards Sanchez. It is a critical decision that could ultimately seal the fate of Rex Ryan, Mike Tannenbaum and Tony Sparano which is what should make these next few days and upcoming game especially compelling. - Ultimately my prediction is that the team will cave to public sentiment and go with McElroy. The Jets will finish winning 3 of their last 4 or maybe even running the table behind generally average play from him. They will try like hell to move Sanchez in some way this off-season (probably failing) and whether he comes back or not as a "competitor" for the starting job with McElroy and a veteran add on will depend on their desire to stomach such a large cap hit for a player not on the roster.
Original Story:
http://turnonthejets.com/2012/12/maki...
THE BACKYARD
BEST OF MAXIM
RELATED ARTICLES
If Rex Ryan is going to go down, he's apparently going to do so with his guy under center. ESPN's Adam Schefter reports that Ryan is going to name Mark Sanchez his starting quarterback for the Jets' game this Sunday in Jacksonville against the Jaguars. This comes just a few days after Ryan pulled Sanchez during the team's 7-6 win over the Arizona Cardinals. Though nothing...
After another bad performance by quarterback Mark Sanchez, MetLife Stadium overflowed with "boos" and "Tim Tebow" chants. But around the NFL, other coaches are starting the best QB to win.  San Francisco coach, Jim Harbaugh, made the bold decision to start Colin Kaepernick over starter Alex Smith. The Jacksonville Jaguars have broken their losing streak by starting Chad...
Apparently this is what Tim Tebow gets for minding his own business. The New York Jets backup quarterback has done and said all the right things this season, but that hasn't shielded him from heavy criticism. Several anonymous Jets players ripped Tebow a few weeks ago and it turned into the biggest media circus of the 2012 season. Now, it would appear that the Denver Broncos want...
New York Jets backup quarterback Tim Tebow is not active for the team's game against the Arizona Cardinals because of a rib injury. Tebow has two broken ribs, suffered at Seattle on Nov. 11, and was limited in practice all week. Third-stringer Greg McElroy is active for the first time in his NFL career and will back up starter Mark Sanchez. Tebow was active Thanksgiving night...
After throwing three interceptions on 21 attempts with zero touchdowns and a fan base that has totally come down on him, the Jets finally pulled Mark Sanchez in favor of second year QB Greg McElroy. And in the very short time McElroy was given to prove himself running the Jets offense, the young QB out [...]
We just mentioned that Jason La Canfora of CBS Sports has indicated that New York Jets head coach Rex Ryan is leaning towards starting Greg McElroy at quarterback next week. One of the most interesting things about La Canfora's report is that the Jets don't consider Tim Tebow to be a starting candidate. This is confirmation that all Tebow is, is a gimmick to the Jets organization...
Third-stringer Greg McElroy stepped in for a struggling Mark Sanchez and energized the New York Jets to a 7-6 victory over the Arizona Cardinals on Sunday. With Tim Tebow inactive as he heals from two broken ribs, coach Rex Ryan pulled Sanchez for McElroy - as the crowd at MetLife Stadium cheered wildly - late in the third quarter. McElroy led the Jets (5-7) to their only points...
According to Manish Mehta of the New York Daily News, Jets owner Woody Johnson prefers to have Greg McElroy start over Mark Sanchez..  Head coach Rex Ryan and general manager Mike Tannebaum however want Sanchez back under center this week. I'm told owner Woody Johnson prefers Greg McElroy to be starting QB. GM Mike Tannenbaum & OC Tony Sparano prefer Mark Sanchez this week...
Mark Sanchez has been replaced as Jets quarterback by third-stringer Greg McElroy in the third quarter after another miserable performance by the New York starter. Sanchez was 10 for 21 for 97 yards and three interceptions when he left with 4:48 left in the third quarter and the Jets trailing the Arizona Cardinals 3-0 on Sunday. McElroy, active for the first time in his two-year...
EAST RUTHERFORD, N.J. -- Greg McElroy made his NFL debut after Mark Sanchez was benched following three miserable quarters and capped his first drive with a one-yard touchdown pass to Jeff Cumberland on the first play of the fourth quarter as the New York Jets edged the Arizona Cardinals, 7-6, in a remarkable battle of offensive ineptitude Sunday afternoon. McElroy went 5-for-7...
Jets News

Delivered to your inbox

You'll also receive Yardbarker's daily Top 10, featuring the best sports stories from around the web. Customize your newsletter to get articles on your favorite sports and teams. And the best part? It's free!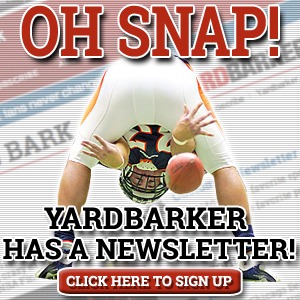 Latest Rumors
Best of Yardbarker

Today's Best Stuff

For Bloggers

Join the Yardbarker Network for more promotion, traffic, and money.

Company Info

Help

What is Yardbarker?

Yardbarker is the largest network of sports blogs and pro athlete blogs on the web. This site is the hub of the Yardbarker Network, where our editors and algorithms curate the best sports content from our network and beyond.