Found September 14, 2012 on Fox Sports:
PLAYERS:
Peyton Manning
,
Eric Decker
,
Demaryius Thomas
,
Brandon Stokley
,
Jacob Tamme
,
Aaron Rodgers
,
Tom Brady
,
Matt Ryan
,
Brent Grimes
,
Christopher Owens
,
Chris Harris
,
Rahim Moore
,
Emmanuel Sanders
TEAMS:
Denver Broncos
,
Green Bay Packers
,
New England Patriots
,
Atlanta Falcons
,
Pittsburgh Steelers
Turns out, Peyton Manning does have a favorite wide receiver in Denver - the one who's open. That's the thing about the Broncos quarterback: He doesn't particularly play favorites. The four-time NFL MVP is so adept at spreading the wealth around that he's not choosy about his choices. All he demands is a little bit of open space. Manning completed passes to six different receivers in a season-opening win against Pittsburgh, simply by taking what the Steelers defense gave him. His ability to stay patient in the pocket and quickly scan the entire field is what makes Manning, well, Manning. And it also makes his receivers work that much harder down the field, even if they're the fifth option on a play. ''If you're open, he's going to find you,'' said Eric Decker, whose team will play in Atlanta on Monday night. ''That's why he's so good.'' Not to mention so hard to defend. He's steadily building a rapport with each of his receivers as he learns precisely what they can do. Sure, it's just one game, but after the Steelers game, this much appears clear: Demaryius Thomas is the big-play threat and Decker the possession receiver. Brandon Stokley, Manning's good friend and former teammate in Indianapolis, is the security blanket after coming up with several clutch third-down grabs. There are plenty of receptions left for players such as tight end Jacob Tamme, who caught all five passes thrown in his direction, including a 1-yard TD. ''I think we do a good job here moving all our receivers in some different spots, giving them different routes,'' Manning said. ''If they're not open, I don't necessarily think you should throw it to them.'' Probably a good idea, given that somebody else just might be. ''The great quarterbacks in the league right now - Aaron Rodgers, Tom Brady, Matt Ryan - all these guys, have about seven, eight, nine guys catching the ball every game,'' said Decker, who had five catches for 54 yards. ''That's because they're not forcing it to one or two guys. They're spreading it out and letting the game come to them.'' Now, the Broncos will go to work against a dinged-up Falcons secondary after they lost one of their top cornerbacks in Brent Grimes, who tore his Achilles tendon at Kansas City. Atlanta will shuffle around the secondary in nickel coverages with career reserve Christopher Owens playing the middle. ''Being a backup in the NFL is probably the toughest position to play, because when the starter gets hurt, everybody in the building and everybody in the locker room is expecting the backup to come in and perform at the same level as a starter,'' Falcons coach Mike Smith said. Make no mistake, Manning will find the new guy and pick on him. Nothing personal, just business. Should a defense try to blitz Manning - to take some of the pressure off the secondary - that typically doesn't turn out well, either. Manning thrives under pressure. So, just how good is Manning at finding the open man? ''Well, he's played a lot of football and he's one of the best of all time, so he's pretty good at it,'' offensive coordinator Mike McCoy said. Thomas took his turn in the spotlight against the Steelers, hauling in a simple screen pass from Manning and racing 71 yards for a score in the third quarter. Next week, it could just as easily be Decker or Stokley or anyone else for that matter. ''You never know who's going to be the No. 1 target, because he spreads the ball out so much,'' said Thomas, who caught five passes for 110 yards. ''I feel like I got a big play and caught it at the right time, and it just happened to be that I had the most yards and the touchdown.'' For Smith, the verdict is in - Manning is back to his customary form. Smith was that impressed with the veteran QB who's coming off four neck surgeries, especially when the Broncos turned to the no-huddle and picked apart the Steelers. ''I thought he had a very good command of the offense, threw the ball extremely well, had some throws to the wide side of the field that looked like the old Peyton,'' Smith said. Notes: CB Chris Harris (ankle) missed practice for a second straight day, but insists he could be ready by Monday. ''I recover pretty fast,'' he said. ... DB Rahim Moore was $21,000 lighter in the wallet after being fined by the league for hitting defenseless Steelers receiver Emmanuel Sanders in the head and neck area Sunday night. ''I want to play the game right. I want to do what's right within the rules,'' Moore said. ''But we all make mistakes.'' --- Online: http://pro32.ap.org/poll and http://twitter.com/AP-NFL
Original Story:
http://msn.foxsports.com/nfl/story/Ma...
THE BACKYARD
BEST OF MAXIM
RELATED ARTICLES
Yeesh, that didn't take long.  Barely one game into his tenure as starting quarterback for the Denver Broncos and already Peyton Manning has his own corn field maze, located just outside Greeley, Colorado.  He was a god in Indianapolis and I don't remember any farmer's doing this for him during his time with the Colts.  Could be that there aren't many corn fields in the...
Well, Peyton Manning-mania is in full bloom in Colorado, as mysterious crop circles emerge in the image of the star Broncos QB. OK, they're not mysterious. But it would better if aliens had left them behind.
How much does Denver love Peyton Manning? This Much - Denver-based photojournalist Cody Crouch tweeted this photo of a Colorado corn field carved to look like Denver Broncos QB Peyton Manning. This is amazing and goes to prove that "Tebowmania" is over and now it's all about "Manning Madness".  Click here! to Read More...
Denver Broncos News NFP is seeing a lot of similarity to the Denver Broncos offense today and the one Peyton Manning ran when he was with the Indianapolis Colts. I'm not surprised, the Broncos would be fools not to do that. Heck, if they'd do it for Tim Tebow and the option, why wouldn't they do it for Manning? [National Football Post] The Atlanta Falcons coaches had some...
Peyton Manning earned all the headlines and accolades in the Denver Broncos' 31-19 win over the Pittsburgh Steelers, but Tracy Porter scored the play of the game.It's not that Manning's play was poor.In fact, it was most likely decent enough to earn him another commercial endorsement to add to his current TV ads for Papa John's Pizza, Buick and DirecTV.He threw...
Peyton Manning's first start with the Denver Broncos arguably exceeded many people's expectations for him. There's no shortage of expectations for Matt Ryan and the Atlanta Falcons following their Week 1 performance. Manning and the Broncos visit Ryan and the Falcons on Monday night, with both quarterbacks looking to lead their teams to a 2-0 start. Returning from...
Denver Broncos News The Denver Broncos face a tough test in three days when they face the Atlanta Falcons in the Georgia Dome. A win here could set the tone for very solid season, though a loss likely won't mean much as the Falcons are dominant in their own house. [DenverBroncos.com] The Playbook guys think Peyton Manning and the Broncos are poised to go 2-0 this week, with Von...
As long as you didn't do something silly like draft Peyton Manning No. 3 overall because you like his Buick commercial or take a kicker in the 5th round because he went to your college, you still have a good shot at the title.Be active and pay attention and you have a huge advantage against most of your competitors.Last season Cowboys running back Felix Jones suffered a high...
Denver Broncos (1-0) at Atlanta Falcons (1-0) If it wasn't for Green Bay/Chicago, this would be the game of the week. Actually, scratch that, Green Bay/Chicago was an incredibly ugly game that should have been the game of the week, but wasn't because teams only had 3 days to prepare and played much worse than they normally do. I hate this new one game on Thursday every week thing...
Denver, CO. Things could not have gone more perfectly for the Denver Broncos in week 1. A lot of the question marks this team had heading into the season seemed to be answered to varying degrees, and Peyton Manning proved he is far from washed up. The young receivers looked outstanding, as Demaryius Thomas running down the field in open space once again will haunt Pittsburgh...
Affiliate – Will the Steelers rebound after losing to the Denver Broncos in Week 1? They will host the Jets this weekend and are currently the favorites to win. Right now the NFL odds board lists Pittsburgh as a six-point favorite, even though they were beaten pretty bad by the Broncos and the Jets looked dominant against the Buffalo Bills. Still, people realize the Steelers aren't...
Last week: 10-6 WEEK 2 THURSDAY Bears @ Packers MY PICK SUNDAY Kansas City Chiefs (0-1) @ Buffalo Bills (0-1) 1 p.m. Both of these teams have high expectations for their season, especially the Bills after they rebuilt their defensive line.  Last week they looked bad against the Jets on offense, defense and special teams. The good news is that they have no where to...
NFL News

Delivered to your inbox

You'll also receive Yardbarker's daily Top 10, featuring the best sports stories from around the web. Customize your newsletter to get articles on your favorite sports and teams. And the best part? It's free!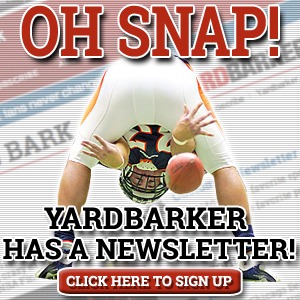 Latest Rumors
The Backyard

Today's Best Stuff

For Bloggers

Join the Yardbarker Network for more promotion, traffic, and money.

Company Info

Help

What is Yardbarker?

Yardbarker is the largest network of sports blogs and pro athlete blogs on the web. This site is the hub of the Yardbarker Network, where our editors and algorithms curate the best sports content from our network and beyond.