Found December 16, 2011 on Fox Sports:
PLAYERS:
Eli Manning
,
Tom Brady
,
Aaron Rodgers
,
Drew Brees
,
Brandon Jacobs
,
Jason Pierre-Paul
,
Michael Strahan
,
Archie Manning
TEAMS:
New York Giants
,
New England Patriots
,
Green Bay Packers
,
New Orleans Saints
It's around 5 p.m. on Thursday before the Giants host the Redskins on Sunday and Eli Manning is tired. He sports a soft cashmere pullover he says he wore to look nice for the interview held at the team's practice facility and then points out the contrast of his 5 o'clock shadow along with the mussed state of his hair and laughs a little at himself. Nobody's pointing at Manning these days and saying Eli lacks something. He's not an elite quarterback is he? Sure he's won a Super Bowl and toted off the MVP for Pete's sake but ... There's always a but. News flash: Eight years in, Eli's playing like a grown man's quarterback. He plays like he knows what he knows. And he'll tell you what's up in a New York minute. That's why in those miracle comebacks, he doesn't go all wobbly, man. "There's no pressure," he tells me as part of our feature on the Giants for Fox NFL Sunday. "You're thinking, all right, what are my reads here? What are they doing? How are we going to pick up this blitz? You're just reacting. You've been in these situations before. You're playing football." And football is supposed to be fun, he adds. I don't know Tom Brady well at all, but the Patriots seem to treat football like fun is for the dead people. It's certainly not meant to be joyous in the midst of an actual contest. Aaron Rodgers and Drew Brees smile and laugh, so I know they're capable of having a grand ol' time. I bring up that particular class of quarterback for the obvious reasons -- the whole elite quarterback debate and if Eli should be a card-carrying member. It's a curious subject to me and one that Eli is not interested in dwelling on at this stage of the game. He swats away my half-hearted attempt to start a conversation about it with "my goal every year is to win games, make the playoffs and try to make a championship run." Brandon Jacobs will go all apoplectic on you at the slightest slight of his quarterback or his team. While we wait for the cameras to roll, he talks about his work day just beginning. He's about to go home to his real job, which is dad to a 1- and 4-year-old. I ask about the evolution of Eli, someone Jacobs is eager to praise, no matter how effusive. "Let's just put this aside right now that he's a good dude and he's my quarterback." Okay. "He's grown so much. I think one day (soon), someone should tell him that he should be in the argument to be the best quarterback in the National Football League. He's done things." Jacobs amends that statement without being prompted two sentences later. "He is one of the best quarterbacks in the National Football League, if not the top two or three." Okay. I really don't do numbers well. I fumble them badly. I wanted to joke with Jason Pierre-Paul about how dramatic his second-year sack totals jumped (12.5 so far) over Michael Strahan's second-year numbers (4.5). That was left out of the pre-game feature piece. Same with Eli ... I couldn't get the order right. Brees, Rodgers, Eli and Brady. I was going for league leaders in passing yards. It's Brees, Brady, Rodgers and Eli. What floats my boat about Eli is the human stuff. He was very open about discussing how he stays true to himself more than I've ever seen or heard him. His longest response was not to a question about football, it was to a question I asked him about his refusal to alter his personality, his demeanor. "My dad (former NFL quarterback Archie Manning) told me when I went off to college and when I came to the NFL, that the reason I've had success is because I've stayed the same. "When you start to do that (alter his personality), is when people notice it's phony," Manning said. "They've shown footage of me on the sideline and I'm kind of sitting there with not much expression on my face, but I'm not thinking, 'I've got to put on a smile,' I'll growl a little bit here for the camera just so it makes me look like I'm really upset or I'm really happy at the situation.'' Manning has bigger things on his mind. "I'm just trying to think, what we need to do to get the win." Nice and easy. Eli-like. No pressure. For real. For Pam's complete interview with Eli Manning and the Giants, tune in Sunday to NFL on FOX for America's No. 1 pregame show at noon ET / 9 a.m. PT.
Original Story:
http://msn.foxsports.com/nfl/story/El...
THE BACKYARD
BEST OF MAXIM
RELATED ARTICLES
http://bleacherreport.com/articles/982274-week-15-gmen-standouts-that-beat-dallas-will-help-eli-beat-washingtonRonald Martinez/Getty ImagesBy Craig Santucci - Bleacher Report 12/15/11
Quarterback Eli Manning cannot outsprint many pursuers, but he has bought enough time in the pocket to pass for 4,105 yards this season, a Giants record.
Plus, today's injury update
Justin Tuck says the Giants love to be underdogs. Eli Manning plays his best games on the road. The Giants just don't relish doing what is expected of them. Most wagerers steer clear of them for these reasons. Especially at home. This week, the Giants are a touchdown favorite over the 4-9 Redskins and, in a perfect world, should be able to cover that number. But I wouldn't bet...
Dan DePalma doesn't exactly look the part of an NFL receiver, which is why one day during the summer a security guard did not let him onto the field at Hoboken High for Eli Manning's informal lockout passing camp. DePalma, from West Chester (Pa.) University and a native...
Guess who just threw his hat in the ring for the NFL's single-season passing mark? Those who selected New York Giants quarterback Eli Manning should give themselves a pat on the back.
Even though the Giants saved their season with a wild 37-34 victory over the Cowboys, there was a subdued tone afterward amid many of the defensive players, as if they realized they were fortunate to get bailed out again by Eli Manning and his band of merry pass-catchers. "You always...
NFL News

Delivered to your inbox

You'll also receive Yardbarker's daily Top 10, featuring the best sports stories from around the web. Customize your newsletter to get articles on your favorite sports and teams. And the best part? It's free!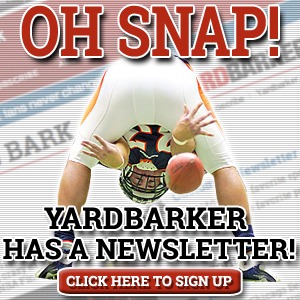 Latest Rumors
The Backyard

Today's Best Stuff

For Bloggers

Join the Yardbarker Network for more promotion, traffic, and money.

Company Info

Help

What is Yardbarker?

Yardbarker is the largest network of sports blogs and pro athlete blogs on the web. This site is the hub of the Yardbarker Network, where our editors and algorithms curate the best sports content from our network and beyond.