Found September 14, 2012 on 60 Max Power O:
New York Jets quarterback Mark Sanchez had an impressive showing against the Buffalo Bills Sunday at MetLife Stadium, putting up nice numbers and leading the offense as the Jets put up a ton of points. Mark Sanchez showed growth both physically and mentally that goes beyond the numbers he posted and bodes well for the Jets this season.
Early on in New York Jets quarterback Mark Sanchez's career, he didn't grasp when it was appropriate to push the envelope and take a shot. As a result, he turned the ball over a ton and was seen as the one component holding the Jets back at times. The Jets featured a strong running game, but Mark Sanchez turnovers seemed to rear their ugly head at the worst possible times.
To combat this, Rex Ryan went to a system that had the Jets dictating to Mark Sanchez when it was a good time to take a chance at making a big play. It was a simple system that helped Sanchez weigh his options better in terms of the current game situation going into each play. He greatly reduced his turnovers in year two, showing that the system helped.
Last season, the Jets passed more than they ever have under Rex Ryan and Mark Sanchez wasn't under the direction of the aforementioned system. He had the keys and was making the decisions. Mark Sanchez saw his turnover numbers skyrocket, but not because he was too aggressive. Instead, with the blame shouldered by his own decisions and the play calling of Brian Schottenheimer, the Jets rarely threw the ball downfield. That allowed defenses to play up towards the line of scrimmage and close down passing windows, making "safe" throws not so safe anymore.
On Sunday against the Buffalo Bills, we saw Mark Sanchez taking shots down the field once again. It may sound counterintuitive, but being more aggressive will reduce his turnovers. He can't walk out and start slinging it all over the field with reckless abandon, but defenses have to be forced to respect the deep ball. That will open up throws underneath, instead of the tight windows that led to interceptions last season on short passes.
Beyond that, we also saw something very important on Sunday: Mark Sanchez dealing with adversity. No one wants to throw a pick on the first drive of the season, let alone on a foolish play like the attempted shovel pass on the run to Jeff Cumberland. Instead of pressing after that, Mark Sanchez bounced back and played smart. The very next drive the Jets put up a touchdown on a 12-yard pass to Jeremy Kerley.
It's year four for Mark Sanchez, and the early indications are that he is putting it all together. It's still early, but we have made the comparison between the early careers of Mark Sanchez and Joe Namath before. Joe Namath came into his own in his fourth season, and Mark Sanchez appears to be doing the same.
Be sure to check out other great articles at Sports Media 101.
Original Story:
http://www.60maxpowero.com/patriots/c...
THE BACKYARD
BEST OF MAXIM
RELATED ARTICLES
Since Sunday's offensive explosion against the Bills, I have seen many different reactions from media experts, Jets fans, Jets haters, and everyone in between (except Evan Silva, of course, who must have had far too much egg on his face to give his take on the game) in regard to the Jets offense, and Mark Sanchez in particular. Some have expressed shock, while others felt somewhat...
I know what you're thinking (WTF), there is no way the New York Jets will start Tim Tebow this Sunday against the Pittsburgh Steelers. But here is why it would be smart for the Jets to split the time between Sanchez and Tebow. The Bills are not the Steelers: The media has been over-exaggerating Sanchez's performance against the Bills. Sanchez has been consistently praised for...
I knew I could score on the field too Juan… When Greg Cosell breaks down film, I listen.  He can be found on Sirius, Yahoo, and others.  Here is his thoughts on Marky Mark Sanchez: "I think one of the most overlooked elements of Week 1 was how good Mark Sanchez was, particularly on third down. He was 7-of-10 on third down, and all seven were conversions. And if he didn't...
Lets all take a minute and bask in our jealousy of Mark Sanchez. The guy an (above) average NFL quarterback and somehow landed some of the top sloppy seconds in the history of WAGs…Eva Longoria. We first reported on this romance over two months ago, but seeing as Mark and Eva didn't make things official until this week we thought it would be appropriate to revisit. Looking at...
With the first round of games completed in this 2012 NFL season, we've seen plenty of story lines pop up. Quarterbacks who had the weight of the world's expectations on their shoulders stepped up and performed admirably. Some quarterbacks who were hyped up in the offseason by coaches, fans, and reporters didn't show up prepared to play. And even one quarterback, a year removed...
Since the cat has officially been let out of the bag, Jets QB Mark Sanchez and actress Eva Longoria stepped out Friday night for a dinner date. The pair were spotted at the Ritz Carlton in New York.   Eva is 12 years older than Mark. Get it chick! Purrrrrr… wait, do cougars purr? photos [...]
The Pittsburgh Steelers are 17-4 all-time against the New York Jets. That's an impressive winning percentage of .810. Even more impressive is the fact that the Steelers have protected home turf nearly 100 percent of the time against the Jets, losing just once in nine contests – including a pair of playoff game wins within the past decade.However, the Jets scored more points...
Actress Eva Longoria has confirmed the rumors that have been swirling for weeks, she is indeed dating New York Jets quarterback Mark Sanchez. Eva is 12 years his senior but told  "Extra's" Mario Lopez, after jokingly calling him an "a-hole" for asking about the romance, that she and Mark are: "fine..we're happy just dating" Longoria has been on the market since...
New York Jets @ Pittsburgh SteelersZero, that is the number of touchdowns that the New York Jets' (0-1) first-team offense scored in the entire preseason. Then the offense comes out and blows up for 48 points in a Week 1 blowout victory over the Buffalo Bills.Mark Sanchez threw for three touchdowns and 266 yards, this week Sanchez and the Jets' offense will come back down...
It only took one week for the New York Jets' offense to go from worrisome to unstoppable. Darrelle Revis has undergone the complete opposite transformation. With their top defensive player's status uncertain, the Jets look for another dynamic performance from Mark Sanchez and the offense as a much tougher test awaits at Pittsburgh versus the Steelers on Sunday. New York...
The New York Jets are coming off what is arguably their most impressive victory since defeating New England in the 2010 playoffs. The week 1 effort against Buffalo revealed a team that was clicking on all cylinders, recording touchdowns through all three phases of the game in route to a record setting opening day points total. That being said, the Jets face a daunting task heading...
By Christopher DiMarino Fantasy Overview: After a loss in week 1, the Pittsburgh Steelers will look to bounce back with a win against the New York Jets. Despite Tebow-mania having little to no impact in the first Jets game they looked quite good, especially on offense. Mark Sanchez had a huge day and Shonn Greene ran the ball effectively. The Jets got what they were desperately...
NFL News

Delivered to your inbox

You'll also receive Yardbarker's daily Top 10, featuring the best sports stories from around the web. Customize your newsletter to get articles on your favorite sports and teams. And the best part? It's free!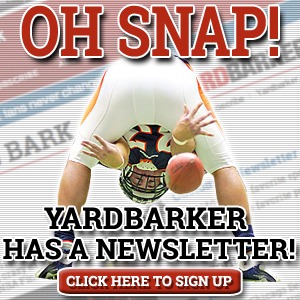 Latest Rumors
The Backyard

Today's Best Stuff

For Bloggers

Join the Yardbarker Network for more promotion, traffic, and money.

Company Info

Help

What is Yardbarker?

Yardbarker is the largest network of sports blogs and pro athlete blogs on the web. This site is the hub of the Yardbarker Network, where our editors and algorithms curate the best sports content from our network and beyond.