Found September 06, 2012 on Pro Football Zone:
After watching last night's game between the Giants and Cowboys  the ont thing that stuck out to me, was that  the Giants defensive line wasn't as dominant as they've been in the past.  One reason might be because of how much they were literally held by the Cowboys offensive line. "I haven't been held this much since I was a baby," Giants LB//DE Mathias Kiwanuka said. "The Giants were held, clawed and mugged. The entire Cowboys offensive line had hugged Jason Pierre-Paul so often it felt like they were on the receiving line at his wedding. "Then, as if the schoolteachers and lawyers the NFL is inexplicably sending out there to officiate its multibillion-dollar business had been cramming the rule book between the third and fourth quarter, they discovered that this holding thing was quite illegal," wrote Steve Politi of the Newark Star-Ledger. Kiwanuka was trying to be empathetic about the referees as well. "You've got to understand that these refs have been put in a tough situation, without having weeks, months, years to prepare like the other refs had," he said. "It's definitely tough to come in and pick up the nuances of the NFL. I tip my hats to them, but you notice when the real refs aren't out there." The replacement officials weren't horrible last night, but they're not going to be as sharp as the regular refs, which is unfortunate.
Original Story:
http://feedproxy.google.com/~r/ProFoo...
THE BACKYARD
BEST OF MAXIM
RELATED ARTICLES
RECORD-SHATTERING
Giants linebacker Mathias Kiwanuka believes that his teammate, defensive end Jason Pierre-Paul, could be "one of the best ever," even capable of notching 30 sacks.
New York Giants rookie running back David Wilson says he wasn't crying after fumbling the ball Wednesday night on his second NFL rushing attempt. Wilson told the New York Post that he was upset but not crying. "Nah, I wasn't crying but I was definitely upset,'' Wilson said Thursday. "But, I think it would have been a lot worse if I was smiling or feeling good about...
The New York Giants went from winning six games in a row on their road to a Super Bowl Championship, to opening the new season with a loss at home to the division rival Dallas Cowboys. Such a loss is certain to kill the high the players were feeling from last season and bring them to the reality of a new season. Coach Coughlin let his players hear it in the locker room after the...
Giants running back David Wilson has been clowned a bit for crying after he fumbled during the first professional game of his career. The image of the act was seemingly caught on camera and broadcast for the world to see. It's taken a couple of days but Wilson is stepping up to explain the situation. Please click the link below to read this article.
As Grantland writer Bill Barnwell recently wrote, "Everything is more fun when you have money riding on it. That's not a sign of a potentially crippling addiction, is it?"  Football starts tonight, which means it's the time of the year where those of us who smiled and nodded at that previous quote, for the most [...]
Love them or hate them, Rex and Rob Ryan are two of the most entertaining coaches in football. Their confidence is sometimes mistaken for arrogance, but their foul-mouth antics make them two must watch coaches in the NFL.Here's Rob (Dallas Cowboys' Defensive Coordinator) having a few choice words for New York Giants' Head Coach Tom Coughlin, after he gets amped up about a huge...
Remember what last season was like for Giants wide receiver Victor Cruz? Every time he caught a pass in front of the home crowd, MetLife Stadium would ring out with chants of "Cruuuuuuuuz." Unfortunately for Cruz, if he plays like he did in Week one, those chants will change from "Cruz" to "Boo." The Giants breakout star of the 2011 season struggled in the team's first...
T These replacement referees have caused nothing but problems for the fans and the players. It seems Hakeem Nicks of the New York Giants thought he might just go ahead and run into this official to show his frustration. Obviously, this guy felt pretty disrespected but I doubt Nicks really cares what he thinks. The guy in the zebra uniform is just gonna have to deal with it or throw...
Fantasy football owners have been trying to determine who the Giants true top receiver is, and the Cowboys provided a big hint as to what NFL coaches think. Dallas matched up star corner back Brandon Carr (signed for $50 million this off season) with Victor Cruz while rookie Morris Claiborne was lined up across of Hakeem Nicks. The Cowboys know the Giants personal as good as any...
    The Good, The Bad and The Ugly   Dallas 24 vs. New York 17   By Eric Judd @ericjuddTSHQ     The Good   I gotsta get paid! Kevin Ogletree. Poor Miles Austin. Poor Dez Bryant. Kevin Ogletree made you look bad. Moreover, he made you an after-thought. The big names, with the big contracts, continue to get overshadowed by previously unknown 3rd receivers. Kevin Ogletree had...
                Although the NFL is restricted to such a small geographic fan base, I think that it is one of the most special sports of all. The NFL has something so unique that other leagues like the NBA, NHL, MLB, and more can't really replicate as well as the NFL does – its culture. When you think about Sundays, do you think about the NBA, NHL, MLB, or even going...
The wait is over. Regular season football officially returns tonight as the Dallas Cowboys and New York Giants faceoff and begin to write the next chapter of their storied rivalry.  Al
Giants News

Delivered to your inbox

You'll also receive Yardbarker's daily Top 10, featuring the best sports stories from around the web. Customize your newsletter to get articles on your favorite sports and teams. And the best part? It's free!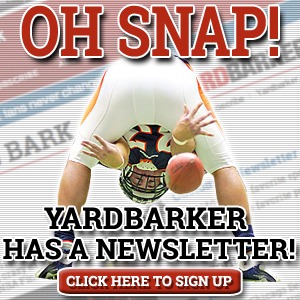 Latest Rumors
Best of Yardbarker

Today's Best Stuff

For Bloggers

Join the Yardbarker Network for more promotion, traffic, and money.

Company Info

Help

What is Yardbarker?

Yardbarker is the largest network of sports blogs and pro athlete blogs on the web. This site is the hub of the Yardbarker Network, where our editors and algorithms curate the best sports content from our network and beyond.