Found April 11, 2012 on Grits Blitz:
So if you follow Jay Adams (@FalconsJAdams), the lovable Digital Content Manager for the Atlanta Falcons, you would have seen this tweet earlier today.  
Nope. I only work on projects that can happen. RT @Syngenetic: @FalconsJAdams are you still working on getting Matt Ryan a twitter account? — Jay Adams (@FalconsJAdams) April 11, 2012
  Well, it appears Matt Ryan was in a trolling mood and finally got around to writing in 140 characters.    
Verification for @M_Ryan02 is underway. Blue checkmark should be arriving in the next 24 hours. #legitaccount #verifiedfalcons
— Jay Adams (@FalconsJAdams) April 11, 2012
  Fantastic news!  We can learn more about our franchise quarterback!  What are his thoughts on the Saints bounty issue?  Is he trying to sign a long-term contract with the Falcons?  What does he want Atlanta to do in the draft?  
Hi to all the falcons fans!!! This American idol intro looks pretty intense huh?? — Matt Ryan (@M_Ryan02) April 12, 2012
  Well, that is a slow start I suppose, but the most important part being that if you are on twitter, you should be following Matt Ryan.   [follow]
Original Story:
http://gritsblitz.com/2012-articles/a...
THE BACKYARD
BEST OF MAXIM
RELATED ARTICLES
Roddy White sent an insincere apology note on Twitter Thursday after causing a stir with some anti-gay tweets earlier in the day. The Falcons receiver was responding to a fan's question over Twitter when he made his anti-gay remark. White was asked "You would rather lead the league in stats than win a Super Bowl?" and responded "Would u rather be gay or straight come on u...
At the NFL meeting, Falcons coach Mike Smith reiterated his position that he made at the NFL Scouting Combine about the team being committed to Sam Baker as the left tackle. The offensive line was hurt significantly by back and elbow injuries to Baker last season. Smith believes the unit will be stronger if Baker, who had back surgery during the season, can return healthy. Will...
Earlier today, AJC beat writer D Orlando Ledbetter told us that the Falcons have emerged as the leader to be featured on the HBO series "Hard Knocks". He later updated that to say that the Falcons have an offer and are considering doing the show. Matt has already touched a bit on this on the blog but I thought I would add a little to the conversation. I've never seen...
  Atlanta Falcons have been offered the starring role in this season's version of Hard Knocks. Team not usually announced until May. — Adam Schefter (@AdamSchefter) April 12, 2012 Being one of our favorite shows on television, we were disappointed when HBO's Hard Knocks became the victim of the NFL's prolonged labor unrest. While most NFL teams are ranking players...
The Falcons may be headed for a television channel too expensive for your average blogger, potentially showing up on HBO's Hard Knocks.  If you have not seen the show, you should remedy that situation immediately.  Not only is it very well done, but it has given the world sweet gems like this:     More after the jump, where we may or may not get a goddamn snack. According...
The Atlanta Falcons are expected to be featured in the next installment of HBO's "Hard Knocks," ESPN reported. HBO doesn't traditionally reveal the starring team until May. The New York Jets were thought to be the likely candidate for this year's show, especially with popular quarterback Tim Tebow joining the cast. According to FoxSports.com, coach Rex Ryan...
The Falcons are hoping the timing of the Nolan and Koetter hires pay off We've all heard the great argument in the NFL, and other sports..."It's all about winning".  Balderdash!  Colin Cowherd of ESPN argued that it's nowhere near all about winning when it comes to your players, and who is on your team.  His contention is that "it's all about...
Everyone wanted to see the New York Jets featured once again this year on Hard Knocks. Apparently, HBO has different plans. ESPN's Adam Schefter reports that HBO has offered the Atlanta Falcons the starring role for the wildly popular series which follows an NFL team throughout its training camp. That doesn't mean that the Falcons will accept, but it does give a pretty substantial...
A couple of our writers (Matt and Zach) teamed up with Alex from the Falcoholic website to take part in the recent Mock Three draft. If you don't know what the "Mock One" is it's a website that uses mock drafters for each team and they move through the draft making choices as if they were the GMs. Here is what our guys came up with as well as their comments about...
In 2011, the NFC South sent the Atlanta Falcons and New Orleans Saints to the playoffs on the back of strong offensive systems led by quarterbacks Matt Ryan and Drew Brees. However, in the offseason Tampa Bay is trying to bulk up on offense, while second year quarterback Cam Newton is leading Carolina. This article examines each of the four quarterbacks in the division, and predicts...
Up until last week's car crash, most people had forgotten about how Bobby Petrino left the Atlanta Falcons unceremoniously following just 13 games with the team back in 2007. The recent revelations that Petrino was having an illicit affair with a 25-year-old assistant caused every Falcons fan (like myself) to have the same reaction... "I'm not suprised, Petrino is a...
Falcons News

Delivered to your inbox

You'll also receive Yardbarker's daily Top 10, featuring the best sports stories from around the web. Customize your newsletter to get articles on your favorite sports and teams. And the best part? It's free!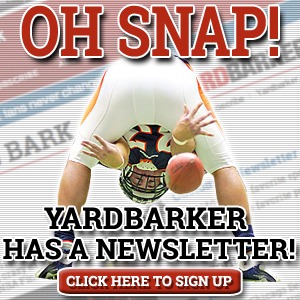 Latest Rumors
Best of Yardbarker

Today's Best Stuff

For Bloggers

Join the Yardbarker Network for more promotion, traffic, and money.

Company Info

Help

What is Yardbarker?

Yardbarker is the largest network of sports blogs and pro athlete blogs on the web. This site is the hub of the Yardbarker Network, where our editors and algorithms curate the best sports content from our network and beyond.