Found November 22, 2012 on Backyard Sports Blog:
The Thanksgiving Day games are under way with the Houston Texans taking on the Detroit Lions in game 1.  The Lions desperately need a victory to stay in playoff contention, and it looks like Ndamukong Suh is up for anything.  Matt Schaub dropped back to pass in the first quarter and Suh rolled over the offensive lineman and accidentally kicked Schaub in his man parts.  Schaub shook it off as best as he could and didn't have to leave the game.  Check out the video below and decide for yourself if it was on accident or not. Check out our Home Page for more stories and follow us on Twitter and Facebook
Original Story:
http://www.backyardsportsblog.com/201...
THE BACKYARD
BEST OF MAXIM
RELATED ARTICLES
It's Thanksgiving, and Ndamukong Suh is on the field. Today will not be the day to lay aside "dirty player" accusations. Suh rushed Houston quarterback Matt Schaub in Thursday afternoon's game, and while he didn't end up with the sack, his foot did end up in an unfortunate place — or fortunate, if Suh is trying to continue his tradition of questionable attacks — er...
SB Nation After kicking Texans quarterback Matt Schaub in the groin during yesterday's game, Detroit Lions defensive tackle Ndamukong Suh could end up getting suspended for one game. According to Mike Freeman of CBS Sports, the NFL will review Suh's kick on Monday and he could face a one-game suspension. In speaking to sources around football, the general sentiment is that the Lions should...
In response to Ndamukong Suh kicking Houston Texans quarterback Matt Schaub in the ballsack yesterday at Ford Field in Detroit, NFL executive vice president of football operations Ray Anderson said the defensive tackle's notorious history as a Lion will be … Continue reading →
Detroit Lions defensive lineman Ndamukong Suh, who was voted the NFL's dirtiest player, appeared to intentionally kick Houston Texans quarterback Matt Schaub in the groin during Thursday's game in Detroit. Video via: Maximilian Pruckner
Dee Troit Foot Ball > It's nice to see Ndamukong Suh keep up the Thanks- giving tradition of kicking an opponent and getting torched in the media > My holiday is not good until I heard the officiating crew express their wishes, or until I see the Lions lose to a suspiciously good team > Jim Nantz and Phil Simms have clearly never seen a QB throw the ball sidearm before...
The New England Patriots didn't start the 2012 season with much of a bang. For many, losses to the Ravens, Cardinals, and Seahawks looked to show the weaknesses of a team on its way down in the power rankings.To make matters worse, the defense appeared just as suspect as 2011, casting more doubt on their ability to compete against the best teams in the AFC. With Peyton Manning...
It's almost Turkey Day, ladies and gents, so let's get right down to business.QUARTERBACKSQuarterbacks continued to pour on the points this week with a whopping EIGHT different signal-callers racking up three or more touchdowns. However, one man stood head and shoulders above the rest-- a man who had more than five times the amount of passing yards and five times the number of...
It's just about NFL Turkey time but before we look forward to stuffing our face and watching the Cowboys and Lions play its time to recap the breakout Week 11 performances. Many of these performances will push people into the fantasy football playoffs while ending other seasons wishing they hadn't faced these week 11 studs. Here are your Week 11 Rock Stars. RG3: 14/15 – 200...
Maybe the funnest day in the NFL, stuffing our faces with turkey, mashed potatoes and all sorts of food that will help contribute to weight gain and other serious medical conditions. I will take my chances. Have a safe and blessed Thanksgiving! Record coming in 55-23 Game 1: Hou over Det Johnson vs Johnson in this high flying battle, but at the end of the day Houston has the better...
The NFL world was watching the Houston Texans face the Detroit Lions on Thanksgiving Day this year and saw one of the most ridiculous rules in the league on display. RB Justin Forsett took a handoff from QB Matt Schaub and ran up the middle for seven yards. He was hit by a Lions defender spun to the ground with his elbow and knee touching. Not hearing a whistle, Forsett jumped back...
Due to this being National Turkey Week, and family/Black Friday/food coma obligations, this week's Fantasy Football previews will be solely my Play, Bench, and Sleeper suggestions. No analysis, no jokes, but A LOT of food. Happy Thanksgiving Everyone! Houston Texans at Detroit Lions Play: Matt Schaub (QB2), Arian Foster (RB1), Andre Johnson (WR1), Owen Daniels [...]
NFL News

Delivered to your inbox

You'll also receive Yardbarker's daily Top 10, featuring the best sports stories from around the web. Customize your newsletter to get articles on your favorite sports and teams. And the best part? It's free!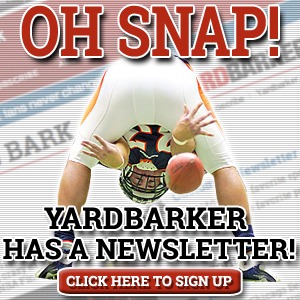 Latest Rumors
Best of Yardbarker

Today's Best Stuff

For Bloggers

Join the Yardbarker Network for more promotion, traffic, and money.

Company Info

Help

What is Yardbarker?

Yardbarker is the largest network of sports blogs and pro athlete blogs on the web. This site is the hub of the Yardbarker Network, where our editors and algorithms curate the best sports content from our network and beyond.