Found August 30, 2012 on Fox Sports Southwest:
ARLINGTON, Texas Stephen McGee may not have won the Cowboys' No. 3 quarterback job Wednesday night, but he didn't lose it, either. If the Cowboys keep a third quarterback, it will be McGee. He started and played the entire first half of Wednesday's JV scrimmage of a preseason game against the Dolphins. The Cowboys won, 30-13. Because the game was played just four days after the third preseason game, and just seven days before the season opener at the Giants, there wasn't anything on the line but the final roster spots. McGee will likely make the cut once again. It's hard to imagine the Cowboys not having a third quarterback, although with one of the better backup quarterbacks in the league in Kyle Orton, there's always a chance the third QB could be sacrificed for a deficiency in another area. McGee was given a chance to show what he could do Wednesday and it was pretty much like he's done in his other appearances. Which is to say he didn't exactly dazzle, but he didn't hurt the team, either. He struggled in the first quarter. He was just 1-of-5 passing, and some of those passes wobbled a little or were underthrown. McGee picked up the pace in the second quarter and finished the half 9-of-18 passing for 124 yards. No touchdowns, but no interceptions, either. During a halftime television interview, Cowboys owner Jerry Jones sounded like McGee's agent. "I think we have some things out of McGee tonight that are really encouraging," Jones said. "It's been vintage McGee. Other teams have shown interest in Stephen McGee. We know somebody thinks he's a pretty good ballplayer. We do, too." It's hard to imagine what those other teams see in McGee, since his lack of progress has been a topic this preseason. McGee was drafted in the fourth round in 2009 as a project since he ran so much option at Texas A&M. But it's even harder to imagine Rudy Carpenter usurping McGee for the No. 3 job after he didn't see the field until the second half. Carpenter was a mere 4-of-10 passing against the Dolphins for 48 yards. But unlike the staid McGee, Carpenter plays at a higher tempo and seems to attack the defense. One of the main criticisms of McGee is that he doesn't get the ball downfield. McGee certainly got the ball downfield when he hit Tim Benford with a 36-yard pass to set up the Cowboys' first offensive touchdown. McGee used his feet to escape pressure and zipped the pass down the sideline. "I thought he did a good job once we got going a little bit on offense," Cowboys coach Jason Garrett said. "We were trying to be pretty balanced early on, then we started throwing a little bit more he started making some plays. You could see him get a little bit more comfortable, get a little rhythm." The question is, do the Cowboys feel comfortable carrying a third quarterback? "I think there are a number of factors" Garrett said. "The first is the quarterback himself: Is he worthy of a roster spot? If McGee isn't worthy in the Cowboys' eyes, there are pressing needs elsewhere. "We value the quarterback position," Garrett said. "Having said that, you have to manage the rest of your roster. Injuries sometimes are a factor. You might be a little bit light at a particular position because of injuries, so you have to be a little bit long with your roster." The Cowboys already have a lot invested in Orton, who could start for some teams. If Tony Romo stays healthy, no other quarterback will see the field in 2012. A third quarterback is insurance, but sometimes it's a luxury, too. "If we think we can live with him or we do we think we need a third quarterback?" Jones asked himself. "That will be something we'll go through tonight after the game, and we'll make a decision tomorrow." Heading into what would be his fourth season, the chances are remote that McGee, the former project, will develop into a star. The only question is whether he will have a star on his helmet a week from now. Follow Keith Whitmire on Twitter: @Keith_Whitmire
Original Story:
http://www.foxsportssouthwest.com/08/...
THE BACKYARD
BEST OF MAXIM
RELATED ARTICLES
DALLAS Jimmy Johnson believes the Dallas Cowboys have a championship-level quarterback in Tony Romo. That's what the coach who won two Super Bowls in Dallas told a luncheon audience Wednesday. "The guy is a great quarterback," said Johnson, in comments reported on dallasnews.com. "You've got to win a ring to get it done. I think Romo can get it done. I love...
Jerry Jones opened training camp for the Dallas Cowboys enthusiastically talking about wanting to return to the team's glory days. With quarterback Tony Romo coming off arguably his best season and DeMarcus Ware still one of the league's premier linebackers, there certainly is some reason for Jones to again be optimistic. But there is also the harsh reality. Even with Romo...
Getty Dallas Cowboys quarterback Tony Romo took advantage of an opportunity to fire back at his critics during a new Starter ad campaign that he's been featured in. "People focus on what we haven't accomplished," Romo says in the video below. "They focus on mistakes, the near misses, the heartbreaks. People say we haven't succeeded. People say we haven't won a championship...
The Dallas Cowboys reportedly released wide receiver Danny Coale, defensive back Akwasi Owusu-Ansah, offensive linemen Pat McQuistan and Daniel Loper and quarterback Rudy Carpenter on Friday. Coale, a fifth-round pick, didn't do enough to set himself apart according to owner Jerry Jones, who made the comments on his weekly radio show on Friday. Owusu-Ansah was back with...
Cowboys receiver Miles Austin was asked on Tuesday if there was any way he would miss the season opener with the Super Bowl champion Giants and he said, "no."Fantasy Spin:We are sure Austin will play in the opener as well, we're not as sure that he can get through a 16-game schedule without missing time. He played just 10 games last season because of hamstring injuries...
Jerry Jones informed us today that it is "not impossible" that Jason Witten suits up and plays against the Cowboys on Wednesday. Now, I am not a psych major, nor did I stay at a Holiday Inn Express last night, but when an owner uses a double negative to describe the status of a player, it is not good news. As far as the fantasy football community is concerned, this should serve...
Dallas Cowboys cornerback Mike Jenkins could practice as early as Saturday and may be ready for the Giants on Sept. 5, after he passed his physical, according to the Cowboys website. Jenkins will have to sit out for a three-day waiting period before he can practice.  He had been on the physically unable to perform list (PUP). Jenkins missed all of the offseason, training camp and...
The NFL odds look to be in the Cowboys' favor for their preseason finale against Ryan Tannehill and the Miami Dolphins, but stranger things have happened, especially in exhibition play. Dallas is coming off a 20-19 win last week over the St. Louis Rams, though the score looked much closer than it really was. The Cowboys were actually up 17-3 after the first quarter and 20-6 at...
Dallas Cowboys Wide Receiver Dez Bryant is grounded.  Indefinitely.  He is not allowed to drink alcohol or visit strip clubs.  He has a midnight curfew.  He has agreed to attend two counseling sessions per week and has a rotating three … Continue reading →
It seems that the Dallas Cowboys have come up with a set of special rules for 23-year-old Dez Bryant due to his habit of running into trouble when away from the football field, such as allegedly assaulting his own mother. The NFL's Cowboys don't want to take any risks with the youngster and it's been reported that they have set out a list of special rules for him to follow...
Getty According to Matt Mosley of FOX Sports, Dallas Cowboys tight end Jason Witten has a "50-50″ chance of playing in next Wednesday's season opener against the Giants. I'm told the doctor gave Jason Witten a very positive report based on yesterday's examination. He remains a "50-50″ proposition vs Giants. — Matt Mosley (@mattmosley) August 29, 2012 As this week...
Trade for Cowboys: The Cowboys are clearly desperate for interior offensive line help. After losing both of their starting guards this offseason, the Cowboys replaced them with Nate Livings, an inferior player who really struggled in Cincinnati last year, and Mackenzy Bernadeau, a career backup who has yet to nail down a starting job thanks to injuries. 2011 4th round pick David...
Cowboys News

Delivered to your inbox

You'll also receive Yardbarker's daily Top 10, featuring the best sports stories from around the web. Customize your newsletter to get articles on your favorite sports and teams. And the best part? It's free!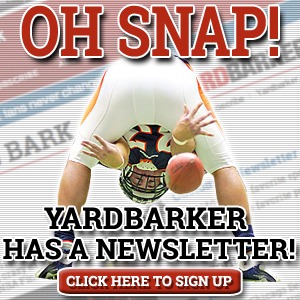 Latest Rumors
The Backyard

Today's Best Stuff

For Bloggers

Join the Yardbarker Network for more promotion, traffic, and money.

Company Info

Help

What is Yardbarker?

Yardbarker is the largest network of sports blogs and pro athlete blogs on the web. This site is the hub of the Yardbarker Network, where our editors and algorithms curate the best sports content from our network and beyond.