Found July 02, 2013 on Pro Football Zone:
San Francisco 49ers wide receiver Michael Crabtree is getting back in the gym after recently undergoing surgery on his torn Achilles. Start back working out 2moro.. I'm ready.. — Michael Crabtree (@KingCrab15) July 1, 2013 According to Matt Barrows of the Sacramento Bee, Crabtree will ease his way back. Of course, Crabtree's workout routine won't include him squatting 450 pounds or running gassers until he pukes. He'll be eased back into the weight room, probably starting off on a stationary bike or an elliptical machine to maintain his conditioning. That would fit the time line for recovering from an Achilles' heel tear. Crabtree had surgery to repair the tear on May 22. This week is about six weeks from that procedure.   I've spoken to several orthopedic surgeons about Achilles' tears, and every one of them said that six months is the absolute earliest Crabtree can expect to be back on the field. The 49ers, of course, have declined to discuss Crabtree's surgery and recovery, saying only that they expect him back this season. Here's Dr. Eric Giza's – he's the chief of the foot and ankle service at UC Davis - time line for getting an athlete like Crabtree back in playing condition:   * Two weeks after surgery: Patient is in a walking boot. Not long ago patients had to wear a plaster cast for six weeks after surgery. The boot, however, preserves feeling and range of motion in the ankle and leads to less atrophy of the calf muscle.   * Four to six weeks: Patient starts to put weight on the foot. For an elite athlete like Crabtree, this can start at four weeks and usually begins in a pool. At six- to eight weeks, patients might begin working on a stationary bike or an elliptical machine to maintain their fitness.   * 12 to 16 weeks: Patient can start working on sport-specific actions. Giza said this is when patients regain proprioception – their body's ability to know where their limb is in space. "The brain is starting to forget that they had surgery, and they're getting that first step back," he said.   * 16 to 24 weeks: Despite an aggressive rehabilitation, patients still will lose muscle mass during the recovery. The last two months are about building that back, a process that can last a year after surgery.     Need NFL Tickets? The post Michael Crabtree will start working out this week appeared first on Pro Football Zone.
Original Story:
http://feedproxy.google.com/~r/ProFoo...
THE BACKYARD
BEST OF MAXIM
RELATED ARTICLES
WEDDING BELLS
Nnamdi Asomugha has not played particularly well the last few seasons, but he made a great catch here by marrying the gorgeous movie star.
When San Francisco quarterback Colin Kaepernick stepped into the starting role, he surprised many with an outstanding second half of the season performance. However, the big question is can he do it for an entire season? It's one thing to jump on the scene with a new scheme, but happens when teams have had all offseason to study the 'pistol' offense. Kaeperinick is going...
Just when you thought the 49ers were having a quiet offseason. No stabbings, dui's, or other off the field issues. Word is coming out that Ahmad Brooks may be facing assault charges for getting into a fight with 49ers nose tackle Lamar Divens and breaking a bottle over his head. Here is what the Mercury News had to say regarding the issue. A warrant for the arrest of San Francisco...
Coming off a Super Bowl loss, 49ers players probably have a little extra anger this offseason to use as motivation. It appears that linebacker Ahmad Brooks may just be angry, period. Brooks hit teammate Lamar Divens over the head with a beer bottle three times during a June 8 incident outside Brooks' home in San Jose, Calif., according to the San Jose Mercury News and court documents...
The NFL has had more than enough problems with arrests this offseason, but another could be added to the tally if San Francisco 49ers linebacker Ahmad Brooks is arrested for allegedly assaulting a teammate. According to court documents obtained by the San Jose Mercury News, Brooks struck Niners nose tackle Lamar Divens in the head [...]
According to Black Sports Online, actress Kerry Washington from the hit show "Scandal" married 49ers cornerback Nnamdi Asomugha on June 24th in Idaho. Congrats to both Nnamdi and Kerry.  Now Asomugha will no longer have to be lonely and eat his lunch alone in his car like he did when he played for the Eagles.     Need NFL Tickets? The post Nnamdi Asomugha married "Scandal"...
The Santa Clara district attorney is considering filing charges against 49ers linebacker Ahmad Brooks for allegedly attacking teammate Lamar Divens with a beer bottle. H/T: Mercury News The controversy stems from a June 8 incident in which Brooks allegedly struck 49ers nose tackle Lamar Divens three times in the head with a beer bottle and then punched him in the face during an...
Randy Moss 2007 Season - All 23 Touchdowns and Superbowl TD.mp4 (by mossfanpage)
No ''Scandal'' here: Kerry Washington is a newlywed. The star of the TV's ''Scandal'' married professional football player Nnamdi Asomugha (NAHM'-dee AH'-suhm-wah) last week in Hailey, Idaho. E! reported the nuptials Wednesday and posted a copy of the couple's marriage license online. The 36-year-old actress and 31-year-old athlete...
Not every NFL star trumpets his nuptials to the public (we're looking at you, RG3). Some still opt to go the more low-key, private route. Take San Fransisco 49ers defensive back Nnamdi Asomugha, who married actress Kerry Washington on June 24 in a secret ceremony in Hailey, Idaho, ENews! has confirmed. Neither star's representatives would comment on the reports. Asomugha...
Not every NFL star trumpets their nuptials to the public (we're looking at you, RGIII), and it seems that some still opt to go the more low-key, private route. San Fransisco 49ers defensive back Nnamdi Asomugha reportedly married actress Kerry Washington in late June, and no one had any  idea about it until now. Asomugha and Washington were wed on June 24 in a secret ceremony...
Seahawks and 49ers have the making a very good rivalry. 49ers head coach Jim Harbaugh made some comments about the Seahawks PEDs use, leading to Brandon Browner saying he wanted to choke him and these comments from his former Stanford player Richard Sherman. "I don't have a relationship with him," the cornerback said during an appearance on NFL Network. "I don't try to...
49ers News

Delivered to your inbox

You'll also receive Yardbarker's daily Top 10, featuring the best sports stories from around the web. Customize your newsletter to get articles on your favorite sports and teams. And the best part? It's free!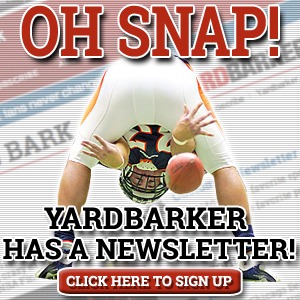 Latest Rumors
Best of Yardbarker

Today's Best Stuff

For Bloggers

Join the Yardbarker Network for more promotion, traffic, and money.

Company Info

Help

What is Yardbarker?

Yardbarker is the largest network of sports blogs and pro athlete blogs on the web. This site is the hub of the Yardbarker Network, where our editors and algorithms curate the best sports content from our network and beyond.