Found April 02, 2012 on Down and Distance:
ESPN's Michael Wilbon dropped a little bomb this morning on Tony Kornheiser's radio show. The news? According to his inside sources, Wilbon said the Indianapolis Colts are still in serious consideration to take Baylor's QB Robert Griffin III over the consensus number one, Stanford QB Andrew Luck.
This does not surprise me, as this has been a hotly debated topic the last few weeks, especially after Griffin's impressive pro day workout. Luck is considered a once in a lifetime prospect, and much more NFL ready than Griffin, but with Griffin's out of this world athleticism, the Colts are taking a second look before finalizing a decision.
Per a report from the Washington Post, Wilbon said on Kornheiser's radio show Monday morning:
"By the way, I will tell you this. It's not like I'm following this closely, but I had the occasion over the weekend to talk to a couple of people who have intimate knowledge of what the Colts are thinking. And you and I have talked very briefly on the show about are they still considering RGIII? Tony, I'm told they are…They have stats, they have analysis, they have information that says to them it's Luck who is faster to leave the pocket and not be as good in the pocket. And RGIII is better in the pocket, he's a better pocket passer, better arm. And that they are seriously still considering RGIII."
Talk about mixing things up, whoever ends up being a bust, if one does, will go down in infamy as what might have been. It's absolutely crucial for the Colts to make the right pick, although it's entirely possible both guys have great NFL careers with the talent they possess.
Original Story:
http://sports-kings.com/downanddistan...
THE BACKYARD
BEST OF MAXIM
RELATED ARTICLES
THANKS BUT NO THANKS
Indianapolis Colts owner Jim Irsay tweeted Tuesday morning that the team's request to hold a private workout for Robert Griffin III has been declined by the quarterback's agent.
The Colts seemingly are incredibly interested in Robert Griffin III in the upcoming draft or are at least doing their best to convince us they're interested. Nate Dunlevy tackles this possibility with his usual deft touch: Sorry, not buying it. If they were making a late-in-the-game push to go after Luck then that means they didn't have enough information back in March...
This won't be the last report we hear from somoene that is apparently, "in the know." But ESPN personality, and former Washingotn Post columnist Michael Wilbon was on the air with PTI colleague Tony Kornheiser and informed him that people that he has spoken with within the Indianapolis Colts organization have led him to believe that there is a real possiblity that the Heisman...
A lot has been said over the last few days about the Indianapolis Colts interest in Robert Griffin III, and now word is that he is refusing to meet with the team for a private workout, according to team owner Jim Irsay. A Luck private workout 2day..we want 2b as thorough n disciplined n process of #1 pick..we wanted 2do private with RG3,but his agent said no — Jim Irsay (@JimIrsay...
Nate is at it again and his time he's got a full seven round mock draft for the Colts including some names high on my list. I'm particularly fond of his second and third round picks although I doubt they both are available at those spots: 34th (second) - Coby Fleener, TE, Standford Again, I've said my peace on this one, too. The Colts have obvious defensive needs,...
Robert Griffin III turned down the Colts' request for a private workout. In fact, he turned down all requests for private workouts and Adam Schefter has a few theories why Griffin was reluctant to show his wares again. First among those reasons Schefter proposes is that Griffin feels he's proved himself already. He also suggests perhaps Griffin simply prefers going to Washington...
Indianapolis Colts owner Jim Irsay claimed Tuesday that quarterback Robert Griffin III declined an invitation to work out privately for the team. The statement from Irsay, if confirmed, appeared to cement the notion that the Colts will select former Stanford star Andrew Luck as their replacement for Peyton Manning. Luck will work out for the Colts on Tuesday in Indianapolis, and...
My advice today for GMs is considerably more simple than the previous lessons: make the most of what you have today. Ryan Grigson: LISTEN UP! The average tenure for a general manager with a team (excluding dictators Jerry Jones and Mike Brown) is 4.2 years. The median for GMs is 3 years. Coaches fare a bit worse with an average of 3.3 years and a mean of 2 years. In other words...
It has been widely speculated that the Indianapolis Colts will draft Stanford's Andrew Luck with the #1 pick in the upcoming NFL draft. After having released future Hall of Fame quarterback Peyton Manning, Colts' owner and social media star, Jim Irsay, has been hinting that the Colts are taking a serious look at drafting Baylor's...Read the Rest...
Colts News

Delivered to your inbox

You'll also receive Yardbarker's daily Top 10, featuring the best sports stories from around the web. Customize your newsletter to get articles on your favorite sports and teams. And the best part? It's free!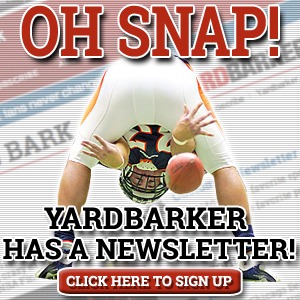 Latest Rumors
The Backyard

Today's Best Stuff

For Bloggers

Join the Yardbarker Network for more promotion, traffic, and money.

Company Info

Help

What is Yardbarker?

Yardbarker is the largest network of sports blogs and pro athlete blogs on the web. This site is the hub of the Yardbarker Network, where our editors and algorithms curate the best sports content from our network and beyond.