Found March 22, 2012 on Bleed Black & Gold:
After hearing of Mike Wallace being tendered at a first round level there was speculation that the Steelers could lose him.  We have not heard much about any moves for Mike Wallace though this offseason.  We may have just gotten the reason why.  Matt Barrows of the Sacramento Bee is reporting that the 49ers had interest in Wallace until they found out the price. 
Wallace was apparently looking for a Larry Fitzgerald type of deal.  If that is the case he is looking for something in the range of 8 years and $120 million.  That is insane.  Wallace may be a great deep threat because of his speed but he is not Fitz.  Until he learns to turn his hands over and go after the ball he never has a chance to be Fitz either.
If this is true it is both good and bad for the Steelers.  Good that no one in their right mind would sign Wallace for that kind of money.  Bad that we will also never pay him that kind of money.  He will be gone after next season unless we franchise him.  We will not be putting up those kind of dollars.  I thought I was a little high when I suggested 5 years and $58 million but I guess I was low.
I can not believe this is what Wallace is really thinking.  In the back of my mind I feared he would leave for a nickel more but I guess he wants more than a nickel.  This is outrageous.  If Wallace is asking for this then he is more then greedy.  It is one thing to go get paid it is another to pretend you are on Fitz and Calvin Johnson's planet.
We should have Wallace for another year as no one is going to pay that much.  Should we keep him though?  If no one picks him up and he leaves next season the most we will get is a third round compensatory pick.  Wallace is worth more then that. 
If the Steelers do not plan to franchise Wallace next season they should look into trading him for all they can get right now.  If Brandon Marshall was worth two second round picks 2 years ago Wallace should at least command the same type of trade.  We should at least toss the bait out there and see if anyone bites.
I think Wallace is a great receiver but there is no way he is getting this kind of money. 
Original Story:
http://feedproxy.google.com/~r/BleedB...
THE BACKYARD
BEST OF MAXIM
RELATED ARTICLES
Matt Barrows of The Sacramento Bee, reports that the San Francisco 49ers looked into Steelers restricted free agent wide receiver Mike Wallace since free agency began and were told that Wallace was looking for a contract that surpasses the eight-year, $120 million one that Arizona Cardinals wide receiver Larry Fitzgerald signed last year. That is a pretty huge demand for sure and...
INFLATED SELF-WORTH
The 49ers inquired, but they were informed that restricted free agent wide receiver Mike Wallace is reportedly looking for a contract in the range of Larry Fitzgerald's 8-year, $120 million deal.
ON HANDS AND KNEES
The Steelers could lose Mike Wallace who is a restricted free agent, but quarterback Ben Roethlisberger is begging him to stay.
Mike Wallace reportedly wants Larry Fitzgerald kind of money from interested teams in restricted free agency. That's both good and bad news for the Steelers and their fans.
Pittsburgh Steelers President Art Rooney II told Scott Brown from the Pittsburgh Tribune-Review on Friday that he remains hopefully that the team will get restricted free agent wide receiver Mike Wallace signed to a long-term deal at some point. Rooney II said he did not offer up a time frame as to when that might be done and was quoted as saying, "The sooner the better as far...
If you're a Pittsburgh Steelers' fan then you've likely been asked the following question; "So is Mike Wallace going anywhere?" We may now be able to provide some evidence as to why Wallace has stayed put to this point and it didn't surprise me one bit. Mike Wallace wants to get paid. He allegedly wants to be paid A LOT. If we are to believe the story as reported by the...
Pittsburgh Steelers wide receiver Mike Wallace wants to be paid like a big-time receiver. Just how much is Wallace seeking? Well, according to the Sacramento Bee, the speedster wants a deal that will eclipse the eight-year, $120 million pact of Arizona Cardinals stud Larry Fitzgerald. The Steelers have tendered a contract to Wallace. The team has the right to match any offer Wallace...
A player's value in the NFL is a very subjective matter. What one team would pay a player, another may not. Of course, players think they have an idea of their real value, but they truthfully don't. All they can do is compare themselves to other players of their caliber to try to get an idea of their value.This approach works for some, but it fails for those players that mistakenly...
Hines Ward went out with a great press conference today.  One nugget he left with was that he is urging Mike Wallace to remain with the Steelers.  Ward knows from experience and is hoping Wallace stays in the black and gold. "I told Mike you may get a chance to go other places but there's not another place like Pittsburgh," Wallace is a restricted free agent who has had a...
I am already getting a few questions as to who the Pittsburgh Steelers 2013 free agents will be after the 2012 season, so I thought I would give you a quick peek at the players that are currently under contract and tendered as of right now. Of course the list of unrestricted players is likely to grow, because a few players the Steelers could likely sign back such as Byron Leftwich...
Season 2, Episode 90 of The Terrible Podcast is up and with David Todd and start with the crazy few days of news around the NFL and that included the Bountygate punishment handed down by NFL commissioner Roger Goodell to the New Orleans Saints and the trade of quarterback Tim Tebow to the New York Jets. Was the punishment just by Goodell and was it a good deal for the Jets? We discuss...
Steelers News

Delivered to your inbox

You'll also receive Yardbarker's daily Top 10, featuring the best sports stories from around the web. Customize your newsletter to get articles on your favorite sports and teams. And the best part? It's free!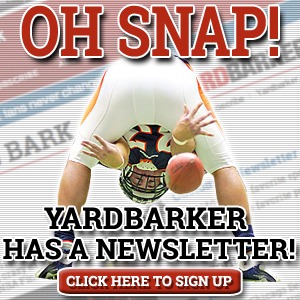 Latest Rumors
Best of Yardbarker

Today's Best Stuff

For Bloggers

Join the Yardbarker Network for more promotion, traffic, and money.

Company Info

Help

What is Yardbarker?

Yardbarker is the largest network of sports blogs and pro athlete blogs on the web. This site is the hub of the Yardbarker Network, where our editors and algorithms curate the best sports content from our network and beyond.