Found March 11, 2013 on Waiting For Next Year:
Mike Wallace would walk into Berea today and be the very best wide receiver Cleveland has had since 1999. There's just no two ways about it. Josh Gordon has potential and with all due respect to Kevin Johnson who spent most of his career running routes for quarterbacks lying flat on their backs, Mike Wallace would be the best. That being the case and knowing how much money the Browns have available on the salary cap, shouldn't they just outbid the market for Mike Wallace? You would think that would be an obvious answer for me, but there's just something about the whole wide receiver situation and Mike Wallace in free agency that gives me serious pause. For starters, I don't think Mike Wallace is in the same class as the very best wide receivers in the NFL. He ranked 34th in yards in 2012 and even though that's clearly a facile way to judge receivers, that's not it. Wallace is an explosive guy who scores touchdowns. His long play for the year was 82 yards. To think of having anyone on the Browns would could go 82 yards in one play as opposed to doing it over the course of 10 plays and many minutes is pretty crazy. Still, I don't think Mike Wallace is in the same class as Calvin Johnson, A.J. Green, or Julio Jones. Josh Gordon has a ways to go before he's on Mike Wallace's level, but he did have a 71-yard reception this season for the Browns. He also had 50 catches and only about 30 fewer yards receiving than Wallace. On top of that, Josh Gordon is three inches taller than Wallace and actually catches the football with his hands and sometimes even at the highest point. Mike Wallace is a guy who catches with his body a lot of the time. Another risk factor with Mike Wallace is that he's a speed guy. Ask Josh Cribbs what it's like to age gracefully in the NFL as someone who relies on speed. Is that the kind of risk you want to take paying over $10 million per year on average? Again though, Mike Wallace walks into Berea tomorrow as the best wide receiver the Browns have had since 1999. And yet, I'm still not excited about it. Maybe it's because Mike Wallace held out last year. I don't blame Mike Wallace for wanting to get an extension done rather than play for the $2.7 million he made last year with the Steelers. At times in a league where players can be cut at any time, holdouts make tons of sense for players who so drastically outperform their deals. Antonio Gates is an example I frequently use for a guy who can't afford to step on the field without a new deal the way he did some years back. Still, there's something about Wallace holding out and then not living up to his breakout years – even if that's not a totally fair assessment – that bothers me. I'm just concerned that a fast guy who played for a very good team who might be playing to the day he signs the big contract might not have the motivation to continue playing that way. One of the things I heard from Bill Polian at the MIT Sloan conference was that any NFL team needs to build a core of 12-15 players and then build the team outward from there. The more of those 12-15 players that come from the draft, the better you will be from a cap perspective. Judging by the projected amount of money that Mike Wallace will make this off-season at somewhere north of $10 million per year, he would instantly be slotted into that core group of Browns players. He also would be one of the top paid guys in that group, and instantly one of the least efficiently acquired. If you take a guy like Joe Thomas who has been on the team and you know intimately before giving him an extension, it should drastically reduce your bust risk. You can scout a guy and get to know him all you want in free agency, but it will never be like extending a player from within. This is why you see new regimes lean on their former players when they come into a new situation. Isn't it telling that the team that knows Mike Wallace the best out of any other is pretty content to see him leave? There are certainly cap issues too, but you get the feeling that's not what the Steelers are really saying. So we'll see soon, I guess. It seems so strange to look at the very best wide receiver on the market, combine that with the huge amount of cap space the Browns have, and yet still not look forward to them signing him. That's just my feeling right now though. You? – Image via Jon Cole/WFNY 
Original Story:
http://www.waitingfornextyear.com/201...
THE BACKYARD
BEST OF MAXIM
RELATED ARTICLES
The Miami Dolphins and wide receiver Mike Wallace have agreed to a five-year contract according to multiple reports. The Dolphins, who were in need of an upgrade at receiver, were seen as the most likely landing spot for Wallace entering free agency. He's the speedy, downfield threat the Dolphins have been seeking. Wallace, 26, had 64 catches for 836 yards and eight touchdowns...
The most highly sought skill-position player in free agency has a new home. Wide receiver Mike Wallace has agreed to contract terms with Miami, the NFL Network reported. Although there is a weak class of free-agent wideouts in 2013, Wallace is considered a blue-chip player because of his speed, upside and age (26). Wallace has the most catches of 40-plus yards in the NFL since...
We have more Pittsburgh Steelers free agent buzz to pass along on Saturday with just a few more days to go until the start of the new league year on Tuesday. Daniel Jeremiah of the NFL Network reports on Twitter that he is hearing the Miami Dolphins might be interested in unrestricted free agent running back Rashard Mendenhall should they decide to part ways with running back...
The prospects of Pittsburgh Steelers unrestricted free agent wide receiver Mike Wallace signing with the Miami Dolphins has been an obvious one for some time and it now appears that it is a forgone conclusion. Peter King of Sports Illustrated reports in his Monday Morning Quarterback piece that the Dolphins didn't have much, if any, competition for Wallace since the legal tampering...
Well that was fast. About ten minutes after free agency officially began there were reports of Mike Wallace being in Miami to talk with the Dolphins. As of right now Wallace will be taking a physical and once he gets cleared he will return to the Dolphins facilities to sign his deal. Wallace is expected to receive a deal around five year $65 million with $30 million in guaranteed...
By Clarence Tunstall I can't help but be upset with Mike Wallace for leaving. He cut his teeth with the Steelers, learning from one of our all-time greats. Then when he is about to mature into one of the best receivers in the league, leaves us high & dry with nothing. Chances are good that by turning down the Steelers $10M/yr offer last season, Mike Wallace has gotten himself...
The Miami Dolphins landed former Steelers wide receiver Mike Wallace, one of the big veteran prizes available here in 2013. It's always bad to overpay for WRs. But in terms of statistical need, Wallace to Miami makes perfect sense.
The free agency frenzy is underway across the NFL. As always, there are a few names that get all the buzz.Among the most mentioned names this free agency season is Pittsburgh Steelers' wide receiver Mike Wallace.Wallace has become a favorite target of Ben Roethlisberger over the past four years.This is due, in large part, to Wallace's sheer speed, giving him the ability...
Breaking News - The Miami Dolphins have agreed in principle with free agent wide receiver Mike Wallace on a 5 year deal bringing the former Steeler down south to Florida. NFL Impact - The Steelers were looking to the future when they decided to sign Antonio Brown to a long-term contract last season, so it was no shock that Mike Wallace never got his deal. And for arguably the #1...
According to a report from NFL.com's Jeff Darlington, former Steelers wide receiver Mike Wallace has agreed to a deal with the Miami Dolphins Mike Wallace is indeed on the verge of becoming a Miami Dolphin, I'm told. He's taking a physical. The sides have reached an agreement. — Jeff Darlington (@JeffDarlington) March 12, 2013   The deal appears to be contingent on a clean...
Jay Glazer of Fox Sports reported Monday via Twitter that the Minnesota Vikings have agreed to trade wide receiver Percy Harvin to the Seattle Seahawks in a deal that is believed to include the Seahawks 2013 first round draft pick. Now that the Vikings have unloaded one of their top two offensive play-makers, and number one headache, you have to wonder if they will now get in the...
NFL News

Delivered to your inbox

You'll also receive Yardbarker's daily Top 10, featuring the best sports stories from around the web. Customize your newsletter to get articles on your favorite sports and teams. And the best part? It's free!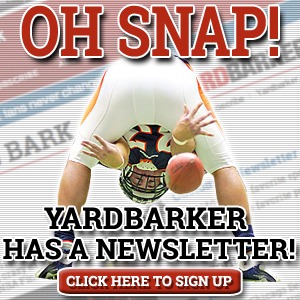 Latest Rumors
The Backyard

Today's Best Stuff

For Bloggers

Join the Yardbarker Network for more promotion, traffic, and money.

Company Info

Help

What is Yardbarker?

Yardbarker is the largest network of sports blogs and pro athlete blogs on the web. This site is the hub of the Yardbarker Network, where our editors and algorithms curate the best sports content from our network and beyond.