Found November 19, 2012 on Purple Jesus Diaries:
PLAYERS:
Percy Harvin
,
Jerome Simpson
,
Phil Loadholt
,
Kevin Williams
,
Jamarca Sanford
,
Antoine Winfield
,
Jared Allen
,
Adrian Peterson
,
A.J. Barker
,
Christian Ponder
TEAMS:
Minnesota Vikings
,
Detroit Lions
,
Minnesota Golden Gophers
,
Notre Dame Fighting Irish
I Consider That a Success: Because look at our roster. Percy Harvin? Jerome Simpson? Phil Loadholt? Kevin Williams? I was sure that they'd either be getting busted for smuggling drugs, eating people, or taking "dietary supplements" that would end up in a child's back pack and get your ass sent to jail. I was SURE something would happen. Would Jamarca Sanford kill someone? Would Antoine Winfield get in trouble from stealing blood from the morgue? Would Jared Allen lasso an underaged teen? You give these professionals seven days off to do whatever they want, and something was bound to happen. And yet it didn't! Not even Adrian Peterson was cited for starting a fight at a nightclub! That's a total win! Now, we can all move along, get back to football, and prep for probably the worst stretch of football we've seen in quite sometime. Four division games? Another against possibly the best team in the league? Yay! Who else is excited?! Why couldn't the season have ended when we were 4-1? That would have been way better. Whatever, let's do this, nerds. College Football Had a Fantastic Weekend: Now, I know most of you are probably from Minnesota and are therefore Gopher fans, which probably means you disagree with my above statement, BUT YOU ARE WRONG. Watching the Gopher's get dismantled by the Cornhuskers was amazing. And then that white guy AJ Barker goes all nuts and skewers Jerry Kill and the Barn is burning. It doesn't get much better, if you think the Gophers are stupid, which I do. Hope you all enjoyed your trip to Lincoln to see what college football is really like! The other entertaining part was watching those meth heads from Kansas get fileted by Baylor (BAYLOR?!) to lose their number one BCS ranking, and then keeping an eye on Oregon as they likewise shat the bed and lost their number two BCS ranking. MORONS! Now, the awful school of Notre Dame is ranked god damn number one, and Alabama is primed to be the number two and get their way into the BCS Championship Game. This sucks, but is also awesome, because there's nothing better than watching Notre Dame fans get SUUUUUPER excited about life, only to have it all come crashing down. I can't wait for that. It's better than licking vanilla honey off of a set of boobs. Promise. Suck a Wang, Lions: In NFL news, the Detroit Lions went on to prove that they are still probably the worst franchise in the NFL (except maybe the Raiders ... God they're awful) as they choked away their lead over the Packers. That would have been a real sweet victory because it would have brought those Wisconsin nerds closer to us, and make it easier for us to pass them by and get close to the division or a wild card playoff spot. Instead, the Lions wasted their two minutes they had to simply get into FIELD GOAL range and let the Packers win. DUMB. The Lions are effectively now toasted, which is nice, but since we already beat them twice, I would rather prefer they hold on to their false hope and continue to play their division games hard. Now, I'm guessing they'll go into hibernation soon. Or wait ... Lions don't do that, right? Whatever, you get the picture. The blew it and I hate them. Notes and Nips: What else happened over the Bye Week? LOTS, YOU IDIOTS! Here are some other Notes and Nips from the weekend: - I had Sunday breakfast at the New Louisiana Cafe in St. Paul. It was ... Fine, but I definitely wouldn't put it up in the top 5 for great brunchy spots in the cities, maybe not even top 10. I was expecting more, but I guess when you usually only get eggs, hashbrowns, toast, and bacon, there's not many ways you can do that differently. Their coffee was pretty good though! - The Patriots absolutely gang banged the Colts. I think their defense or special teams was responsible for three separate touchdowns. That's awesome. I wish I had them on my fantasy squad. - Lots of people say they may hate the throwback uniforms the Steelers wore on Sunday, but I love them. The huge jersey numbers, the tons and tons of stripes on the jersey and socks ... They're great. Not better than the Vikings throwbacks, mind you, but still pretty awesome. - I've been playing Assassin's Creed III on the weekends since it's release. I've been a HUGE backer of AC games, and even fight with people when they say they don't like the first game (It might be the best one). That said, I wasn't overly impressed with this third game to start with, but by the time the developers quite holding your hand and let you get into the game and actually DO stuff, it's slowly opening my eyes to greatness. I'm having just as much fun as I did when I first discovered AC2, and that's a pretty big deal. Anyone else playing? What're you thinking? - Speaking of video games, I've been trying to think of solid Christmas gifts to request from family. So far, I've put things like Game of Thrones Season 2, Dark Knight Rises, underwear, the usual stuff. Is there anything out there for guys, big or small items, that I'm missing in my requests? Let me know in the comments. - Those Arby's commercials that skewer Subway for cutting their meats on a machine ... I couldn't give less ***** if I tried. Arby's, do you have any idea how YOU cut your meat? I bet you it's not with a knife you sharpened yourself, is it. I bet you it was a slicer that you bought, which is technically a machine. So shut your ***** mouth. An Ambivalent Haiku: "A tea with Calvin Johnson the wide receiver, is worse than the Vikes." That ones a little hard to believe, isn't it?! But here we are, one down, three to go. The Vikings enter this week prepping for a divisional game that may make or break their season. Unfortunately, this game is at Soldier Field, where it's like to be a windy butt hole all day long, helping to make Christian Ponder look as bad as he is. The good news? Adrian Peterson loves playing at Soldier Field and is having maybe the best season of his career, meaning ... We got a chance? I'LL TAKE IT! Let's wrap this season up strong, fellas. Here we go. [follow]
Original Story:
http://www.purplejesusdiaries.com/201...
THE BACKYARD
BEST OF MAXIM
RELATED ARTICLES
EDEN PRAIRIE, Minn. The bye week break helped Minnesota Vikings receiver Percy Harvin's recovery from a badly sprained ankle, but the team's leading receiver is still not able to return to practice. Harvin, who is tied for eighth in the league with 62 catches, suffered a sprain in three places in his left ankle in the Week 9 game against the Seattle Seahawks. He missed the...
The Minnesota Vikings were without wide receivers Percy Harvin and Michael Jenkins as they returned to the practice field following their bye yesterday, according to Tom Pelissero of ESPN1500.com, and the team also said it would continue to "lighten" Adrian Peterson's work load in practice due to his sore left ankle. #Vikings back on practice field. Percy Harvin and Michael...
Minnesota receiver Percy Harvin did not practice on Monday when the team returned to work after its bye week. Harvin is still working through a badly sprained left ankle that caused him to miss the game against Detroit before the bye. Coach Leslie Frazier says his leading receiver hasn't suffered any setbacks. But Frazier did say it was still too sore for Harvin to go Monday...
Vikings receiver Percy Harvin, who missed Week 10 due to an ankle injury, was not at Monday's practice, according to beat writer Tom Pelissero.Fantasy Spin:Harvin will likely be a game-time call Sunday whether he practices this week or not. The Vikings desperately need his receiving talents if they are going to have a chance when they visit Chicago.
EDEN PRAIRIE, Minn. Chris Kluwe is out supporting another cause, but this one hits a bit closer to home for the outspoken Minnesota Vikings punter. Kluwe has written an open letter to the Pro Football Hall of Fame Selection Committee, which was posted on Deadspin.com, and admonished voters for continually ignoring former Raiders punter Ray Guy, considered by many the best-ever...
If you are still for some reason reading major sports outlets instead of just getting your Vikings news from sites like THIS, then maybe you've already seen Peter King's newest "Monday Morning Quarterback." If you have already read it, I am so sorry for your soul, because you have terrible taste in reading material. If you haven't, then let me share with you...
EDEN PRAIRIE, Minn. Returning to practice after a seven-day break, Minnesota Vikings center John Sullivan sat at his locker with his shirt and forehead dripping with sweat and said the first few plays during practice, "it's hard to get your wind back." Sullivan, like most of his teammates, got away during last week's bye week. Sullivan spent part of his time off...
EDEN PRAIRIE, Minn. While the players for the Minnesota Vikings were stretched across the country enjoying their week off during the bye, coach Leslie Frazier and his coaching staff were still tucked inside the team's facilities at Winter Park. Frazier and the coaches had taken time recently to evaluate the play, specifically the passing offense, before the 34-24 win against...
The Vikings have two ultra-productive stars on the field with Adrian Peterson and Percy Harvin, but both showed determination and toughness to get where they are.
The Vikings are hoping a bye-week self-scout can help improve their passing offense. Christian Ponder entered the bye feeling better about his performance after a rough stretch, but how he performs under pressure is still a story being developed. What are the measurements used to evaluate that and what did he, Leslie Frazier and Rick Spielman say about it?
Vikings WR Percy Harvin didn't attend the start of the team's short post-bye practice Monday after missing the last game with an ankle injury.
NFL News

Delivered to your inbox

You'll also receive Yardbarker's daily Top 10, featuring the best sports stories from around the web. Customize your newsletter to get articles on your favorite sports and teams. And the best part? It's free!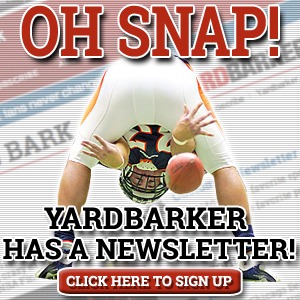 Latest Rumors
Best of Yardbarker

Today's Best Stuff

For Bloggers

Join the Yardbarker Network for more promotion, traffic, and money.

Company Info

Help

What is Yardbarker?

Yardbarker is the largest network of sports blogs and pro athlete blogs on the web. This site is the hub of the Yardbarker Network, where our editors and algorithms curate the best sports content from our network and beyond.