Found June 27, 2013 on isportsweb.com:
Photo by: GoDeepSports.com The 2013 offseason in Minnesota Vikings camp has been as positive an offseason you can have. One move made the purple faithful collectively smile: the pickup of Desmond Bishop the middle linebacker from the Cheese-heads to the east.  The 1-year deal included $1.35 million and a spot in the locker room of his long time career rival, the Minnesota Vikings. He shouldn't be nervous after witnessing the wall get a little bloody in the light of Darren Sharper and Brett Favre a few years back. Should I continue with the success former Packer players have with the Vikings? I won't even start on Ryan Longwell. I'm getting away from the point.Let me settle down a little and focus on the backer at hand. I wrote this piece a little after the deal buzz settled down for two reasons: so I can figure out the team's plans for the "middle linebacker" and do some research for myself on Bishop. Here's what I concluded: Desmond Bishop is a versatile 7th year veteran, who up until last season was a solid day in and day out performer. His 2012 season was cut short with an injury he suffered during preseason, a ruptured hamstring tendon that needed surgery. After the Packers season was over, he was cut by the team. It was pretty clear that the Packers believe Bishop is more likely to be a mediocre free agent than a franchise middle linebacker. That has me fired up, and I'm sitting on the couch typing. You can hear the motivation in his voice in his interviews coming after the deal surfaced. He sounds like a man ready to win not just against his new rival Packers, but the rest of the league.  The Vikings didn't go the middle linebacker route most thought they would in this year's draft with Te'o on the board. So this one year deal is basically making up for that until they can get a stud in next year's draft. Desmond Bishop is leaping to Minnesota. Photo by: Benny Sieu   This makes sense when you are talking about a guy with 292 career tackles while being held back by injury. He has amassed eight forced fumbles as well in his playing time. In 2011 he had his best season with 90 tackles and five sacks while only playing in 13 games. The Vikings made sure they snagged him with teams like the Chiefs and Giants trying to get him.  The reason this deal is so important to the coaches is he beat up on the Vikings every time they played in 2011. He had eight tackles in both of the games he played that season. If you can't beat them join them or in this case take them. The same goes for the Jennings signing. If a guy beats you every season then get him on your team who both wants and needs their talent. If they are happy with the situation it gives them extra incentive to work their tales off to win the rivalry games. The Vikings current plans still involve keeping Erin Henderson at MLB and move Desmond Bishop to outside linebacker in the 4-3 defense alongside both Henderson and Chad Greenway. The team along with Henderson believe he can be the anchor of the defense he was before he was rattled with injuries. The only thing that can hold up his success is his health. If he can play a full season I see a veteran who proved he still has a loaded arsenal. The same goes for the newly added Greg Jennings. This is a one year deal which makes it a contract year for him. This year can make or break the rest of his career. This makes the most sense for both Bishop and the depth chart. If Henderson's season is cut short for any reason, Bishop can move back to middle linebacker. Which opens up many possibilities for the team. Not to mention the developing monster that is Chad Greenway. This will all work out because when you have a guy who believes he can win somewhere because he is open and willing to work at other positions to help the team. The man is talking about being excited to play for his former team rival, that shows good character all in itself. I respect that and believe the odds are stacked more against Green Bay than in Minnesota. Sorry Green Bay but I think you just gave Minneapolis another winner.      
Original Story:
http://feedproxy.google.com/~r/isport...
THE BACKYARD
BEST OF MAXIM
RELATED ARTICLES
Newly acquired linebacker Desmond Bishop says that he could move to the outside in the Vikings 4-3 defense. It was assumed when he signed with Minnesota that he would man the middle linebacker position and fellow linebacker Erin Henderson would go back to his old position. However, Bishop indicated that it hasn't been determined where he'll play and that he has plenty experience...
EDEN PRAIRIE, Minn. -- Desmond Bishop chose the Minnesota Vikings over at least three other teams when he was released by the Green Bay Packers, even though Bishop says he isn't sure where he will play in Minnesota's 4-3 defense. One thing is sure, in Bishop's mind, he'll be ready to play when the Vikings open training camp on July 26. "Yes I will, 100 percent...
EDEN PRAIRIE, Minn. -- Desmond Bishop chose the Minnesota Vikings over at least three other teams when he was released by the Green Bay Packers, even though Bishop says he isn't sure where he will play in Minnesota's 4-3 defense. One thing is sure, in Bishop's mind, he'll be ready to play when the Vikings open training camp on July 26. "Yes I will, 100 percent...
Minnesota Vikings running back Adrian Peterson sat down with Pete Prisco of CBS Sports and was asked if he's heard about people claiming that he's on "the juice" after an amazing comeback from ACL surgery in 2012. Paterson acknowledged that he's heard the rumors, and said that a player on the Lions even asked him what he was on. "Whatever you were juicing on, let me know...
Minnesota Viking Erin Henderson is currently the team's inside linebacker. That soon might change as the team has signed Desmond Bishop. If you ask Henderson if he's going to be moving back to the outside, however, he'll tell you something different. During an interview on Sirius XM NFL Radio Henderson was asked just that and he said that after speaking to the coaches, there...
Photo by: Pioneer Press It is never to early to look ahead at the upcoming season. Now with that in mind I will discuss who I think will be the best defensive player the Minnesota Vikings have when all is said and done in the 2013 NFL season. Outside linebacker Chad Greenway is this player with tremendous upside that may have not peaked yet. As a standout linebacker with the...
EDEN PRAIRIE, Minn. -- Adrian Peterson was recognized as the NFL's MVP last season, an award voted on by the media. Peterson earned the respect of players around the league though after rushing for 2,097 yards, the second-highest, single-season total in league history.The players showed their respect by voting Peterson the league's best player in the annual Top 100 ranking...
Tweet Adrian Peterson had one of the most remarkable seasons for a running back in NFL history in 2012 for the Vikings. After coming back way quicker than expected, Peterson finished just eight yard shorts of Eric Dickerson's single-season rushing record. Peterson's season was truly a miracle. Apparently it was a little too miraculous for [...]
When this crappy blog first started, one of the awesome guys we always got to write about was Visanthe Shiancoe. There was something about his shirtless smiles that always brought us in, but also his dreamy eyes, dog barking GIFs, and so much more. We use to profile as him and do movie reviews during the off-season, because it's the off-season. Like many of our favorite former...
View the good and the bad of Matt Cassel's minicamp, from connecting on several passes to throwing some ill-advised ones.
Donovan McNabb's tweet asking whether Aaron Hernandez's NFL career is over has gone viral. Could this be the end of Aaron Hernandez NFL career? Your thoughts? — Donovan McNabb (@donovanjmcnabb) June 26, 2013 Photo Credit: Patriots.com Hernandez was of course arrested and released from the New England Patriots Wednesday morning.  He pleaded not guilty, but is being held without...
With no OTA's, or free agents, or NFL draft, or training camp, Packers junkies are suffering heavy withdrawal this week. Join Kelly, Colleen and Richard as they discuss cake tasting, Desmond Bishop, Kevin Greene as a defensive coordinator, the Packers Sweep, horse-face John Elway, Finley's baby mama drama < dumping a dead corpse, which Packer receiver will get 1,000 yards...
Vikings News

Delivered to your inbox

You'll also receive Yardbarker's daily Top 10, featuring the best sports stories from around the web. Customize your newsletter to get articles on your favorite sports and teams. And the best part? It's free!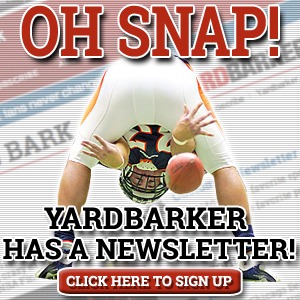 Latest Rumors
Best of Yardbarker

Today's Best Stuff

For Bloggers

Join the Yardbarker Network for more promotion, traffic, and money.

Company Info

Help

What is Yardbarker?

Yardbarker is the largest network of sports blogs and pro athlete blogs on the web. This site is the hub of the Yardbarker Network, where our editors and algorithms curate the best sports content from our network and beyond.