Found September 24, 2012 on BroncoTalk: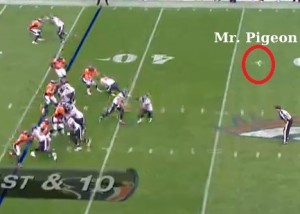 (Image courtesy of CBS)
Last week, Denver Broncos' coaches John Fox and Jack Del Rio had some candid conversations with the replacement referees during Denver's loss to the Atlanta Falcons on Monday Night Football.  The refs, at worst, may have gotten a slap on the hand for the atrocious job they did while calling the game.
In the case of Fox and Del Rio, their wallets will now be a little lighter.  Fox has been smacked d with a $30,000 fine and Del Rio will be paying up $25,000, according to ESPN's Adam Schefter (via PFT).  Expect more coaches to be fined for Week 3 tirades which were directed at the unfortunate and unqualified replacement referees.
Meanwhile, the Broncos' have another problem on their hands that has nothing to do with referees or football.  Rather, they have a pigeon problem.  About a week ago, President Joe Ellis promised that the pigeons would be taken care of, which excited the fans who have received gifts from the sky via said pigeons on a weekly basis during the course of the season.
While Ellis' words were pleasant to the ears of Broncos fans, Houston Texans quarterback Matt Schaub is now missing part of his ear.  Schaub was dazed after he was hit by linebacker Joe Mays on Sunday, causing his helmet to fly off, ripping out a gash of his lobe ear in the process.  Mr. Tough Guy himself, Schaub commented, "I felt fine.  I just lost a piece of my ear and had to come out for a play, but I was fine."
Of note was the fact that during the play Schaub was banged up—and many other times during the game—pigeons were seen flying around the field.  On that particular play, a pigeon can be spotted in Houston's offensive backfield.  After play commenced, the pigeon departed, leaving no gifts that were visible to us.
Obviously, the pigeon problem has not yet been taken care of.  So while fans, coaches, and players across the league eagerly await the return of "real" NFL referees, Broncos fans are also waiting for the excrement-dropping Columbidae birds—pigeons—to be discharged from Sports Authority Field at Mile High, permanently.
If that day ever comes, fans will tip their hats to the organization in appreciation.  Such an occasion would mark the first time in years that fans would be able to also remove their hats without having to worry about gifts landing on their uncovered heads.  Be gone, pigeons, we have football to watch.
Your turn!  Have you been bothered by the pigeons at Mile High?  Do you think Fox and Del Rio should have been fined?  Is Schaub more attractive without part of his ear? Tweet, email, and comment below and let us know!
Original Story:
http://broncotalk.net/2012/09/41457/b...
THE BACKYARD
BEST OF MAXIM
RELATED ARTICLES
With the Denver Broncos now off to a 1-2 to start, people have noticed that Peyton Manning isn't getting the ball out of his hands the way he used too.  In his defense though, he's still rehabbing, so we know he's not 100 percent healthy. One NFL scout told Albert Breer of the NFL Network that "Peyton Manning can't throw the ball anymore." I think that's a little harsh...
Denver Broncos linebacker Joe Mays is appealing his one game suspension given by the NFL for his hit on Houston Texans quarterback Matt Schaub, according toAdam Schefter. Mays was fined $50,000 by the league and given a one game suspension for the hit. Mays was asked after the game if he expected to be fined for the hit, he said: "Oh yeah. I'm expecting that. But it was...
Denver Broncos head coach John Fox has been fined $30,000 and defensive coordinator Jack Del Rio has been docked $25,000 for verbal abuse of the replacement officials. They were fined for their actions in last Monday night's loss in Atlanta. NFL executive vice president of football operations Ray Anderson says he is reviewing incidents from Sunday night's New England-Baltimore...
Broncos wideout Eric Decker had his best game of the season in Week 3, catching eight passes for 136 yards.Fantasy Spin:Demaryius Thomas was Peyton Manning's favorite target in the first two weeks but Decker stepped up Sunday against Houston. His day could have been even better but a touchdown intended for him was tipped into the air and ended up in the hands of tight end Joel...
(Image courtesy of Chris Hall/BroncosTV) The NFL has just announced that they will be suspending Denver Broncos middle linebacker Joe Mays for one game due to a hit he delivered Sunday to Houston Texans' quarterback Matt Schaub. The hit left Schaub missing a portion of his earlobe. Mays has apologized to Schaub twice and Schaub accepted, but apologies and accepted apologies are...
Denver running back Willis McGahee (ribs) is listed as day-to-day, according to the Denver Post. McGahee left Sunday's game against the Texans in the third quarter due to a rib injury.Fantasy Spin:McGahee had two lackluster fantasy performances so far this season but rushed for 113 yards and two scores in Week 2 and is the clear-cut No. 1 back on the Broncos when healthy. Ronnie...
Broncos' Mays Suspended 1 Game For Hit On Schaub - Broncos LB Joe Mays has apologized for his vicious hit on Texans QB Matt Schaub on Sunday, but the NFL doesn't think an apology is enough. And the league office doesn't think a heavy fine is enough, either. Instead, Mays has been suspended for one game for his helmet-to-helmet hit. A source with knowledge of the situations...
Matt Schaub lost part of his ear during the Texans' win in Denver on Sunday, and the action isn't going unpunished. Broncos middle linebacker Joe Mays was the guilty party in the gruesome hit that saw Schaub's earlobe cut in half, and now he'll pay the price for his action. Mays will be suspended one game and fined $50,000 for the hit, the NFL announced Tuesday. Mays...
According to ESPN's Adam Schefter, the NFL may suspend Denver Broncos linebacker Joe Mays for his helmet to helmet hit on Texans quarterback Matt Schaub during yesterday's game.  He'll at least get a fine for sure. Schaub lost a piece of his ear from the hit below.  Pretty sick. https://www.youtube.com/watch?v=Q-Huy-TjoA4
TweetNo doubt Eli Manning has yet to reach his brother's status as one of the best quarterbacks ever. But this season may turn out to be the one where people think of the older Manning as Eli's brother, this Denver Broncos fan seems to be on the same wave length. I don't think it can be disputed that the New York Giants QB is more clutch than Peyton Manning ever was.
Denver Broncos linebacker Joe Mays will serve a one-game suspension for the helmet-to-helmet hit he put on Texans quarterback Matt Schaub in Week 3, according to multiple reports.
At about 2AM on Sunday morning, I found myself in the rare position of singing "Happy Birthday" to a 63 year-old man. Not really singing as much as screaming at the top of my lungs. And it wasn't just me, it was me and 55,000 other people. And it wasn't just any 63 year-old man, it was Bruce Springsteen. After seeing The Boss play Giants Stadium on Friday and Saturday night...
NFL News

Delivered to your inbox

You'll also receive Yardbarker's daily Top 10, featuring the best sports stories from around the web. Customize your newsletter to get articles on your favorite sports and teams. And the best part? It's free!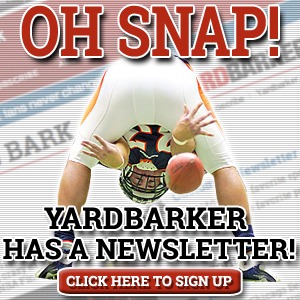 Latest Rumors
The Backyard

Today's Best Stuff

For Bloggers

Join the Yardbarker Network for more promotion, traffic, and money.

Company Info

Help

What is Yardbarker?

Yardbarker is the largest network of sports blogs and pro athlete blogs on the web. This site is the hub of the Yardbarker Network, where our editors and algorithms curate the best sports content from our network and beyond.