Found October 01, 2012 on The Pass Rush:
It was a wild Sunday for me. After being thunderstruck by home dogs this year, I took a pledge from taking a week off from betting against any home dogs. In doing so, I passed on some spreads that I really wanted to take such as Patriots (-4) over Bills, 49ers (-4) over Jets, and Bengals (-2.5) over Jaguars. The home dog didn't get there way in those games and they were all easy winners. Instead, I tried to identify the strongest home teams and took the Falcons and Cardinals. I lost those two plays against the spread, but I decided to hedge my bets by teasing those spreads down so the spread wasn't a factor. I hit my teasers and ended up Sunday in positive territory after going 3-for-3 on Saturday thanks to Brandon's two picks and Texas over Oklahoma State. I managed to hit my teasers thanks to a last-second field goal in the Falcons game and an overtime win in the Cardinals game, which proves that it's better to be lucky than good. Let's get into Monday Night's game. CHICAGO BEARS (+3.5) @ DALLAS COWBOYS Dallas hasn't been very impressive the last two weeks. After scoring just 7 points against Seattle and pretty much getting rocked by the Seahawks, the Cowboys managed a mere 16-10 win over the Tampa Bay Buccaneers on their home turf. I like taking the Bears and the points tonight. This game is all about defense. Chicago's defense has been tremendous this year. The Bears rank 1st in sacks and 2nd in takeaways. Dallas has a pretty solid defense themselves. With the over/under at 41.5, I think the opportunity can be taken to tease the over/under to under 48.5 to pair up with Bears +10.5. In a tight defensive battle, it's nice to have the 3.5 points on my side. This game should come down to a field goal. My concern here is the Bears offense. What Jay Cutler will show up on Monday Night? Dr. Jekyll or Mr. Hyde? Cutler has me less than optimistic with the Bears chances on the road against a solid defensive unit. Case in point: the Green Bay Packers game in week 2. Cutler was awesome in the season debut against the Colts, absolutely horrendous against the Packers, and then poor against the Rams. His average QB rating is a 58.6. I don't expect a big game out of him against a solid Cowboys defense. Matt Forte is listed as questionable, but I have a feeling that he'll be in the starting lineup this week. Forte will be very valuable in the Bears passing game. Despite Cutler's shaky start to the season, I'm expecting his defense to keep the Bears in this game well into the 4th quarter. I think you see a lot of three and outs, a lot of punts, and a lot of field goals in this game. However, turnovers can turn into easy points. In a tight defensive battle, I'll favor taking the points, as I feel that this game will be decided by 3. I'll play one unit on Bears (+3.5) and one unit on a teaser of Bears (+10.5)/Under 48.5. Even if the Cowboys win 24-17, 27-20, or 27-17, I'm coming out even. Good luck. Prediction: Bears 20 – Cowboys 16 Pick Against the Spread: Bears +3.5 (Confidence: 6/10) Teaser: Bears +10.5/Under 48.5 (Confidence: 7/10)
Original Story:
http://www.thepassrush.com/2012/10/01...
THE BACKYARD
BEST OF MAXIM
RELATED ARTICLES
Jay Cutler is a brat. When things don't go Cutler's way, he reacts like a bratty child by either screaming at, shoving or walking away from whatever is bothering him. Cutler was at it again on Monday night when he was unhappy with offensive coordinator Mike Tice's play calls coming in slow. When Tice walked over to Cutler to talk about it on the Bears' bench, Cutler...
Jay Cutler walked away from Chicago Bears offensive coordinator Mike Tice on the sidelines during "Monday Night Football." Cutler behavior on the football field has been in question for years, and this is no exception. In this case, it seems like Tice wanted to go over something but Cutler just blew him off. We don't consider Tice a good offensive coordinator, but that's...
Jay Cutler on Monday Night Football tonight was seen on camera trying to avoid and ignore Bears offensive coordinator Mike Tice on the Bears sideline. Now we don't know what started the tiff, yes, I used the word tiff, but its Jay Cutler, so anything is possible. What's surprising about all of this is that the Bears are actually winning, so why fight? I'm guessing...
It appears from the below GIF that Chicago Bears quarterback Jay Cutler just wanted to sit on Chicago bench in peace during the second quarter of Monday night's Bears/Cowboys game. However, Bears offensive coordinator Mike Tice went over to talk to Jay about the previous failed drive and received a rather cold shoulder from his starting quarterback. Before Tice could even sit...
Chicago Bears QB Jay Cutler is becoming known as a quarterback who wears his emotions on his sleeves. He's comfortable expressing himself, and getting a little more colorful this season; or so it seems. During last night's blow out of the Dallas Cowboys, Cutler had some disgust with offensive coordinator Mike Tice, and walked away when Tice was trying to discuss strategy with...
While the Chicago Bears may be 3-1 and tied for first in their division, I'm not ready to call them the best in the NFC North yet. COming off a blowout win on Monday Night Football against the Dallas Cowboys there is plenty of reason for optimism, but also for doubt as well. Now I can't be too harsh on the Bears offense, as their top RB Matt Forte has been dealing with an ankle...
Jay Cutler can't win. Well, he actually can win football games. A lot of them. He just can't win with America. If Peyton Manning screams at an offensive tackle, he's lauded for being an incredible leader and a "coach on the field." If Tom Brady gets into it with his offensive coordinator, it's OK. He's just "fired up." If Ben Roethlisberger...
ARLINGTON, Texas -- Jay Cutler and the Chicago Bears took advantage of five Dallas turnovers in thrashing the Cowboys 34-18 Monday night at Cowboys Stadium. The Bears (3-1) returned two interceptions off Dallas quarterback Tony Romo for touchdowns in winning their second consecutive game to remain tied with Minnesota atop the NFC North. Romo threw a career-high five picks. The...
Coming off a dominating performance in prime time, the Chicago Bears defense could be in for another big effort against a team that might have the worst offense in the NFL. The visiting Bears look for a third consecutive victory as they face the offensively challenged Jacksonville Jaguars on Sunday. Though Chicago's offense has been inconsistent in 2012, its defense has a league...
NFL News

Delivered to your inbox

You'll also receive Yardbarker's daily Top 10, featuring the best sports stories from around the web. Customize your newsletter to get articles on your favorite sports and teams. And the best part? It's free!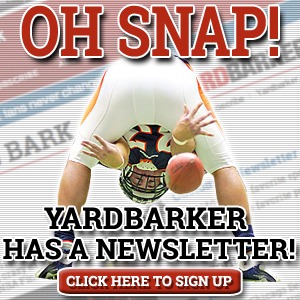 Latest Rumors
Best of Yardbarker

Today's Best Stuff

For Bloggers

Join the Yardbarker Network for more promotion, traffic, and money.

Company Info

Help

What is Yardbarker?

Yardbarker is the largest network of sports blogs and pro athlete blogs on the web. This site is the hub of the Yardbarker Network, where our editors and algorithms curate the best sports content from our network and beyond.