We continue our photo feature on State of the Texans begun in the interest of entertaining throughout the off-season. We are collecting pictures of our Houston Texans players as they share their activities on Twitter or, in the future, as we receive them and sharing them with the State of the Texans family. Enjoy, and if you see any candid or posed Texans pictures, share with us via Twitter (contact info below) – we'll give you credit right here on the site! Texans QB Matt Schaub and Houston Texans Cheerleaders after lunch with Houston Fire Department, Fire Station #8, 1919 Louisiana St. in Downtown Houston on Tuesday, July 17, 2012. Schaub presented the firefighters with a signed jersey, signed much more memorabilia and visited with them during the lunch.
Very honored to have had lunch with the incredible firefighters at Fire Station #8. Thanks for all your service. twitter.com/MSchaub8/statu… — Matt Schaub (@MSchaub8) July 17, 2012
Texans DE JJ Watt posted a picture on Tuesday, July 17, 2012 of his hometown in Wisconsin.
Where I come from… twitter.com/JJWatt/status/… — JJ Watt (@JJWatt) July 17, 2012
  Texans NT Earl Mitchell posted this photo portrait of himself in Austin on Wednesday, July 18, 2012. Mitchell has reportedly bulked up from 287 to 308 lbs in the off-season to aid him in fighting double-teams and work toward the starting NT position.
Chillen in Austin,TX twitter.com/EarlMitchell92… — EMFM (@EarlMitchell92) July 18, 2012
  Texans OLB Connor Barwin gets some time on the beach volleyball court with Eagles C Jason Kelce on Wednesday, July 18, 2012, at Ignition APG, a training center for young athletes.
Great to have #Texans @ConnorBarwin98 & #Eagles @Jkelce back in the facility today #TeamIgnition twitter.com/IgnitionAPG/st… — Ignition APG (@IgnitionAPG) July 18, 2012
  Someone at the J.J. Watt Foundation found this; J.J. Watt tweeted it for the world to see, Thursday, July 19, 2012.
This is a first. A @JJWatt vending machine… twitter.com/JJWFoundation/… — JJ Watt Foundation (@JJWFoundation) July 19, 2012
Connor Barwin graced this "playing card," during his college days at Cincinnati, posted on #ThrowbackThursday, July 19, 2012. Barwin made a switch while playing there from ST/TE to the LB position.
#throwbackthursdaythe homie @ConnorBarwin98 jack of all spades!!! twitter.com/DLO614/status/… — DeAngelo Smith(@DLO614) July 19, 2012
  Texans LT Duane Brown enjoys an elephant ride in Thailand while on his honeymoon with SiriusXM Shade 45 host @DeviDev, on Friday, July 20th.
We just out here chillininstagr.am/p/NSM1Yot3jh/ — Duane Brown (@DuaneBrown76) July 20, 2012
  We just out here chillin   Texans RB Justin Forsett gives back at Camp Goodtimes, an American Cancer Society camp for children. Forsett posted this picture on Sunday, July 22, 2012.
They made me put on a costume for the first day of camp #CampGoodtimes instagr.am/p/NZaeGIQ3eq/ — Justin Forsett (@JForsett) July 22, 2012
They made me put on a costume for the first day of camp #CampGoodtimes   Texans QB T.J. Yates enjoys some offseason fishing, sharing this photo on Friday, July 20, 2012.
Great day fishing Black Tip and King Mackerelinstagr.am/p/NUH8jXrBvA/ — T.J. Yates (@TJ_Yates) July 20, 2012
Great day fishing Black Tip and King Mackerel   Follow The Claire Bear on Twitter here.
Original Story:
http://www.stateofthetexans.com/?p=6202
MORE FROM YARDBARKER
NFL News

Delivered to your inbox

You'll also receive Yardbarker's daily Top 10, featuring the best sports stories from around the web. Customize your newsletter to get articles on your favorite sports and teams. And the best part? It's free!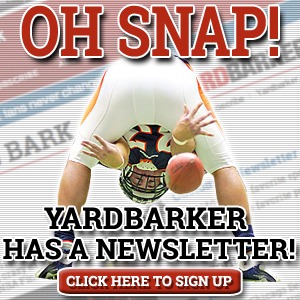 Latest Rumors
Best of Yardbarker

Today's Best Stuff

For Bloggers

Join the Yardbarker Network for more promotion, traffic, and money.

Company Info

Help

What is Yardbarker?

Yardbarker is the largest network of sports blogs and pro athlete blogs on the web. This site is the hub of the Yardbarker Network, where our editors and algorithms curate the best sports content from our network and beyond.