Found January 28, 2013 on Awful Announcing:
The Pro Bowl is a joke.  You know it.  I know it.  The NFL and NBC most certainly know it.  The game is such a joke that jokes about the game are even getting old fast and seem as fresh as Tebowing. We've reached some sort of absurd meta level of ridiculousness that everyone involved with the Pro Bowl from the players to the referees to the announcers promote the farcical nature of the exhibition.  I mean come on, an NFC player snapping the ball to an AFC player?  I know Jeff Saturday and Peyton Manning were teammates for a really long time and it's such an adorable photo op, but isn't he lined up in an offside position?  Aren't there about 17 illegal things happening here?  I'm just waiting for someone to be sacked with a bucket of confetti. But in spite of what the Pro Bowl offers with dozens of players skipping the game and the rest not really giving a darn, millions and millions of viewers around America still tune in to watch because anything the NFL touches turns to gold.  You could pit a team of junior college players against a ragtag group of XFL veterans, slap NFL logos on them, and still win the night in ratings.  For reasons unbeknownst to me, 12.5 million people watched the Pro Bowl Sunday night: NBC expected to win Sunday night on strength of Pro Bowl, which did 7.7 o'night. 2012 Pro Bowl (7.9 o'night) finished w 12.5 million viewers — NBCSportsPR (@NBCSportsPR) January 28, 2013 While it's not close to the 40 something million that tuned in over championship weekend, it's still a massive number in the general context of sports outside the NFL.  Consider that more people watched an exhibition football game with the defensive intensity of a Mike D'Antoni walkthrough than Game 1 of the World Series.  More people watched a game where a backwards onside kick was attempted than the Stanley Cup Finals.  Or the Orange Bowl.  Or golf's US Open. Just how ridiculously popular is the NFL?  With help from the impressive ratings database that is Sports Media Watch and through scouring the web, here's a list of real, presitigious sporting events that were outdrawn by the Pro Bowl if that 12.5 million number holds... *Games 1-3 of the World Series - 12.2, 12.3, 10.5 million viewers *Kansas vs UNC Elite Eight - 11.7 million viewers *LSU vs Alabama football - 11.4 million viewers *Games 1-6 of the NBA Eastern Conference Finals - Max 11.1 million viewers *MNF Panthers vs Eagles - 10.7 million viewers *Orange Bowl (NIU v FSU) - 10.5 million viewers *US Olympic Gymnastic Trials - 10.0 million viewers *Final Round US Open Golf - 9.6 million viewers *NBA Western Conference Finals - Max 9.6 million viewers *Michigan vs Ohio State football - 9.5 million viewers *Olympic Men's Tennis Final - 8.6 million viewers *Belmont Stakes - 7.7 million viewers *Coca Cola 600 - 7.4 million viewers *Indianapolis 500 - 6.8 million viewers *Ryder Cup Day 3 - 5.5 million viewers *Stanley Cup Final - Max 4.9 million viewers *Heisman Trophy Ceremony - 4.9 million viewers *Olympic Gold Medal Women's Soccer Final - 4.4 million viewers *NASCAR Chase for the Cup - 4.2 million viewers *Baylor vs Notre Dame WBB National Championship - 4.2 million viewers *UFC on Fox 6 - 3.8 million viewers *UEFA Champions Leage Final - 2.0 million viewers *MLS Cup Final - 797,000 viewers
Original Story:
http://www.awfulannouncing.com/2013/j...
THE BACKYARD
BEST OF MAXIM
RELATED ARTICLES
ONE LAST TIME
The Pro Bowl is full of gimmicks and the 2013 version was no different. Jeff Saturday spent most of his career snapping the ball in Indianapolis to quarterback Peyton Manning. Every game that Manning played in Indianapolis occurred with Saturday as the center. This year both players left Indianapolis as Manning went to Denver and Saturday headed to Green Bay. Both ended up in Hawaii...
Green Bay Packers center Jeff Saturday momentarily switched teams during the Pro Bowl on Sunday for one last thrill before he retires. Saturday was the longtime center of the Colts and played his entire Indianapolis career with Peyton Manning as his quarterback. He came into the league a year after Manning, and the two won a Super Bowl and made 16 Pro Bowls together. Both left the...
Green Bay's Jeff Saturday, the NFC's backup center, snapped the ball to the AFC's Peyton Manning. With Saturday retiring, it was a special moment between longtime teammates. It was a highlight of the NFC's 62-35 victory over the AFC.
HONOLULU (AP) -- Sack-happy defensive end J.J. Watt went out for a pass as a wide receiver, retiring center Jeff Saturday snapped to two Mannings on opposite teams and the NFC blew past the AFC 62-35 in a Pro Bowl that could be the league's last. Whether the NFL's all-star game will return or not is a question league officials will ponder the next few months. And, the players...
HONOLULU (AP) -- Sack-happy defensive end J.J. Watt went out for a pass as a wide receiver, retiring center Jeff Saturday snapped to two Mannings on opposite teams and the NFC blew past the AFC 62-35 in a Pro Bowl that could be the league's last. Whether the NFL's all-star game will return or not is a question league officials will ponder the next few months. And, the players...
usatodaysports: This is pretty great: Jeff Saturday played center for the AFC on one play to snap the ball to Peyton Manning for the final time before he retires. (screengrab via @NFLRT)
Peyton Manning urged the Pro Bowl players to take the game seriously and to play hard so that NFL Commissioner Roger Goodell doesn't get rid of the game.  It appears as though J.J. Watt received that message loud and clear.  Even after the injury, Watt continued playing, and had a special message for the Commissioner telling him that they're playing hard.  You have to love...
According to NFL Network's Ian Rapoport, Baltimore QB Joe Flacco is hoping for a larger contract than Peyton Manning when he becomes a free agent after the season.Fantasy Spin:Manning makes $19.2 million annually so it sounds like Flacco is hoping for at least $20 million. There's no way Flacco deserves to be paid as much as Peyton but guiding the Ravens to the Super Bowl...
Twitter.com Hard to believe, but the Pro Bowl just got funnier. During Train's performance, one of the Pro Bowl dancers got a little excited and exaggerated her jump, letting her shirt ride up and showing off an elite level camel toe in the process. Commissioner Roger Goodell may opt to suspend her for leading with the lobster claw. She looks naked, but she's not naked; just...
Once the Baltimore Ravens knocked off the Denver Broncos and the possibility of a Peyton Manning versus Tom Brady AFC Championship was eliminated, the next best option for the Super Bowl immediately became a Baltimore-San Francisco match-up. In the AFC Championships second half Joe Flacco looked very Tom Brady-esque. Anquan Boldin shed years off his [...]
Packers News

Delivered to your inbox

You'll also receive Yardbarker's daily Top 10, featuring the best sports stories from around the web. Customize your newsletter to get articles on your favorite sports and teams. And the best part? It's free!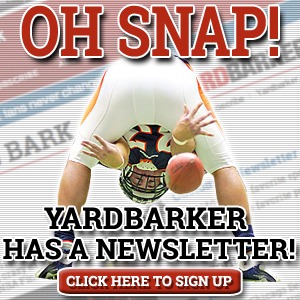 Latest Rumors
Best of Yardbarker

Today's Best Stuff

For Bloggers

Join the Yardbarker Network for more promotion, traffic, and money.

Company Info

Help

What is Yardbarker?

Yardbarker is the largest network of sports blogs and pro athlete blogs on the web. This site is the hub of the Yardbarker Network, where our editors and algorithms curate the best sports content from our network and beyond.