Found May 16, 2012 on BeyondUSports:
More Smoke Arises: Big 12 May Have Reached out to FSU First
There seems to be a lot of smoke with FSU and the BIG-12. Just when we thought the rumors surrounding FSU's potential move into the Big 12 were put on silent for a little while, Boom!
In efforts to kill the rising speculation of a move out of the ACC, President Eric Barron released a memo addressing the rumors just days ago. You can read my full take on it here.
image credit: footballnetwork.com
Then, just when we thought we'd get a tiny break from drama, former FSU LB Derrick Brooks, who also used to sit on the board of trustees told the Tim Brando Show this morning, "As far as I know the Big 12 reached out to us." Ug ohhhh…Sounds like somebody's going to be receiving a spanking from Tallahassee.
Here's where it gets real interesting. If there is truth to this, its going to make Florida State look pretty pathetic, considering they've maintained that no conversations have taken place with any parties in the Big 12. In fact, the Big 12 has agreed to this "truth." Yes, it is true most of this speculation is caused by the media, however Brooks comments have now lit a flame under Florida State's ass. FSU AD Randy Spetman responded to the comments by saying, "I don't know where Derrick got that," but that doesn't mean a thing.
Brooks' comments, however, have now broken the seal on what would be a rather important development for a story with previously little evidence to support it. Still, Florida State's administration is doing its best to temper the
image credit: roanoke.com
flares. Our good friend Brett McMurphy at CBS Sports told us FSU athletic director Randy Spetman said "I don't know where Derrick got that," in response to Brooks' comments.
The most pathetic thing about this whole situation isn't whether or not this is true. Its the fact that nobody in Tallahassee is on the same page and they haven't been since the beginning. In fact, Spetman wasn't exactly enthralled about President Barron releasing his pros to join the Big 12 in his memo, but at the end of the day Barron's word is gold compared to anyone else at FSU.
And then… there's the ACC which would potentially be on life support if all the best football programs leave and those piles of cash football brings in are missing. I would argue that if the Seminoles bolt for the Big 12, that gives Miami and Clemson additional grounds to leave the ACC as well, perhaps for the Big 12 or SEC. And of course, there's Virginia Tech who would be a sensational addition to the SEC too. Would all of this open up the possibility of a Big East/ACC merger? HA! Okay, I got ahead of myself, but I'm loving this nostalgia because the wheels of conference realignment have begun to turn again just like they did last year at this time and I can't wait to see how it turns out!
Click here to find out the Top 5 Reasons FSU Should Join the Big 12.
BeyondU Sports BeyondU Sports - Best College Sports Blog Site
Original Story:
http://feedproxy.google.com/~r/Beyond...
THE BACKYARD
BEST OF MAXIM
Buccaneers News

Delivered to your inbox

You'll also receive Yardbarker's daily Top 10, featuring the best sports stories from around the web. Customize your newsletter to get articles on your favorite sports and teams. And the best part? It's free!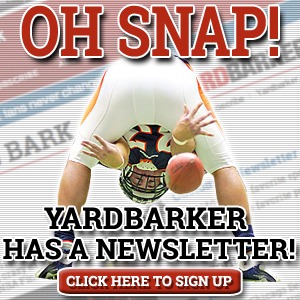 Latest Rumors
Best of Yardbarker

Today's Best Stuff

For Bloggers

Join the Yardbarker Network for more promotion, traffic, and money.

Company Info

Help

What is Yardbarker?

Yardbarker is the largest network of sports blogs and pro athlete blogs on the web. This site is the hub of the Yardbarker Network, where our editors and algorithms curate the best sports content from our network and beyond.