Found March 24, 2012 on Down and Distance:
Even more shocking news is coming out involving former Saints' Defensive Coordinator Gregg Williams.  Williams was recently suspended indefinitely by the NFL for his part in the sad story that is the New Orleans Saints' bounty program. According to an anonymous player, before a 2006 Monday Night Football game, Williams placed a $15,000 bounty on Minnesota Vikings quarterback Brad Johnson and told his Washing Redskins players that Brad Johnson wasn't going to finish the game. "Gregg came in and dropped $15,000 on the (table) and said, 'Brad Johnson doesn't finish this game. This is Wednesday and the money will go up later in the week. It could double or triple by the end of the week,' " an anonymous player "Gregg came in and dropped $15,000 on the (table) and said, 'Brad Johnson doesn't finish this game. This is Wednesday and the money will go up later in the week. It could double or triple by the end of the week,' " an anonymous player told WJFK-FM this week. "A couple of guys kinda got excited. (Defensive line coach) Greg Blache said, 'If you get fined, it will be taken care of.' " Another Redskins player, who also asked to remain anonymous, backed up the claims against Williams, though he couldn't remember specific details. "I can't say for sure it was $15,000, but I definitely remember that happening before that Minnesota game," he said. "And I can't say for sure that those were (Williams') exact words about Brad Johnson, but that was certainly the message.   "I had never heard anything like that before from a coach, but I wasn't shocked because that was (Williams') character, so in your face. His language was always X-rated and our meetings were usually pretty nuts."   According to the player, that wasn't the first time Williams told his team to target a specific player.   "The same thing happened before our playoff game the year before against Seattle," he said. "Gregg wanted us to get (Seahawks MVP running back) Shaun Alexander. Now it happened that (linebacker LaVar Arrington) knocked Shaun out of the game, but he was just playing hard. Unless it's a free shot at the quarterback, you have a really hard time trying to hurt a guy when you're making a play on the ball." This is one of several reports that the bounty system that Williams set up in New Orleans was also present in Washington.
Original Story:
http://sports-kings.com/downanddistan...
THE BACKYARD
BEST OF MAXIM
RELATED ARTICLES
Times may get hard for suspended New Orleans Saints head coach Sean Payton, as ESPN is reporting that the coach will lose up towards $5.8 million -- due to the NFL suspension he received from the league of his knowledge of the bounty program that was taking place with the Saints.Payton suspension will begin on April 1 with the suspension ending the day after Super Bowl XLVII, on...
NEW BLOOD
The Saints reportedly have added a linebacker to fit in with their 4-3 scheme. This could be an indication they're worried about suspensions.
New Orleans Saints linebacker Jonathan Vilma breaks up a pass intended for Pittsburgh Steelers wide receiver Hines Ward during action at the Louisiana Superdome in New Orleans on October 31, 2010. UPI/A.J. Sisco Mickey Loomis says that middle linebacker Jonathan Vilma is "still a big part of our team," but the Saints' latest signing would suggest that the GM is blowing...
During his impending year away from coaching the New Orleans Saints of the National Football League, for his suspension due to the bounty scandal, will Sean Payton entertain offers to become a pundit and prognosticator? Should he be allowed to? Sean Payton celebrates the Saints' Super Bowl title. (Photo by Derek Bridges via Wikimedia Commons) How Will Sean Payton Spend His Year...
(Goldman/AP) Just about every player or coach involved in the New Orleans Saints' bounty scandal has issues with the NFL's investigation and resultant punishment of Sean Payton and the Saints franchise. New Denver Broncos cornerback Tracy Porter, who played his first four seasons with the Saints, is among them. Porter told reporters in a conference call this morning that he was...
Suspended New Orleans Saints coach Sean Payton and general manager Mickey Loomis plan to attend this week's NFL owner's meetings in Palm Beach, Fla., in a move that could cause some awkward moments, according to a source. Payton was suspended an entire year by NFL commissioner Roger Goodell for his role in the cash-for-injuries scheme, but is allowed to attend because his...
The defensive back who once helped deny Peyton Manning his second Super Bowl title now wants to help the veteran quarterback hoist another trophy. Tracy Porter picked off a Manning pass in the Super Bowl two years ago and raced 74 yards for a touchdown, sealing the win for the New Orleans Saints. That solidified Porter's legacy as a playmaker. But the ensuing bounty scandal...
The New Orleans Saints agreed to a five-year deal with linebacker Curtis Lofton, the team announced Saturday.Financial terms of the deal were not released.Loften started all but one game over four seasons with the Atlanta Falcons, registering 352 tackles and four sacks.The 25-year-old was named an All-American and Big 12 Defensive Player of the Year in 2007 as a member of the Oklahoma Sooners.
PRICKLY PUNTER
Opinionated Vikings punter Chris Kluwe believes that Saints linebacker Jonathan Vilma "should be banned for life" by the NFL for his alleged integral role in the team's bounty program.
The first game of Brad Johnson's return to the Vikings was also a "bounty" game, according to what an anonymous Redskins player told CBS DC. Johnson was targeted to be taken out of the game by former Redskins defensive coordinator Gregg Williams, according to the source.
NFL News

Delivered to your inbox

You'll also receive Yardbarker's daily Top 10, featuring the best sports stories from around the web. Customize your newsletter to get articles on your favorite sports and teams. And the best part? It's free!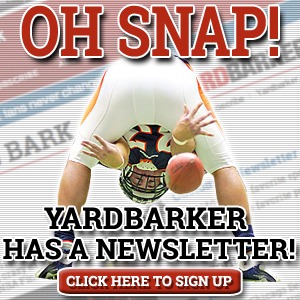 Latest Rumors
Best of Yardbarker

Today's Best Stuff

For Bloggers

Join the Yardbarker Network for more promotion, traffic, and money.

Company Info

Help

What is Yardbarker?

Yardbarker is the largest network of sports blogs and pro athlete blogs on the web. This site is the hub of the Yardbarker Network, where our editors and algorithms curate the best sports content from our network and beyond.