Found February 16, 2012 on The Sport Mentalist:
NFL teams take risks but when they do they prefer to takerisks with younger players. While there are those who believe Randy Moss isworth taking a risk on talent-wise, there is one thing that could potentiallyhold teams back: his attitude.
Terrell Owens has a reputation as a prima donna and a lockerroom cancer which is one of the reasons teams have been reluctant to take achance on him. Teams know that you won't find many players that will work ashard as Owens and that the guy keeps himself in tremendous shape but teams arewary of his attitude.
What really hurts Owens is his combination of age (he's 38),visibly declining skills, and the fact that he was coming off of a major injuryhis last season in the league. At this point in his career, no team wants toput up with Owens' antics no matter how bad they are hurting at the widereceiver position.
So with that in mind, Moss didn't help himself with histwitter tirade about former Minnesota Vikings' teammate Cris Carter. Carter whois an analyst with ESPN commented that he believed Moss still possessed thespeed and talent to contribute for a team, but said he believed Moss was aquitter.
Moss has made some spectacular plays in his career; onehanded grabs, snatching a ball over defenders in traffic…but he has also displayeda lack of effort on numerous occasions during his career. Carter may have gonea little overboard in his assessment but he did have a valid point about Moss.
I mean this is a guy that played with Moss for four years inMinnesota. They played the same position and had a very intimate relationship.Moss even referred to Carter as a mentor in his tweet so if there is anybodywho would be qualified to comment on Moss as a player or a person it would beCarter.
But Moss handled the situation the same way he has handledcriticism in the past: he lashed out. One of the knocks on Moss throughout hiscareer has been a perceived lack of maturity which has been on display thisweek with his handling of Carter's remarks.
If teams were suspicious about Moss's occasional lack of effortthen they will definitely be apprehensive about his immature attitude. Forteams that may potentially consider pursuing Moss he has given them anotherreason to reconsider. 
Roosevelt Hall is an NFL Blogger for The Sport Mentalist and also writes for both The Penalty Flag and Outside The Redzone. He can be contacted at RHall_TPFB@Yahoo.com.
Follow him on Twitter @sportmentalist
<span style="font-family: "Calibri","sans-serif"; font-size: 11pt; line-height: 115%;">
and add him on Facebook Roosevelt Hall Thesportmentalist.
var vglnk = { api_url: '//api.viglink.com/api', key: '966b506b0a66643b65e6b9926055b1e4' }; (function(d, t) { var s = d.createElement(t); s.type = 'text/javascript'; s.async = true; s.src = ('https:' == document.location.protocol ? vglnk.api_url : '//cdn.viglink.com/api') + '/vglnk.js'; var r = d.getElementsByTagName(t)[0]; r.parentNode.insertBefore(s, r); }(document, 'script'));
Original Story:
http://thesportmentalist.blogspot.com...
THE BACKYARD
BEST OF MAXIM
RELATED ARTICLES
Randy Moss says he's coming out of retirement. "Your boy be back for the upcoming season," Moss proclaimed earlier this week on an internet video stream. If it were only that simple. Yes, he's one of the most prolific wide receivers in NFL history. Yes, his agent told profootballtalk.com on Tuesday that three teams have already inquired. But none of this means...
NFL Free Agent wide receiver Randy Moss doesn't write checks.  In this 2004 impromptu interview Moss was asked by a reporter how he was going to pay the $10,000 fine that he received for his infamous "mooning" of the Green Bay Packer fans at Lambeau field. In a classic Randy Moss moment, Moss sporting a hoodie, nonchalantly replied "straight cash homey" When you're a...
SPEED DEMON
The wide receiver who announced his intentions to make a return to the NFL next season insists that he can still run a 40 somewhere between 4.35 and 4.38 seconds.
According to Jason LaCanfora of the NFL Network, there are multiple teams that are interested in meeting with Randy Moss. Moss is a free agent and can sign with any team he would like at the moment.  He's indicated that he's in good shape and can run a 4.3 40-yard dash.  I really don't believe Moss is that fast anymore.  It's simply not realistic for a 35 year-old football...
Elite receivers — even ones at the end of their career — demand the ball. And want more. That's one reason any talk of the Lions signing the soon-to-be-unretired Randy Moss should end there. As talk.
Bill Polian doesn't think the recently unretired Randy Moss has much more to give.In fact, the former Indianapolis Colts president was less than impressed during Moss' last season in the NFL (2010). "It was pretty clear he had lost a fair amount of speed and flexibility," Polian said on his Sirius XM NFL Radio show. "He was not the same player he was three...
In case you couldn't have guessed it, Vikings GM Rick Spielman comes out and says the team has no interest in Randy Moss.
On Monday, former Randy Moss teammate and mentor Cris Carter said that Moss can still run the 40-yard dash in 4.3 seconds. On Tuesday, Carter applied a caveat to that assessment. "The one thing you have to address with Randy Moss is not a conditioning thing," Carter told ESPN Radio's Mike & Mike in the…
Cris Carter knows he has the numbers worthy of a Hall of Famer. He also knows there's nothing else he can do but wait. The Vikings great also spoke with Michael Irvin about Randy Moss' comeback attempt.
NFL News

Delivered to your inbox

You'll also receive Yardbarker's daily Top 10, featuring the best sports stories from around the web. Customize your newsletter to get articles on your favorite sports and teams. And the best part? It's free!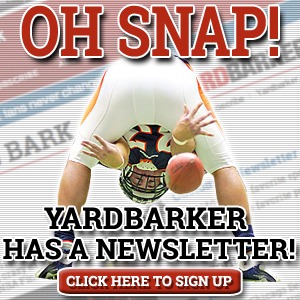 Latest Rumors
Best of Yardbarker

Today's Best Stuff

For Bloggers

Join the Yardbarker Network for more promotion, traffic, and money.

Company Info

Help

What is Yardbarker?

Yardbarker is the largest network of sports blogs and pro athlete blogs on the web. This site is the hub of the Yardbarker Network, where our editors and algorithms curate the best sports content from our network and beyond.