Most memorable 'NFL Draft weekend drama' stories
2016 Miami Dolphins first-round pick Laremy Tunsil suffered an infamous humiliation during the draft.
Kamil Krzaczynski/USA TODAY Sports
Typically, the NFL Draft is a joyous occasion for the players getting set to embark on their professional careers. However, it's not always sunshine and roses for everyone.

Welcome to Yardbarker roundtable, where we can't help but recall Brady Quinn's retreat to the green room during his draft day slide or the countless other uncomfortable draft situations that have arisen at the most inopportune of times. That got us wondering:
While the NFL Draft has turned into a bit of an overblown spectacle, some real-life drama does come out of the event. What's your favorite "draft weekend drama" story?
Mike Tunison: It's hard to top Laremy Tunsil's weed gas mask incident from last year. It was terrible for him, awful that his stepfather leaked it and maddening that teams passed on him for it. Still, it's the greatest draft day drama we'll likely ever see. Someday, years from now when the NFL wises up on weed before it ceases to exist as an organization, we'll laugh about this.
Shiloh Carder: The Michael Sam storyline in 2014 was interesting. His coming out was a huge deal for a draft prospect, and it also put a bit of pressure on some NFL team to draft him. Even now, looking back it is interesting to speculate if he was drafted in the seventh round (some felt he was a mid-round pick) because of him being gay or the media circus surrounding him, his lack of size or just his talent level. He never played a regular-season down in the NFL.
On a personal note, the drama I most remember was in the 2005 draft. My Redskins owned the 25th pick in the first round, and they were ending the Patrick Ramsey era by starting 34-year-old Mark Brunell. We needed a quarterback but used our first first-round pick (No. 6 overall) on cornerback Carlos Rogers. Still, for whatever reason, Aaron Rodgers was sliding down draft boards after being pegged as a possible No. 1 overall pick. At about the teens, I noticed a string of teams up who most likely weren't looking to draft a QB at that point. I wanted my Redskins to get what I figured was a steal. It was going great as teams kept passing on him. Sitting at No. 24 were the Green Bay Packers, who had a very, very good Brett Favre still running around. Yeah, they needed to look at the future, but Favre was still solid so maybe they weren't looking to grab Rodgers. 
Of course, they did, and the rest is Packers history. Washington would use the 25th pick on a signal caller — Auburn's Jason Campbell. Sigh.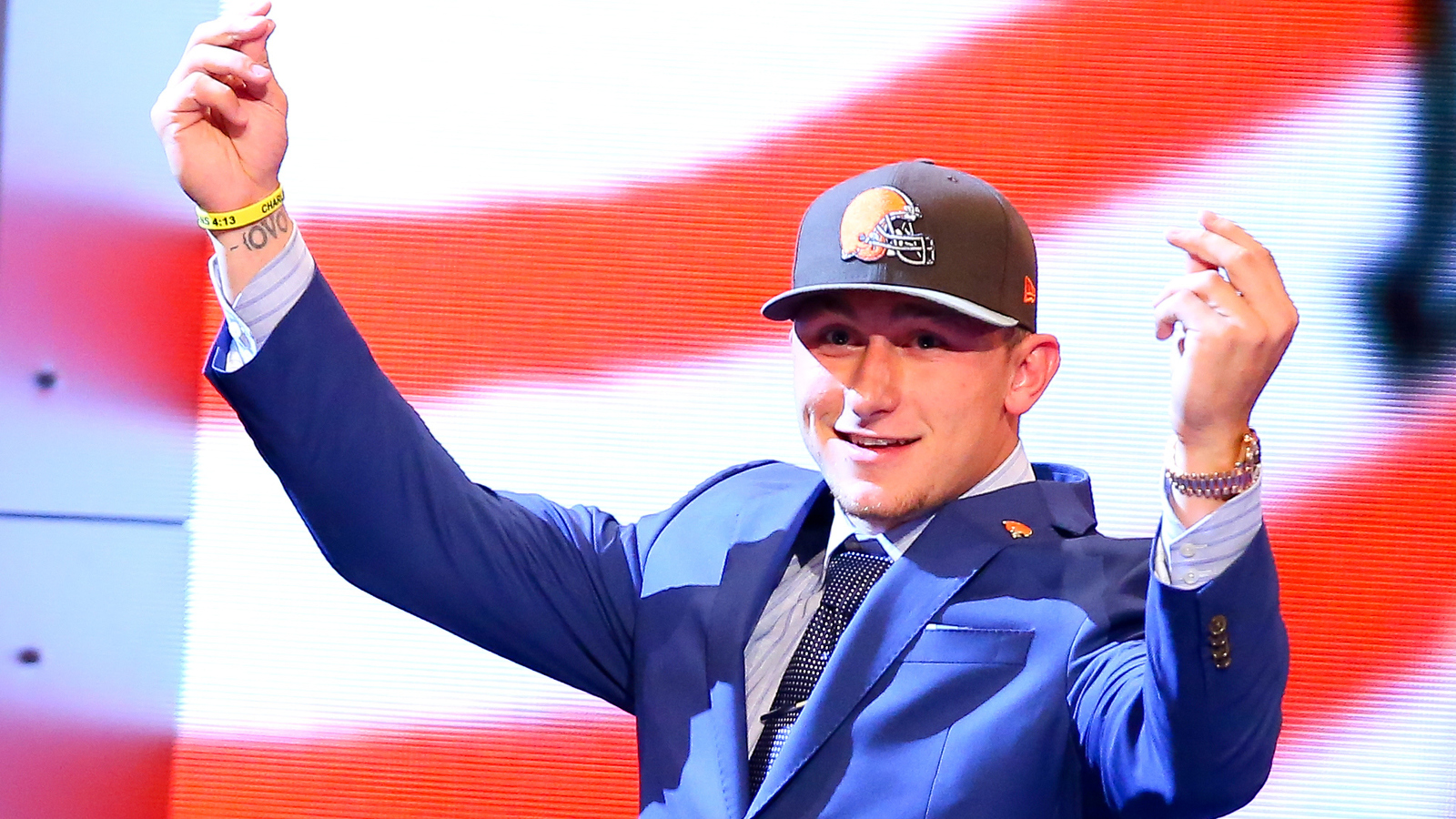 Rumor has it Dallas Cowboys owner Jerry Jones had to be talked out of drafted Johnny Manziel in 2014.
Icon Sports Wire/Getty Images
David Matthews: How can you say anything other than the drama surrounding John Elway and the 1983 draft? Elway said he'd play for the Yankees if the Colts drafted him, only to end up in a huge trade to the Broncos? Leading the Broncos to five Super Bowl appearances while the Colts had to wait more than a decade before they landed their franchise quarterback? It's one of the most important draft moments in the history of the league.
Sam Greszes: Though it's a bit of a darker story now given his career arc, for me, nothing beats the story of the draft card with Johnny Manziel's name literally being snatched out of the hand of Cowboys owner Jerry Jones before he could lock the pick in. 
Sure, this is mostly because I think Jerry Jones is a jerk, and it gives me pleasure to imagine scenes in which he is petulant about being denied what he wants, but it also is such a ridiculous window into what is, apparently, the reality of the NFL Draft — it's a chaotic mess most of the time, and crazy things happen because of it.
Daniel Tran: Man, did we get a hell of a show last year at the 2016 NFL Draft. Ole Miss offensive lineman Laremy Tunsil came into draft day as a potential top three pick, but just before names were being called, a video of Tunsil wearing a gas mask smoking... something. Then text messages were made public on Instagram that showed Tunsil took money from a coach. Tunsil ended up being drafted by the Miami Dolphins at No. 13 but not before he sat in disbelief at how the best night of his life turned sour because of a couple moments of bad judgment.
MORE FROM YARDBARKER:
MORE FROM YARDBARKER
NFL News

Delivered to your inbox

You'll also receive Yardbarker's daily Top 10, featuring the best sports stories from around the web. Customize your newsletter to get articles on your favorite sports and teams. And the best part? It's free!