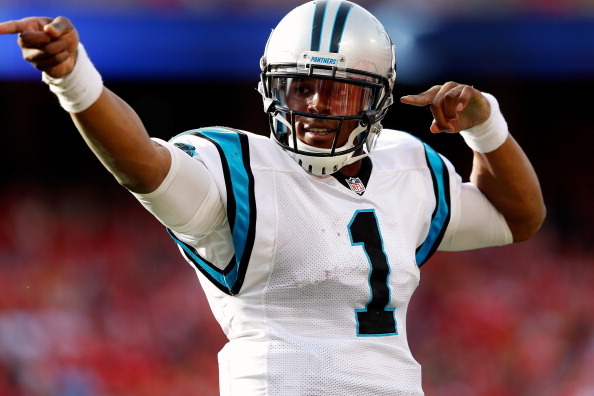 Via Larry Brown Sports:
NFL quarterbacks are nothing if not fearless. It takes a particular type of person to step into a throw knowing they are about to get decked by a 300-pound defensive end, but that's why there are only 32 NFL starting quarterbacks in the world at a given moment. Carolina Panthers signal-caller Cam Newton may not be afraid of getting laid out, but he was once afraid of getting hit by a pitch.
During a recent feature for ESPN the Magazine, Newton talked about how he played baseball as a kid and was pretty good at it, playing a number of different positions and looking up to Ken Griffey Jr. He started playing football at age 7, but he dabbled in other sports until middle school.
"I quit baseball at 14 because I was afraid of the pitches," Newton said. "The kids started getting better and throwing faster, and it would've hurt getting hit by that ball, so I stopped playing. That left a void, so I started playing basketball in the eighth grade."
Newton said he got frustrated with basketball because he was bigger and stronger than the other kids and ended up fouling out too much. But the burning question of how a big kid like Cam could be afraid of a baseball and not an opposing linebacker was something his mother was confused by as well.
"My mom always wondered how I could be afraid of a little baseball when I always had these huge guys chasing me," he said. "It's a good question."
Sometimes fears have more to do with the actual phobia than being afraid of pain. I'm sure plenty of NFL stars are afraid of spiders and things of that nature. The question is, did Newton do a lot of sulking before he finally decided to quit baseball? We know that tends to be his thing.
MORE FROM YARDBARKER
NFL News

Delivered to your inbox

You'll also receive Yardbarker's daily Top 10, featuring the best sports stories from around the web. Customize your newsletter to get articles on your favorite sports and teams. And the best part? It's free!
Best of Yardbarker
NFL News
MLB News

Today's Best Stuff

For Bloggers

Join the Yardbarker Network for more promotion, traffic, and money.

Company Info

Help

What is Yardbarker?

Yardbarker is the largest network of sports blogs and pro athlete blogs on the web. This site is the hub of the Yardbarker Network, where our editors and algorithms curate the best sports content from our network and beyond.