Found December 02, 2011 on Sportress of Blogitude: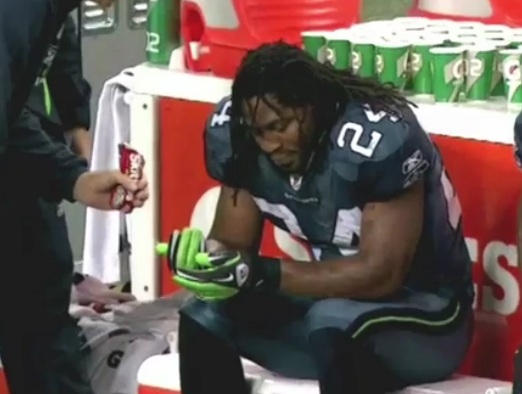 Evidently, sweets can soothe the savage beast (mode). Seattle Seahawks running back Marshawn Lynch had a monster performance (22 rushes, 148 yards, 2 touchdowns) during Thursday night's 31-14 thrashing of the Philadelphia Eagles, but what drew the most attention was the unique way Lynch chose to refuel after scoring a touchdown: by munching on Skittles provided by a trainer. During the broadcast, it was reported that the tradition goes back to his younger days when his mother would give him Skittles after every touchdown he scored, and it looks like he has maintained the sweet habit.
Video below.
Well, it looks like Lynch's choice of sideline snack might be paying dividends as reports indicate that Skittles has offered Lynch a 24-month supply of the candy as well as a customized dispenser for his locker because of the incredible exposure the candy company received as a result of Lynch's sweet tooth. Not too shabby. Now, Lynch is free to enjoy his favorite candy at any time. Somebody should probably buy him a new toothbrush, too. Just in case.
Also from Sportress of Blogitude:
Take That, LeBron: Chris Paul One-Ups James, Dominates An 8th Grader (Video)
Jay Cutler Has No Idea What's Going On With His Engagement To Kristin Cavallari
Jeff Gordon Stars In NASCAR Version Of 'Breakin' 2: Electric Boogaloo' (Video)
Read More:
http://www.sportressofblogitude.com/2...
THE BACKYARD
RELATED ARTICLES
Marshawn Lynch just came off the field in the Seattle Seahawks Thursday night game against the Philadelphia Eagles and immediately went to town on a bag of Skittles.
Marshawn Lynch was in full-on Beast Mode on Thursday night against the Eagles and a shot of him on the sideline revealed a possible secret for his success. Cameras found Lynch snacking on Skittles after his remarkable 15-yard touchdown run through a pile of Eagles in the first quarter. Tasting the rainbow seemed to agree…
  Seattle Seahawks running back Marshawn Lynch is on some kind of roll. Coming into tonight's game he had scored a TD in 7 straight games. During that span Lynch has had all 3 of his 100-yard rushing games on the season and did this to Ray Lewis' ankles. Lynch is at it again tonight [...]
While the rest of you were watching the Seahawks kick the Eagle's butts* Thursday evening, I was watching an equally-entertaining show unfold online. I call it the "Marshawn Lynch really likes Skittles" show, and it debuted on Twitter as Thursday's game played out in front of a national television audience. For Seattle fans, it's no secret that Lynch throws...
If your a football fan you know the Eagles got swamped 31-14 last night by the Seahawks.  You also know Marshawn Lynch has been on fire during the second half of the season and is a must start in fantasy.  No better way to celebrate one of his two touchdowns last night than grab a bag of sugar filled skittles and go to town.
Marshawn Lynch is in full-on beast mode tonight. Lynch has the Seahawks leading the Eagles 14-7 in the early going in Seattle, with two sensational touchdown runs, as the Eagles' defense can't do a thing about him. The first touchdown was a sight to behold, as Lynch ran into the line, was swallowed up in…
The Seahawks haven't had a 1,000-yard rusher in the past five years but Marshawn Lynch looks like a sure bet to end the drought.
SEATTLE - Marshawn Lynch ran right and found trouble, not that it mattered. Trapped in a glut of would-be tacklers...
SEATTLE—Marshawn Lynch ran for 148 yards and a pair of first-half touchdowns and David Hawthorne returned Vince Young's third interception 77 yards for a clinching score with 4:24 remaining as the Seattle Seahawks beat the Philadelphia Eagles 31-14 on Thursday night.
The Seattle Seahawks improved their record to 5-7 after an impressive 31-14 win over the Eagles on Thursday Night. Fantasy Spin: Seattles star of the game was Running Back Marshawn Lynch who ran all over the Philly Defense for 148 yards and two TDs. Lynch has now scored in each of his last eight games. Quarterback Tarvaris Jackson completed 13 of 16 passes for 190 yards and one TD...
The Seahawks just improved to 5-7, and looked reasonably good doing it.  Browner managed to cut down on the penalties, Golden Tate and Zach Miller both got involved in the passing game, and Marshawn Lynch did his level best to earn that fat new contract he wants the Seahawks to give him when his current one expires at the end of the season.  What more could you ask for?
RUMORS & GOSSIP
If the Los Angeles Lakers's team photo wasn't enough to convince you of Kobe Bryant's feelings towards the 2013-14 NBA season, news of his early vacation surely will. The Lakers tip off against the San Antonio Spurs Wednesday night for the final game of the regular season, the outcome of which is inconsequential, as their final record will officially become the worst record...
The New York Times published an article on Wednesday that blasts the lack of any real investigation done by Florida State and the Tallahassee Police Department into the rape allegations leveled at Seminoles quarterback Jameis Winston. The article states that "there was virtually no investigation at all, either by the police or the university." State Attorney Willie Meggs is quoted...
Over the years, Spurs coach Gregg Popovich has been equally as known for his in-game and post-game demeanor as his is for his coaching prowess. Craig Sager can attest. On Wednesday night, the Spurs hosted the Lakers in a meaningless […]
DeSean Jackson is a rich man after getting $16 million guaranteed from the Redskins, so I'm sure he'll take the sting of an arbitrators ruling in stride. Rand Getlin of Yahoo Sports is reporting that an NFLPA arbitrator ruled in favor of Jackson's former agent, Drew Rosenhaus, in a lawsuit brought against the wide receiver. Rosenhaus filed a grievance against the Jaccpot records...
So Tracy McGrady's baseball career is still a thing, as the former NBA All-Star pitched one inning in his debut with the Sugar Land Skeeters in an exhibition game Wednesday against Alvin Community College. In T-Mac's lone inning of work he threw 15 pitches (9 strikes, 6 balls), giving up one run on three hits. @blksportsonline Tmac got his first start tonight. Gave up 1 run on...
Nick Bhardwaj, the CEO and co-founder of Beyond Games, a gaming studio in California, won a creative fundraiser by Arkansas State University to be the team's head coach for their Spring Game. Bhardwaj, who has no affiliation to ASU, won the Red Wolves' eBay auctioned "Head Coach Experience" over 15 other potential coaches with a bid of $11,700. The auction, which was...
Granted it's only two days in, but former NFL receiver Chad Johnson has been impressing the Montreal Alouettes during the team's mini-camp in Vero Beach, Florida. Montreal (CFL) brass has been quite impressed with @ochocinco in the first 2 days of their minicamp. He's back on the field w/them Thur… — Jason La Canfora (@JasonLaCanfora) April 17, 2014 "He seems really...
Stop if you've heard this before: Tennessee is looking for a high-profile coach. Since 2008, the Volunteers have needed to hire seven football...
The NHL playoffs can bring players that are on the fringe of stardom right to center stage. Here are some names to watch up for as the league prepares to drop the puck on its season season. Ryan Johansen, Columbus The leading scorer for the Blue Jackets has had a breakout season and he could really make a name for himself in the playoffs.  Going up against the Penguins won't...
A few days ago, the Pistons announced that Joe Dumars would no longer be general manager of the team. Even though he was the architect behind the 2004 championship team, this is a "what have you done for me lately?" […]
Latest Rumors
The Backyard

Today's Best Stuff

For Bloggers

Join the Yardbarker Network for more promotion, traffic, and money.

Company Info

Help

What is Yardbarker?

Yardbarker is the largest network of sports blogs and pro athlete blogs on the web. This site is the hub of the Yardbarker Network, where our editors and algorithms curate the best sports content from our network and beyond.