Found March 06, 2012 on Larry Brown Sports:
From Larry Brown Sports: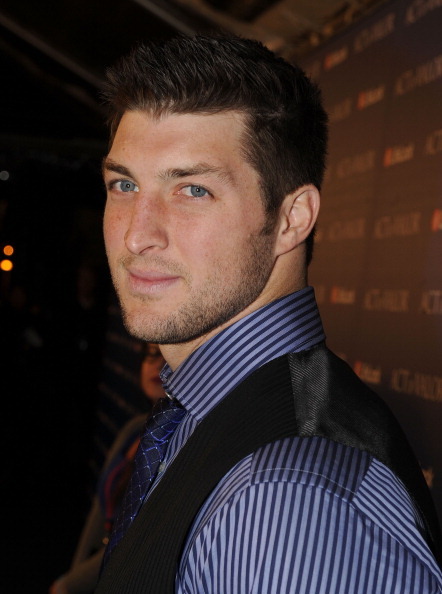 Tim Tebow recently signed with a Hollywood agency, so does that mean his next step is appearing on a TV show? According to the host of "The Bachelor," that's a possibility.
"The Bachelor" host Chris Harrison said on Access Hollywood Live Monday he's talked with the Broncos quarterback about being featured on the show.
"I've actually met Tim Tebow," Harrison said. "I met him about becoming our next 'Bachelor.' I think he'd be a great 'Bachelor.'"
Asked if Tebow was likely to accept the offer, Chris was pessimistic.
"Well, they always say yes, but it never happens," Chris explained. "He's a really good guy. He did say yes … but he would never do it. He has a little job called quarterback at least for another year."
Tebow has been in Los Angeles working on his throwing mechanics and found time to hang out with Fred Durst, dine with Taylor Swift, and attend Oscars parties the past few weeks. But going out a few nights a week during the offseason is much different than committing to starring on a reality TV show.
Given how devoted Tebow is to improving as a quarterback, it would be extremely surprising to see him accept the offer.
UPDATE: It appears that Tebow will, in fact, award no roses, as he took to Twitter to squash the rumors that he may appear on the popular show: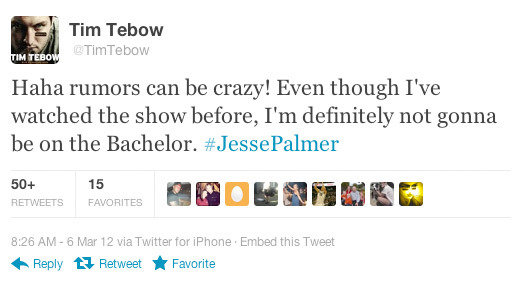 More from Larry Brown Sports
Taylor Swift has crush on Tim Tebow?
Video: Bullfighter who lost eye returns to ring
Barkley: Saints snitch is a 'punk'
Read More:
http://larrybrownsports.com/football/...
THE BACKYARD
RELATED ARTICLES
Looks like this Tim Tebow-Taylor Swift chatter isn't going to go away quickly. With gossip swirling that the two are dating, Us Weekly informs us that Swift has a "puppy dog crush" on the Broncos quarterback. "Yes, she has a crush on him," a source told the magazine . "She is a massive fan, but I don't think he sees her that way." The story cites two sources...
'JERSEY SHORE' HOLDOUT?
The Denver Broncos quarterback took to Twitter to quash speculation that he was a candidate for the next edition of The Bachelor.
If the Saints' "bounty" scandal makes your heart hurt, it's time to make your brain hurt, too! Producers are courting Broncos quarterback and proud Christian Tim Tebow to appear on The Bachelor. That's the show where desperate, fame hungry women demean themselves in front of a national audience to make out with a dude and pretend to fall in love before he chooses one...
Denver Broncos quarterback Tim Tebow has declined an offer to star on the hit reality TV show "The Bachelor."Tebow tweeted: "Haha rumors can be crazy! Even though I've watched the show before, I'm definitely not gonna be on the Bachelor," on Tuesday."The Bachelor" host Chris Harrison said on Access Hollywood Live Monday he's talked with Tebow...
In the least-surprising news of the day, Denver Broncos quarterback Tim Tebow won't be appearing on the ABC reality dating competition show 'The Bachelor'. Tebow took to social media to clear up rumors that had been circulating on social media sites in the last couple of days. "Haha rumors can be crazy! Even though I've...Read the Rest...
Tim Tebow is a hot commodity. He's so hot, in fact, he's reportedly been approached about appearing as a contestant on "The Bachelor." Host Chris Harrison revealed the plot to 'Access Hollywood.' Host Chris Harrison looked pretty confident on "Access Hollywood Live" when he revealed that "The Bachelor" has approached the Denver Broncos quarterback to be the...
You can put this in the pure speculation column if you like, but indications out of Denver are that the Broncos are indeed serious about potentially signing free agent quarterback Peyton Manning, and will seek to trade last season's hero Tim Tebow if Manning does decide to land in the Rockies. The source is a fairly reputable one in CBS 4 Denver's sports anchor Vic Carucci,...
If things don't work out with Taylor Swift, Denver Broncos quarterback Tim Tebow may have better luck with 25 lucky ladies on The Bachelor. Host Chris Harrison appeared on Access Hollywood Live Monday, where he revealed he'd recently approached the NFL player, 24, to star in the ABC reality series. This is the best and worst idea of all-time. I think I may actually watch this...
Denver Broncos By now we all realize that a lot of the credit that Broncos starting quarterback Tim Tebow got for the success of 2011, he wouldn't have gotten those headlines without the let of kicker Matt Prater. He kicked the game-winning field goal on the last play of regulation or in overtime four times last season and Denver has rewarded him by applying the franchise...
The Denver Broncos got off to a 1-4 start before Tim Tebow replaced Kyle Orton in a move that kick-started the team. All of a sudden the defense improved, the run game became more of a threat and the Broncos won seven of eight, including six in a row at one point. The team slumped again at the end of the season but still made the playoffs, knocking off Pittsburgh before falling to...
The Indianapolis Colts will be holding a press conference Wednesday to announce that they have given up the fact that they are perennial playoff makers in order to keep $28 million in Jim Irsay's bank accounts. You can now expect Peyton Manning and his camp to release the next installment of videos, the "You ******* Cheap Bigot Ass Bastard, Jim Irsay" video. More Information
Broncos News

Delivered to your inbox

You'll also receive Yardbarker's daily Top 10, featuring the best sports stories from around the web. Customize your newsletter to get articles on your favorite sports and teams. And the best part? It's free!
RUMORS & GOSSIP
In a reveal that probably won't surprise anyone, it was recently reported that Kentucky basketball coach John Calipari took about $200,000 worth of chartered flights last year as part of national...Story
How does Jimbo Fisher feel about Jameis Winston playing both baseball and football at Florida State? Apparently, the Seminoles head football coach is completely fine with it.Fisher made an appearance on ESPN's First Take on Monday and proceeded to give his thoughts on the Heisman winner being a two-sport athlete in college. The following is what Fisher had to say:"Baseball...
TweetThere's a ton of hype surrounding the Cleveland sports scene. For one, the Cavaliers landed that James guy in free agency. Likewise, the Browns drafted high-profile Johnny Manziel to battle with Brian Hoyer for the starting QB role. Browns left tackle Joe Thomas, speaking to the media after practice Monday, claims one of the Browns QBs has a lot of the same characteristics...
The National Football League has some of the highest-paid public relations personnel in the United States. This is one of the primary reasons that it has been able to skirt some major issues in the past as it relates to how the public perceives the league.  Unfortunately for the league, the two-game suspension Ray Rice received for assaulting his now wife Janay Palmer earlier this...
Emmanuel Sanders has plenty of respect for his former quarterback Ben Roethlisberger, but it hasn't taken him long to figure out that Peyton Manning is an even better leader. Sanders caught 11 touchdowns in four seasons with the Pittsburgh Steelers and left to sign with the Denver Broncos in March. During an interview Friday with […]
Scott Rovak-USA TODAY Sports As the MLB trade deadline approaches, the buzz around Rockies superstar shortstop Troy Tulowitzki is growing day by day. Tuluwitzki attended a Yankees game a few days ago, apparently he didn't visit the Yankees stadium as a fan. Jon Heyman of CBSSports.com reported: Friends of Tulowitzki say that while he hasn't necessarily presented a list of pre...
Over the weekend tragedy struck when three kids were killed in a hit and run. Ten-year-old Thomas Reed, his 15-year-old sister Keiearra Williams and their 7-year-old brother Terrence Moore were all killed when a carjacked SUV plowed into the church-run fruit stand where they were volunteering. The kids' mother was critically injured. Via NBC Washington: The children had all been...
In May of this year, Suns PJ Tucker was arrested for what is described by the Scottsdale Police as "super extreme DUI." Tucker's blood alcohol content registered at .201 on a preliminary breath test in the field on May 10, according to Scottsdale police. A driver is considered legally drunk for a DUI charge in Arizona at .08 blood-alcohol content. A blood test administered...
Probate court judge Michael Levanas of the California Superior Court ruled on Monday that Donald Sterling could not block the sale of the Los Angeles Clippers. Unsurprisingly, Levanas found Rochelle Sterling, Donald Sterling's wife, to be the more credible witness of the two and he also ruled that sale of the team could begin immediately. Steve Ballmer, former Microsoft executive...
Via IMPACT WRESTLING The death knell that's seemingly been sounding for years is finally real for TNA Impact wrestling. As reported by TMZ, Spike TV contacted Impact TNA President Dixie Carter late last week to inform her of their decision. From my own personal sources, Spike TV executives have been reviewing the product for at least the last few months as the renewal date for...
Latest Rumors
The Backyard

Today's Best Stuff

For Bloggers

Join the Yardbarker Network for more promotion, traffic, and money.

Company Info

Help

What is Yardbarker?

Yardbarker is the largest network of sports blogs and pro athlete blogs on the web. This site is the hub of the Yardbarker Network, where our editors and algorithms curate the best sports content from our network and beyond.