Found March 06, 2012 on Larry Brown Sports:
From Larry Brown Sports: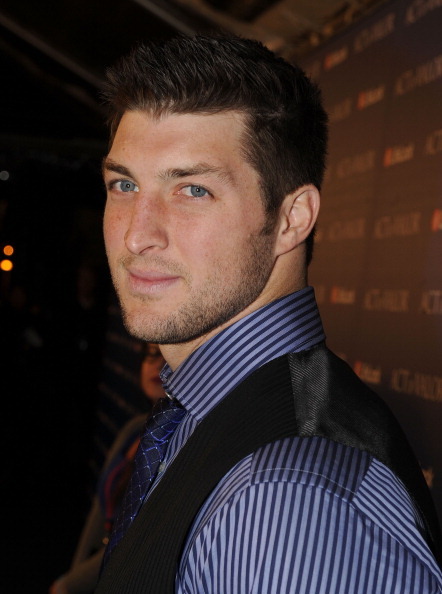 Tim Tebow recently signed with a Hollywood agency, so does that mean his next step is appearing on a TV show? According to the host of "The Bachelor," that's a possibility.
"The Bachelor" host Chris Harrison said on Access Hollywood Live Monday he's talked with the Broncos quarterback about being featured on the show.
"I've actually met Tim Tebow," Harrison said. "I met him about becoming our next 'Bachelor.' I think he'd be a great 'Bachelor.'"
Asked if Tebow was likely to accept the offer, Chris was pessimistic.
"Well, they always say yes, but it never happens," Chris explained. "He's a really good guy. He did say yes … but he would never do it. He has a little job called quarterback at least for another year."
Tebow has been in Los Angeles working on his throwing mechanics and found time to hang out with Fred Durst, dine with Taylor Swift, and attend Oscars parties the past few weeks. But going out a few nights a week during the offseason is much different than committing to starring on a reality TV show.
Given how devoted Tebow is to improving as a quarterback, it would be extremely surprising to see him accept the offer.
UPDATE: It appears that Tebow will, in fact, award no roses, as he took to Twitter to squash the rumors that he may appear on the popular show: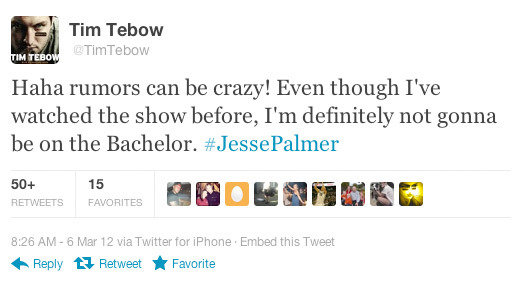 More from Larry Brown Sports
Taylor Swift has crush on Tim Tebow?
Video: Bullfighter who lost eye returns to ring
Barkley: Saints snitch is a 'punk'
Read More:
http://larrybrownsports.com/football/...
THE BACKYARD
RELATED ARTICLES
Looks like this Tim Tebow-Taylor Swift chatter isn't going to go away quickly. With gossip swirling that the two are dating, Us Weekly informs us that Swift has a "puppy dog crush" on the Broncos quarterback. "Yes, she has a crush on him," a source told the magazine . "She is a massive fan, but I don't think he sees her that way." The story cites two sources...
'JERSEY SHORE' HOLDOUT?
The Denver Broncos quarterback took to Twitter to quash speculation that he was a candidate for the next edition of The Bachelor.
If the Saints' "bounty" scandal makes your heart hurt, it's time to make your brain hurt, too! Producers are courting Broncos quarterback and proud Christian Tim Tebow to appear on The Bachelor. That's the show where desperate, fame hungry women demean themselves in front of a national audience to make out with a dude and pretend to fall in love before he chooses one...
Denver Broncos quarterback Tim Tebow has declined an offer to star on the hit reality TV show "The Bachelor."Tebow tweeted: "Haha rumors can be crazy! Even though I've watched the show before, I'm definitely not gonna be on the Bachelor," on Tuesday."The Bachelor" host Chris Harrison said on Access Hollywood Live Monday he's talked with Tebow...
In the least-surprising news of the day, Denver Broncos quarterback Tim Tebow won't be appearing on the ABC reality dating competition show 'The Bachelor'. Tebow took to social media to clear up rumors that had been circulating on social media sites in the last couple of days. "Haha rumors can be crazy! Even though I've...Read the Rest...
Tim Tebow is a hot commodity. He's so hot, in fact, he's reportedly been approached about appearing as a contestant on "The Bachelor." Host Chris Harrison revealed the plot to 'Access Hollywood.' Host Chris Harrison looked pretty confident on "Access Hollywood Live" when he revealed that "The Bachelor" has approached the Denver Broncos quarterback to be the...
You can put this in the pure speculation column if you like, but indications out of Denver are that the Broncos are indeed serious about potentially signing free agent quarterback Peyton Manning, and will seek to trade last season's hero Tim Tebow if Manning does decide to land in the Rockies. The source is a fairly reputable one in CBS 4 Denver's sports anchor Vic Carucci,...
The Denver Broncos got off to a 1-4 start before Tim Tebow replaced Kyle Orton in a move that kick-started the team. All of a sudden the defense improved, the run game became more of a threat and the Broncos won seven of eight, including six in a row at one point. The team slumped again at the end of the season but still made the playoffs, knocking off Pittsburgh before falling to...
Denver Broncos By now we all realize that a lot of the credit that Broncos starting quarterback Tim Tebow got for the success of 2011, he wouldn't have gotten those headlines without the let of kicker Matt Prater. He kicked the game-winning field goal on the last play of regulation or in overtime four times last season and Denver has rewarded him by applying the franchise...
The Indianapolis Colts will be holding a press conference Wednesday to announce that they have given up the fact that they are perennial playoff makers in order to keep $28 million in Jim Irsay's bank accounts. You can now expect Peyton Manning and his camp to release the next installment of videos, the "You ******* Cheap Bigot Ass Bastard, Jim Irsay" video. More Information
Broncos News

Delivered to your inbox

You'll also receive Yardbarker's daily Top 10, featuring the best sports stories from around the web. Customize your newsletter to get articles on your favorite sports and teams. And the best part? It's free!
RUMORS & GOSSIP
  Update: Ian Rapoport reports that the Montreal Alouettes have reached out to seventh-round pick DE Michael Sam about possibly signing with them, but there's currently no word regarding him playing in the CFL. Rapoport adds that the Alouettes hold the rights to Sam. St. Louis has already announced their practice squad signings and Sam is not among the players...
Sacramento Kings guard Jason Terry is set to fly again in Texas. Terry, whose nickname is "Jet," won an NBA Championship with the Dallas Mavericks. He is coming back to the state of Texas, but this time will be with the Houston Rockets.Image by By Keith Allison, via Wikimedia CommonsNBA sources say that the Rockets will acquire Terry in a trade with the Kings:"The...
The Matt Schaub era in Oakland may be over before it even started. Jay Glazer of FOX Sports reports that second round rookie quarterback Derek Carr will be the Raiders' Week 1 starter on Sunday against the New York Jets. Breaking: Raiders players have been informed that the team is making the switch at QB and starting Derek Carr over Matt Schaub — Jay Glazer (@JayGlazer) September...
29-year-old New York Yankees minor leaguer Pat Venditte normally wouldn't be a player worth noticing. He's been in the minors for the past seven seasons after the Yankees selected him in the 45th round of the 2007 amateur draft.  On the surface, Venditte is nothing more than your non-prospect who has bounced around in small towns in an attempt to make it to the Majors. That's...
According to a team press release, the Houston Astros have fired their manager Bo Porter. The team additionally relieved Bench Coach Dave Trembley of his duties. Tom Lawless will be the team's interim manager for the remainder of the 2014 season. This move may not come as a surprise to many, as earlier in the […]
Rob Gronkowski ended all the speculation surrounding his Week 1 status with seven simple words. "I'm ready to go. I'll be playing," Gronkowski told reporters at Gillette Stadium on Monday. This means that the New England Patriots tight end will be on the field Sunday for the team's season opener against the Miami Dolphins. Gronkowski had been slowly progressing throughout...
The Toronto Blue Jays were hoping to be a legitimate playoff contender this season, and they looked the part for the first half of the year before falling apart after the All-Star break. They currently are sitting at 69-67 and are 10 games behind the division-leading Baltimore Orioles, who have begun extending their lead in the AL East. According to a report from Nick Cafardo, the...
Hard to believe, but Mark Townsend of Yahoo Big League Stew reports that a high school "Rubber Baseball" game in Japan went a full 50 innings, or 5.6 full length games before being decided 3-0 (no scoring the first 49 innings).  The winner was Chukyo High School over Sotoku in the tournament semifinal game. Some of the stats are almost too much to be true.  According to Townsend...
The Raiders spent the offseason loading up on a slew of veteran talent, a calculated effort to inflate their win total. To nobody's surprise, it's subsequently inflated the team's collective age. Jimmy Kempski of Philly.com, doing some calculations following Saturday's final roster cutdowns, deduced that Oakland has the oldest roster in the NFL. The average age...
ST. LOUIS — Michael Sam was probably never an ideal fit with the St. Louis Rams and it had absolutely nothing to do with his sexual orientation. They're just too well-stocked at defensive end, Sam's position. Sam showed up for his face-to-face exit meeting with coach Jeff Fisher Sunday, a few hours after clearing waivers. He shook hands with two reporters and accepted well...
Latest Rumors
Best of Yardbarker

Today's Best Stuff

For Bloggers

Join the Yardbarker Network for more promotion, traffic, and money.

Company Info

Help

What is Yardbarker?

Yardbarker is the largest network of sports blogs and pro athlete blogs on the web. This site is the hub of the Yardbarker Network, where our editors and algorithms curate the best sports content from our network and beyond.