Found February 03, 2013 on NESN.com:
Via NESN: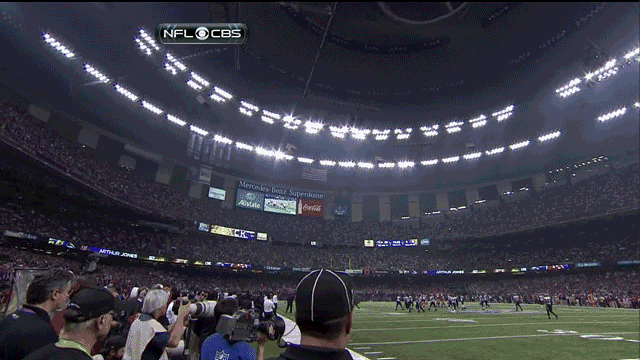 Minutes after Jacoby Jones' 108-yard kickoff return put Baltimore up 28-6 to begin the second half of the Super Bowl, the lights went out on the 49ers.
No, really.
The Mercedes-Benz Superdome lost power with 13:28 remaining in the third quarter, knocking out most of the stadium lights as well as the audio feed from CBS commentators Jim Nantz and Phil Simms.
A portion of lights came back on momentarily after the outage — which CBS analyst Jim Brown said was caused by a power surge — but a majority remained dark until the arena's power system could fully reboot, a process that was expected to take nearly half an hour.
Players stretched their muscles and tried to remain loose on the field and, despite claims on the Twittersphere, Bane has not been witnessed at the Superdome.
(image via Deadspin).
Read More:
http://nesn.com/2013/02/superdome-los...
THE BACKYARD
RELATED ARTICLES
For those of us who are not huge Phil Simms fans, the power outage at the Super Bowl served as a small blessing. For the players, the power outage could be a serious problem. Tightening muscles, pulled hamstrings, you name it. The San Francisco 49ers have to hope that this stops the bleeding and keeps the Ravens off balance.
A power outage at the Louisiana Superdome delayed the Super Bowl for over half an hour in one of the most surreal scenes in sports.  Power was out in the CBS booth with Jim Nantz and Phil Simms and the network had to lean on sideline reporters Steve Tasker and Solomon Wilcots for updates.  On the radio side, Dial Global tweeted this picture of play by play man Kevin Harlan having...
Super Bowl XLVII was far from the broadcast equivalent for Phil Simms of going 22/25 in Super Bowl XXI.  CBS's top NFL analyst was caught contradicting himself repeatedly throughout the game and missed out on late game strategy.  While not quite reaching Chris Berman levels, the Twitterati was left unimpressed.  One of those newfound announcing critics was the NBA's best...
Good, bad, and ugly posts tend to naturally force writers to give the negative more coverage than the positive. Had NBC broadcast Super Bowl XLVII, that might have made things tough on me. But with CBS in charge and a 34-minute power outage in the mix, it was easy to find enough problems to fill the "bad" and "ugly" columns. This was not a smooth broadcast, but...
NFL News

Delivered to your inbox

You'll also receive Yardbarker's daily Top 10, featuring the best sports stories from around the web. Customize your newsletter to get articles on your favorite sports and teams. And the best part? It's free!
RUMORS & GOSSIP
SEATTLE — Jesus Montero will not play baseball again this season for the Seattle Mariners' organization after a heated confrontation in the stands with a team scout during a minor league game in Boise, Idaho. Seattle general manager Jack Zduriencik said on Friday that the actions of Montero and cross-checker Butch Baccala were "unacceptable" and "embarrassing" for the...
In what has to be considered surprising move, the St. Louis Rams have released rookie seventh-round pick Michael Sam. The Missouri product made news by publicly announcing that he was gay leading up to the NFL draft this past May.  No history yet…Rams released DE Michael Sam. Prime practice-squad candidate. — Adam Schefter (@AdamSchefter) August 30, 2014 The talented sack artist...
It sounds as if Jon Bon Jovi got a little taste of the Richie Sambora treatment himself this week after the wealthy rocker was tossed out a group bidding for the Buffalo Bills.The deep-pocketed Toronto-based sports team owners — who put up an offer for the Buffalo Bills — and the New Jersey singer have parted ways,  reported The N.Y. Post.The remaining entities in the group...
Stephen Hill's agent Alan Herman told Jim Corbett of USA TODAY Sports that the Jets didn't give his client enough time to develop. "I'm disappointed in Idzik and Rex with the way the whole thing went down there," Hill's agent, Alan Herman, told USA TODAY Sports. "Two years in that kind of situation is disheartening. "He didn't have a chance that first year with...
The Juice who probably won't get out of jail until 2017, is dabbling in Islam, but there is one one small problem. He can't put the snacks down according to Radar Online. Simpson, 67, became interested in the religion through fellow inmates and was even put in touch with former pro boxer Mike Tyson, who is devout Muslim. "O.J. didn't quite make it through the entire fasting...
David Beckham wasn't his usual suave and debonair self when he lost control of his motorcycle in the middle of Sunset Boulevard in Los Angeles. According to TMZ, Beckham was leaving the Shamrock Tattoo Parlour and was attempting to ditch the paparazzi when the accident occurred. Don't worry ladies, Beckham's face luckily didn't get a scratch on it. He had his buddies from...
Former Steelers and Bengals OLB James Harrison announced his retirement from the NFL Saturday. Post by James Harrison. Harrison, 36, was deemed expendable by Cincinnati after playing the first year of a two-year deal, registering 31 tackles, two sacks, one interception and a fumble recovery over the course of 15 games. Harrison graded out as the No. 9 outside linebacker in...
James Walker of ESPN reports that the Bills have agreed to a one-year contract with veteran QB Kyle Orton. Adam Caplan reported earlier in the day that a name to keep an eye on in regards to the Bills search for a backup quarterback is Orton, so this isn't a complete surprise. Buffalo parted ways with Jordan Palmer Friday, despite signing him to a contract just a few days...
A sad story about one of the Jackie Robinson West Little Leaguers took a happy turn thanks to the generous act of one business owner. Jackie Robinson West Little League, which represented the Great Lakes region at the Little League World Series, won the US championship before losing to eventual world champion South Korea. One […]
Denver Broncos running back Ronnie Hillman and cornerback Kayvon Webster did not travel with their team back to Denver from Dallas following their preseason finale on Thursday evening.  Both players were hospitalized overnight after coming up with uknown illnesses. Neither played in Denver's 27-3 win over Dallas (via the Denver Post). Hillman, a third-year running back from San...
Latest Rumors
Best of Yardbarker

Today's Best Stuff

For Bloggers

Join the Yardbarker Network for more promotion, traffic, and money.

Company Info

Help

What is Yardbarker?

Yardbarker is the largest network of sports blogs and pro athlete blogs on the web. This site is the hub of the Yardbarker Network, where our editors and algorithms curate the best sports content from our network and beyond.