Found February 03, 2013 on NESN.com:
Via NESN: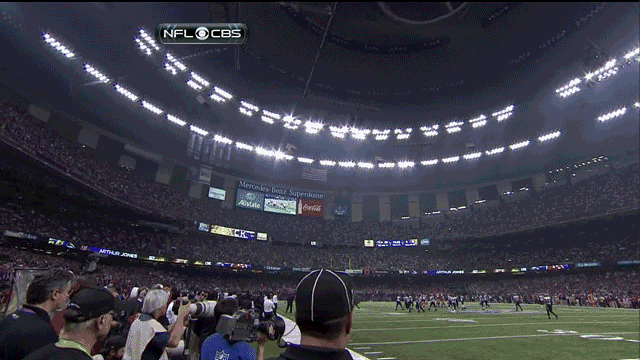 Minutes after Jacoby Jones' 108-yard kickoff return put Baltimore up 28-6 to begin the second half of the Super Bowl, the lights went out on the 49ers.
No, really.
The Mercedes-Benz Superdome lost power with 13:28 remaining in the third quarter, knocking out most of the stadium lights as well as the audio feed from CBS commentators Jim Nantz and Phil Simms.
A portion of lights came back on momentarily after the outage — which CBS analyst Jim Brown said was caused by a power surge — but a majority remained dark until the arena's power system could fully reboot, a process that was expected to take nearly half an hour.
Players stretched their muscles and tried to remain loose on the field and, despite claims on the Twittersphere, Bane has not been witnessed at the Superdome.
(image via Deadspin).
Original Story:
http://nesn.com/2013/02/superdome-los...
THE BACKYARD
RELATED ARTICLES
For those of us who are not huge Phil Simms fans, the power outage at the Super Bowl served as a small blessing. For the players, the power outage could be a serious problem. Tightening muscles, pulled hamstrings, you name it. The San Francisco 49ers have to hope that this stops the bleeding and keeps the Ravens off balance.
A power outage at the Louisiana Superdome delayed the Super Bowl for over half an hour in one of the most surreal scenes in sports.  Power was out in the CBS booth with Jim Nantz and Phil Simms and the network had to lean on sideline reporters Steve Tasker and Solomon Wilcots for updates.  On the radio side, Dial Global tweeted this picture of play by play man Kevin Harlan having...
Super Bowl XLVII was far from the broadcast equivalent for Phil Simms of going 22/25 in Super Bowl XXI.  CBS's top NFL analyst was caught contradicting himself repeatedly throughout the game and missed out on late game strategy.  While not quite reaching Chris Berman levels, the Twitterati was left unimpressed.  One of those newfound announcing critics was the NBA's best...
Good, bad, and ugly posts tend to naturally force writers to give the negative more coverage than the positive. Had NBC broadcast Super Bowl XLVII, that might have made things tough on me. But with CBS in charge and a 34-minute power outage in the mix, it was easy to find enough problems to fill the "bad" and "ugly" columns. This was not a smooth broadcast, but...
RUMORS & GOSSIP
In a recent interview Dwight Howard said that he is advising his Rockets teammates to stay away from candy and other sugary treats. You may think he's just saying it because it's common sense for a professional athlete, but he's speaking from experience. Reportedly while with the Lakers, Howard consumed the equivalent of 24 Hershey bars a day. H/T: The Bleacher Report It turned...
OWINGS MILLS, Md. (AP) -- Ravens safety Matt Elam has plenty of words to describe wide receiver Calvin Johnson, the main object of focus for Baltimore's defensive backfield Monday night in Detroit. Those words include "big, fast, athletic, unstoppable, freak." Curiously, Elam went in another direction when asked how best to cover the 28-year-old Johnson, who's...
MLB has now decided to eliminate home-plate collisions at home plate, meaning, players must slide going into home.— Bob Nightengale (@BNightengale) December 11, 2013In a motion approved Wednesday afternoon, Major League Baseball has outlawed collisions at home plate in a measure to ensure player safety. The new ban will take effect in 2014.Runners will now be required to slide...
Grant Hill, who is the host for the new-old NBA TV "NBA Inside Stuff," was filling in on the set for TNT's "Inside the NBA" on Thursday when he revealed some stories about playing with Shaquille O'Neal in Phoenix. From AZCentral.com: It turns out O'Neal and Gordan Giricek, who had been with the Suns for all of six weeks, mixed it up verbally during a closed practice...
A lot of people are worried that the Super Bowl being held outdoors at MetLife Stadium means snow or other inclement conditions will affect the draw of the annual entertainment and sports spectacle. But NFL commissioner Roger Goodell does not appear to be fazed by the possibility of snow on the day of the big game, even after last Sunday's slate of NFL contests, when fumbles and...
Royce White has a lot of time on his hands these days, just enough minutes and hours to point fingers as to why he is a man without an NBA team right now. White  -- who has been at the center of the league's story involving mental health issues since he was drafted out of Iowa State in 2012 – recently spoke with The Age, for a feature story where the 6-foot-8 power forward...
Hope Solo has a well-documented history of not getting along with former US women's soccer players. She continued that trend this week when she called out Julie Foudy. Foudy, a former midfielder and team captain who was part of the US women's gold medal team at the 2004 Olympics in Athens, appeared on ESPN Tuesday […]
Joe Torre is having a hell of a year. He will be a part of next summer's hall of fame class and now has something to look forward to in the future past that too. What is Joe Torre's legacy in New York?(credit: Al Bello/Getty Images) Torre is still one of the most recognizable names in Yankees lore for the last 20 years or so, despite having left the team at the end of the 2007...
Los Angeles Clippers coach Doc Rivers admitted Tuesday in a radio interview that he walked away from his former team the Boston Celtics. "I did at the end of the day," Rivers admitted to Felger & Mazz on CBS Rado Boston. "You make choices in your life, it happens… It was a very difficult decision for me to make; whether to walk away and sit a couple of years, which...
The Miami Dolphins are in the midst of a playoff race, so this is really the last thing I want to be writing about.  If you've noticed, we haven't written much about the Jonathan Martin, Richie Incognito saga over the past few weeks.  Why? Well, because the NFL's investigation is still ongoing AND I've had enough of the story.  Let's just get to the results of the investigation...
Latest Rumors
The Backyard
Going Viral

Today's Best Stuff

For Bloggers

Join the Yardbarker Network for more promotion, traffic, and money.

Company Info

Help

What is Yardbarker?

Yardbarker is the largest network of sports blogs and pro athlete blogs on the web. This site is the hub of the Yardbarker Network, where our editors and algorithms curate the best sports content from our network and beyond.