Found February 07, 2013 on MyTeamRivals.com:
Should the New York Jets move on from Mark Sanchez and let Tim Tebow start?
Original Story:
http://www.mtrmedia.com/2013/02/mtr-m...
THE BACKYARD
BEST OF MAXIM
RELATED ARTICLES
We are learning more and more about murderer Christopher Dorner. He has killed three people and is still on the run, he left an extensive manifesto that included this message for Tim Tebow. Tebow, I really wanted to see you take charge of an offense again and the game. You are not a good QB by todays standards, but you are a great football player who knows how to lead a team andā...
Right now in California thereā€™s a manhunt going on for one Christopher Dorner. The former police officer is suspected of killing three people in targeted murders in revenge for his dismissal from the Los Angeles Police Department. The first alleged victim of Dorner was an assistant coach of Cal State Fullertonā€™s womenā€™s basketball team. At first police had no suspects and no...
Former member of the LAPD and murderer of three Los Angeles cops Christopher Dorner is at large. Dorner wrote this dark and disturbing manifesto before hunting and killing those who he feels disrespected him. Believe it or not, the story of cold-blooded killer Christopher Dorner has a football connection. His manifesto mentions old football injuries and their possible effect on his...
Just when you thought the Jets 2012 season couldnā€™t look worse, the 2013 season match-ups were released. Here is the breakdown: Home: Patriots, Bills, Dolphins, Saints, Buccaneers, Steelers, Browns, Raiders Road: Patriots, Bills, Dolphins, Falcons, Panthers, Bengals, Ravens, Titans If the Jets can fix their offense, improve special teams, and develop their defense, there...
Tim Tebow drew a crowd recently while working out at a community college in Arizona, but his visit to the desert hasn't only been about football. Tebow, the New York Jets' frequently talked-about backup quarterback who has been the subject of trade speculation after not throwing a pass this past season, made an appearance over the weekend at nondenominational Impact Church...
A former LAPD officer at the center of a manhunt in California and suspected of killing three people, one of them a police officer, mentioned several athletes in a bizarre, rambling manifesto he allegedly posted online earlier this week -- most notably Tim Tebow, to whom he offered career advice. Christopher Jordan Dorner, 33, is suspected of shooting three police officers early...
An ex-Los Angeles cop and accused killer at the center of a California manhunt wrote "goodbye" messages to a variety of celebrities on his personal website before allegedly murdering three people ā€" including an L.A. police officer ā€"Ā according to TMZ.com. One of the reported messages was addressed to New York Jets backup quarterback Tim Tebow. Christopher Dorner is...
1. Quarterback Itā€™s time for the New York Jets to move on. Mark Sanchez has been given plenty of opportunities to prove himself and heā€™s failed time and time again. While he will probably be on the roster in 2013, the Jets will likely bring in someone to compete for a starting job. In the second round, Tyler Wilson and Mike Glennon could be options. 2. Outside Linebacker Rex...
And in the add a little humor to Wednesday sports news, Tim Tebow was brought up today. Ā Jets free agent safety LaRon Landry was a guest on ESPN First Take this morning, and per The New York Post, Landry told the panel he wanted more Tebow. ā€œIt came to a point where, ā€˜Okay, Tim is going into the game, itā€™s going to be a power (run),ā€™ā€Ā the Jets safety said on ESPNā€™sĀ...
Last offseason, we had the bounty scandal and the Tim Tebow trade and Peyton Manning, the free agent. Three of the most highly-publicized storylines in NFL history, all in one year. This year, the key storylines aren't as clear, but here are four to keep a very close eye on. 1. Joe Flacco becomes a very rich man: But how rich? That's the question. Flacco has always been...
By all accounts, the 2012 campaign was a miserable one for the New York Jets. Find out what safety LaRon Landry had to say about Tim Tebow's first year in New York.
If youā€™ve been paying attention to the news the past few days, you know that there is a manhunt going on in LA for a former LAPD officer and Naval reservist, Christopher Dorner. Dorner is accused of killing a couple on Super Bowl Sunday with revenge as the motive for what he deems as unfair actions brought upon him by the LAPD. Heā€™s also been linked to the ambush of three officers...
Jets News

Delivered to your inbox

You'll also receive Yardbarker's daily Top 10, featuring the best sports stories from around the web. Customize your newsletter to get articles on your favorite sports and teams. And the best part? It's free!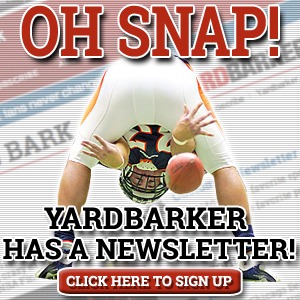 Latest Rumors
Best of Yardbarker

Today's Best Stuff

For Bloggers

Join the Yardbarker Network for more promotion, traffic, and money.

Company Info

Help

What is Yardbarker?

Yardbarker is the largest network of sports blogs and pro athlete blogs on the web. This site is the hub of the Yardbarker Network, where our editors and algorithms curate the best sports content from our network and beyond.