Posted January 17, 2013 on AP on Fox
Dowell Loggains will remain the offensive coordinator for Tennessee, and coach Mike Munchak has hired three new assistants - Sylvester Croom, Shawn Jefferson and George Henshaw. Munchak announced a handful of coaching moves Thursday. ''The goal in every decision I have made has been to do whatever I believe puts us in the best position to win this year,'' Munchak said in a statement. ''I believe with the new coaches that we have added and some shuffling of the current coaches, we have made our staff better. We were able to add proven coaches and by moving others around, it will change the dynamic in the meeting rooms and on the field.'' Titans owner Bud Adams decided to keep Munchak for a third season after a 6-10 season. Munchak responded by studying his coaching staff over the past two weeks, and he decided not to keep linebackers coach Frank Bush, running backs coach Jim Skipper and tight ends coach John Zernhelt. His biggest move was not renewing a contract for the designer of the Music City Miracle play, and letting Alan Lowry leave after 17 seasons, the last 14 coaching special teams. Croom, head coach at Mississippi State between 2004 and 2008, brings 21 years of experience coaching in the NFL. Croom coached running backs last season at Jacksonville and also was offensive coordinator for Detroit between 1997 and 2000. Croom coached Steven Jackson in St. Louis between 2009 and 2011, a stretch that included two Pro Bowls. He'll be working with Chris Johnson, who made a pitch earlier Thursday on Twitter for Munchak to bring back Earnest Byner, his first position coach with the Titans. Loggains worked as offensive coordinator the final five games of the season after Munchak fired Chris Palmer on Nov. 26. With Loggains moving to offensive coordinator, Dave Ragone moves from coaching receivers to Loggains' old spot as quarterbacks coach. Henshaw will be Tennessee's new tight ends coach, rejoining a franchise in the same job he held for nine seasons from 1997 to 2005. His tight ends caught 845 passes, most in the NFL in that stretch. Jefferson originally was a ninth-round pick by the then-Houston Oilers in 1991, and he played 13 NFL seasons with San Diego, New England, Atlanta and Detroit. He will coach receivers, the same job he had with the Detroit Lions. He worked the past five seasons with Calvin Johnson, who led the NFL with 7,080 yards and 50 touchdown catches in that time. Nate Kaczor is moving from assistant offensive line coach with Bruce Matthews to special teams in replacing Lowry. Chet Parlavecchio will move from special teams assistant to coaching linebackers. Munchak now has to fill those two spots, though the biggest question remains Jerry Gray's future as defensive coordinator after the Titans gave up a franchise-worst 471 points. The Titans coach defended Gray the day after the season ended and said only that he is always looking to improve his staff in his statement. ''So it is still a work in progress,'' Munchak said. Notes: The Titans also signed QB Nathan Enderle to a futures contract. The 6-foot-4, 240-pound Enderle was the fifth-round draft pick by Chicago out of Idaho in 2011 and spent that season on the Bears' roster. Chicago waived him last June, and he spent training camp with Jacksonville before being cut before the season. Enderle threw for 10,084 yards and 81 touchdowns in 45 games as a four-year starter at Idaho.
Original Story:
http://msn.foxsports.com/nfl/story/Mi...
THE BACKYARD
BEST OF MAXIM
RELATED ARTICLES
You can be angry or just plain upset with the Tennessee Titans this season but one thing remains; Hope. Why is there still hope? Mr. Adams finally put an end to the miscommunication between Mike Reinfeldt and Rustin Webster. Obviously, there was a different view of the future between these two gentlemen. With those different views showing clearly in 2012's offseason. Reinfeldt's...
Dowell Loggains will remain the offensive coordinator for Tennessee, and coach Mike Munchak has hired three new assistants - Sylvester Croom, Shawn Jefferson and George Henshaw. Munchak announced a handful of coaching moves Thursday. Jefferson is the new receivers coach, while Croom will coach running backs. With Loggains moving to offensive coordinator, Dave Ragone moves from...
NASHVILLE Not nearly like clockwork but consistent nonetheless since end of the regular season, the Tennessee Titans have opened the door and shown four assistant coaches and their front-office leader the way out. Exodus from head coach Mike Munchak's staff actually started before season's end. In late November, offensive coordinator Chris Palmer was fired with five games...
The Tennessee Titans have a number of free agent needs but none stare you in the face like their needs on the offensive line. If Jake Locker is going to be successful they must protect him and allow him to show what he can do in the pocket. By the end of the 2012 NFL season only one starter in training camp, Michael Roos, was not placed on injured reserve. The Titans started six...
Titans running back started 2012 off slow and everyone assumed he had cashed out and started his decline.  Johnson rebounded during the second half of the season, and finished the year with 1,243 yards and 6 touchdowns. Since the end of the season, the Titans have made no roster moves as expected but have gutted most of the coaching staff, firing or removing the running backs, linebackers...
As you can see former NFL quarterback Vince Young is back in college and having trouble staying awake in class. It looks like Young is awake enough after class to head to a local bar. It's really sad how Young's career ended.  He had so much potential to be great.  He was supposedly trying to make a comeback, but it doesn't look like he's in great shape.   Need NFL Tickets...
Before the season, I noted that the Titans were an interesting combination of pretty old on offense and pretty young on defense in 2011. I then tried to project how old the Titans would be in 2012, assessing them in the end as likely older than average on offense while being one of the youngest defenses in the league. Now that we have AV information for the 2012 season, we can evaluate...
Following a disappointing 6-10 season, the Tennessee Titans decided to stick with Mike Munchak as their head coach. Other than the second-year coach, who has led the Titans to a 15-17 record in his first two seasons as the man in charge, it appears that no one on the Tennessee coaching staff is safe. Since the offseason began for, the team has fired running backs coach Jim Skipper...
Much like the Jaguars, it is hard to go through this objectively, because this club was a train wreck for most of the season. The fact that the Titans managed to achieve a total of six victories for the season should be looked at as an accomplishment  However, they took a big step back on their progress from 2011 and some expected head coach Mike Munchak to be let go.  Precisely...
As the news has come out piecemeal, I intentionally haven't written anything on the changes the Titans have made on their coaching staff. With today's press release from the team announcing the changes, I think it's safe to assume the Titans are done making changes. Given the scope of the turnover involved, I think it's worth going through the various position. ...
NFL News

Delivered to your inbox

You'll also receive Yardbarker's daily Top 10, featuring the best sports stories from around the web. Customize your newsletter to get articles on your favorite sports and teams. And the best part? It's free!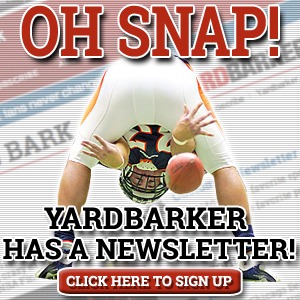 Latest Rumors
The Backyard

Today's Best Stuff

For Bloggers

Join the Yardbarker Network for more promotion, traffic, and money.

Company Info

Help

What is Yardbarker?

Yardbarker is the largest network of sports blogs and pro athlete blogs on the web. This site is the hub of the Yardbarker Network, where our editors and algorithms curate the best sports content from our network and beyond.