Found May 17, 2012 on isportsweb.com:
1. How well will Andrew Luck and the new offense fair in year one of the post-Peyton era? To be perfectly honest, the answer to this question will most likely be "not well." Gone are Joseph Addai, Dallas Clark, and Jeff Saturday, 3 huge components of Peyton Manning's success the past decade, not to mention Manning himself. Also out is wide receiver Pierre Garcon. But, all is not lost. Along with Luck, the new Colts offense will have Coby Fleener and Dwayne Allen, the top two rated tight end prospects in this year's draft. They also managed to re-sign wide receiver Reggie Wayne, brought in Donnie Avery (via free-agency) and drafted rookies T.Y. Hilton and LaVonn Brazill, who, along with Austin Collie, should give Indy intriguing options in the pass game. Not to mention former first-rounder Donald Brown holding down the fort at running back. That being said, it's going to take a lot of work and some really big failures for Luck to progress to (or at least, close to) the point that Colts fans are accustomed to seeing. In my opinion, I'd say 2,700 yards, 15 touchdowns and 10-12 interceptions would be a fantastic rookie outing. However, I definitely think the local and national media (and maybe the fans as well) will expect Cam Newton-type numbers. Unfair maybe, but hey, welcome to the NFL. 2. Can the patchwork offensive line gel together quickly enough to allow Luck's growth to speed up in his rookie year? As previously mentioned, C Jeff Saturday was not re-signed this year and eventually signed with Green Bay. The only regular starters on the offensive line from last year's team are G/T Jeff Linkenbach and LT Anthony Castonzo. G Ryan Diem retired this off-season, G Ben Igalana was on IR, and C Mike Pollak has yet to be a reliable option. That leaves some huge holes to fill to protect the new Franchise. Thus the new guys: C Samson Satele, who signed as a free-agent from Oakland, and T Winston Justice, who the Colts traded a 7th round draft pick this year to Philadelphia for. The starting line-up I see are Castonzo at LT, Joe Reitz and Ben Ijalana at either guard position, Satele as Saturday's replacement, and Winston Justice manning the right side. Combined with Luck's "baptism by fire" this year, the quicker this line can gel, the better things will be overall. Especially since they will need to open up running lanes for Donald Brown to get through so Luck doesn't have to try to do everything on his own. 3. How will the change in defensive schemes affect the production of Robert Mathis and Dwight Freeney? Colts fans should not worry – the new defensive scheme won't be as drastically different as they are used to. There will be differences, obviously, but that should be a good thing. The hybrid 3-4/4-3 scheme that head coach Chuck Pagano and defensive coordinator Greg Manusky are installing will have both Dwight Freeney and Robert Mathis line up at both the DE and OLB spots, depending on the situation. There will be far more blitzing opportunities at OLB for the two sack masters, which should have them both licking their chops. Mathis is more suited for the OLB spot than Freeney, though Freeney's speed should help compensate for his lack of size. Size was never an issue with him at DE anyway. The biggest area of concern for these two really lies not in their abilities, but the abilities of the rest of the front seven. In the 3-4 they'll have some combination of Drake Nevis, Fili Moala, Josh Chapman, Antonio Johnson, and/or Cory Redding on the line of scrimmage, with Freeney, Pat Angerer, Kavell Conner, and Mathis at linebacker. In the 4-3 you'll most likely see Freeney, Johnson, Redding, and Mathis on the line, backed up by Conner, Angerer, and maybe former first-round flame-out Jerry Hughes at linebacker. If the defensive support can do its job, rest assured Mathis and Freeney will do theirs. 4. Can the defense overcome the major shortcomings in the defensive backfield to have some measure of success? To the surprise of most, the Colts did not take a cornerback in this year's draft. In today's pass-centric game, you really need 3 starting-caliber cornerbacks. The Colts have only one: Jerraud Powers. They let Jacob Lacey go this off-season, and only have an underwhelming group of young guys to play alongside him. The most likely starters are the guys who played a lot last season: Kevin Thomas and Chris Rucker. The Colts are probably going to go with this combination for the start of the season, but I expect to see them make a move – probably a trade – to help shore up a huge position of need if Thomas and/or Rucker don't show up. 5. How will the team take to the new coaching staff/schemes? For the rookies, this won't really be an issue. It will be the only staff and system they'll have known in their very brief NFL careers to this point. But what about the veterans? For a decade, this team and organization has been about stability. Not making the big changes. Focus on the little things, and the big things will soon follow. That was there mantra. But after last year's debacle, we all know what happened. Armageddon. Irsay came, axe in hand, and showed no mercy. Sure, the argument can be made that since Bruce Arians and Clyde Christensen (both are former Manning QB coaches and Christensen was the offensive coordinator for Indy the past two years) are going to handle the biggest areas of the offense that not much will change. But remember, it was really Peyton Manning who was the offensive coordinator. Manning studied more and saw more than any other player or coach on the field, maybe in NFL history. He called the plays as he saw fit. Now he's gone, and it's Arians' and Christensen's job to try and catch lightning in a bottle twice with Andrew Luck. The defense, ever an area in flux with the Colts, is a different story. The aforementioned Chuck Pagano and Greg Manusky are switching defensive schemes, and the personnel to run it effectively. Most feel that the defensive will struggle mightily in 2012, and it's hard to argue that. But the Colts have made a few intriguing signings in free-agency and one really good pick-up in the draft in Josh Chapman if his health turns out OK. Also gone is the aura of calm brought by the last two head coaches, Tony Dungy and Jim Caldwell. Both were stalwart men who were fazed by little, if anything. Pagano is a first time head coach, so we don't really know how he's going to react to the pressures of the big boy's chair and, most likely, a tough rookie season. With all that being said, it will be an interesting if not frustrating season for Colts fans who are used to 10+ win seasons every year. Now there may be a chance they struggle to reach 5 wins total in a two year span. But stranger things have happened. If the key issues work out and the team comes together better than expected by most, then it could be an entertaining season as well. Follow me on Twitter @expertfan1
Original Story:
http://isportsweb.com/2012/05/17/my-f...
THE BACKYARD
BEST OF MAXIM
RELATED ARTICLES
The Colts players who are still around can't wait to see their new quarterback throw a few passes. For right now, they're out of Luck. With NFL rules barring Andrew Luck from attending any more Colts mini-camps until he completes his final two classes at Stanford, the Colts went about their regular mini-camp work Wednesday without two rookie quarterbacks. The last pick...
QB Andrew Luck (Indianapolis) Like Robert Griffin, Andrew Luck should be a solid QB1 with upside as a rookie. I expect him to have better passing numbers than either Newton or Griffin, but he won't match either of their rushing numbers, which is why Griffin has the advantage over Luck in fantasy, at least for this year. Projection: 4000 passing yards, 23 passing touchdowns, 14...
Paul Kuharsky takes a hard look at the AFC South in an effort to rank the defenses. No shocker here--the Colts are in the basement: 4. Indianapolis Colts: The Colts might have the worst defense in the NFL this season. Their run defense was abysmal last season. Indianapolis has nowhere to go but up in this department and additions such as Cory Redding, Brandon McKinney and Josh...
The Indianapolis Colts have cut tight end Brody Eldridge and brought in another quarterback. Eldridge played two seasons in Indy after the Colts took him in the fifth round of the 2010 draft. In 27 games, he caught 14 passes for 84 yards but was primarily a blocker. Indy took two tight ends in April -- Stanford's Coby Fleener in the second round and Clemson's Dwayne Allen...
The Indianapolis Colts have signed four of their 10 draft picks, including the last pick of the draft, Chandler Harnish. The team did not provide details of the contracts when it announced the signings. Along with Harnish, the Colts signed running back Vick Ballard, a fifth-round pick; receiver LaVon Brazill, a sixth-round pick; and two seventh-rounders, Harnish and defensive end...
Nate Dunlevy offers up four candidates for the best season by a wide receiver in the AFC South. I know you're all aching to vote for Andre Johnson but you may want to consider the credentials of a certain Tastykake-loving wideout: How good was Marvin Harrison in 2002? So good that I can't even consider Reggie Wayne's 2007 masterpiece as the Indianapolis nominee.
The Indianapolis Colts claimed offensive guard Zane Taylor off waivers from the Philadelphia Eagles and waived offensive guard Matt Murphy on Friday. Taylor was originally signed as an undrafted free agent by the New York Jets in 2011. He also spent time in camp with the New York Jets, and the Tampa Bay Buccaneers and Eagles practice squads that year. Taylor was a three-time...
It's been awhile. I'd like to apologize to our readers for my lack of writing over the last two weeks, where school and work have kept me swamped. Fortunately, from here on out, I'll be able to provide consistent content all summer, with a focus on statistical and video analysis.  In preparation for the summer, I'd like to let you know the type of studies I'...
Getty Images According to Shalise Manza Young of the Boston Globe, former Indianapolis Colts tight end Dallas Clark visited the New England Patriots on Tuesday. Clark recently visited the Kansas City Chiefs as well.  Some people question whether or not he can still play after fighting through multiple injuries over the past few seasons. If Clark signs with the Patriots, he'd certainly...
Part 1 can be found here: http://www.footballnation.com/content/1998-peyton-manning-vs-2012-andrew-luck-part-1/14460/ Part 2 can be found here: http://www.footballnation.com/content/1998-peyton-manning-vs-2012-andrew-luck-part-2/14607/   This is part 3 of a 4 part series titled "1998 Manning versus 2012 Luck."   In 1998, everyone in the old AFC East made the playoffs, except...
Colts News

Delivered to your inbox

You'll also receive Yardbarker's daily Top 10, featuring the best sports stories from around the web. Customize your newsletter to get articles on your favorite sports and teams. And the best part? It's free!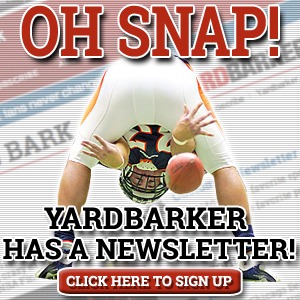 Latest Rumors
Best of Yardbarker

Today's Best Stuff

For Bloggers

Join the Yardbarker Network for more promotion, traffic, and money.

Company Info

Help

What is Yardbarker?

Yardbarker is the largest network of sports blogs and pro athlete blogs on the web. This site is the hub of the Yardbarker Network, where our editors and algorithms curate the best sports content from our network and beyond.