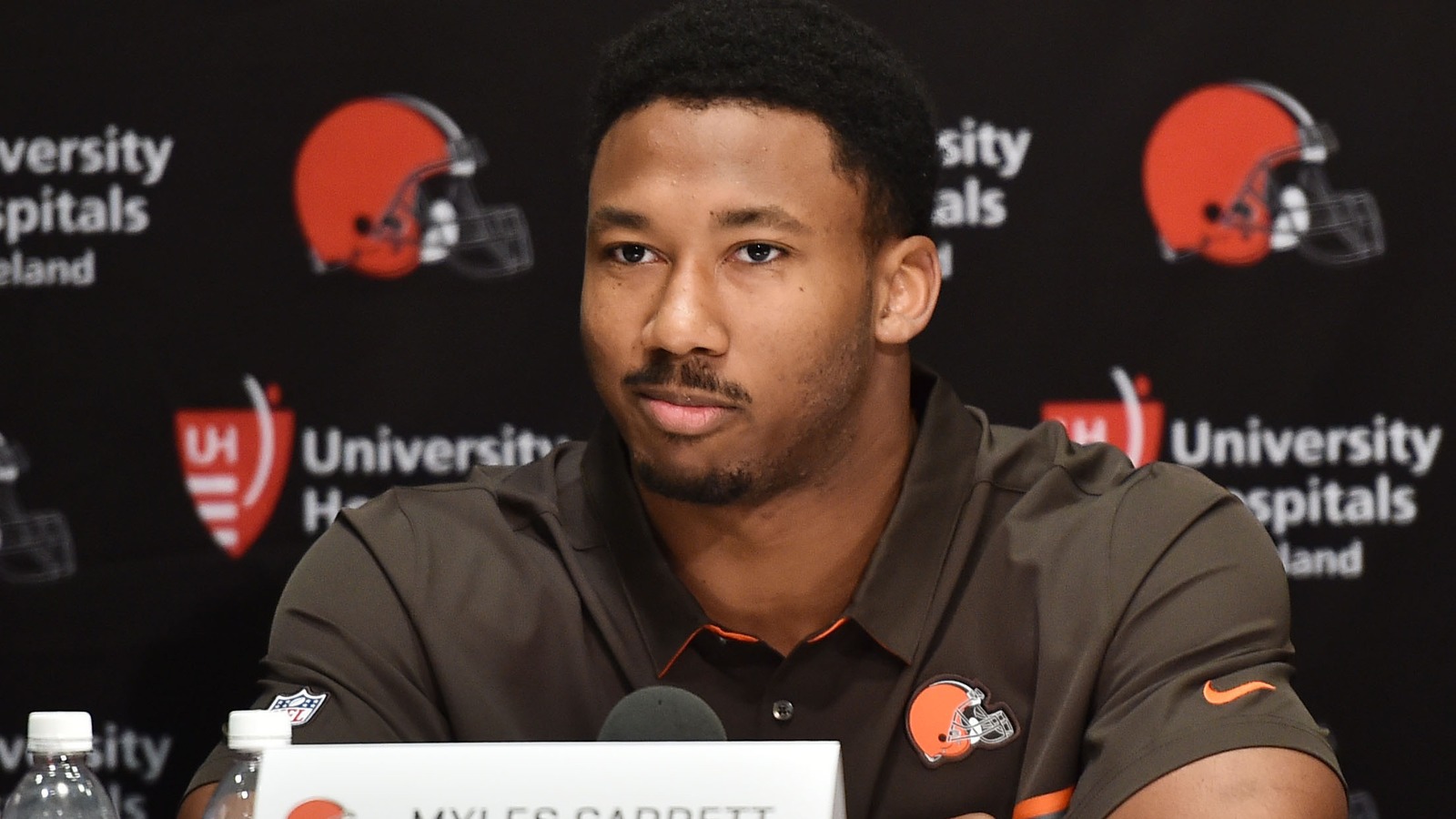 Apr 28, 2017; Berea, OH, USA; Cleveland Browns number one pick defensive lineman Myles Garrett talks to the media at the Cleveland Browns training facility. 
Ken Blaze-USA TODAY Sports
Myles Garrett, who went first overall in the 2017 NFL Draft to the Cleveland Browns, has been a bit of a lightning rod for the last several months. He's drawn both heavy criticism and praise, but his ability to handle the former has been lacking.
Garrett wasn't overly thrilled when Warren Sapp said the young pass rusher didn't deserve to go first overall, he later called out Pittsburgh Steelers quarterback Ben Roethlisberger, and then refused to appear on an ESPN Radio show with Booger McFarland following some mild criticism.
But that all changed on Saturday when Garrett was asked about Bruce Smith's recent comments in which he said the former Aggie is "too slow off the ball."
"I kind of laughed a little bit," Garrett said via Pro Football Talk. "Most people wouldn't say that, but he is one of the greatest if not the greatest pass rusher so if he thinks so and I want to be at his level someday, then I have to take his advice and run with it.
"He is just trying to teach me the tricks that I can get off the ball faster and do it even better. If I learn that and keep on practicing that, then I will perform at a high level."
It's a rarity for Garrett to acknowledge any weaknesses in his game, but when the criticism is coming from someone legendary like Bruce Smith, it's hard to ignore. Of course, this now opens the door for additional criticism, which is something Garrett should get used to anyway. He's in the NFL now and no one is immune from having their game examined with a fine-toothed comb.
MORE FROM YARDBARKER
NFL News

Delivered to your inbox

You'll also receive Yardbarker's daily Top 10, featuring the best sports stories from around the web. Customize your newsletter to get articles on your favorite sports and teams. And the best part? It's free!