Found January 12, 2012 on Turn On The Jets:
PLAYERS:
Mark Sanchez
,
Nick Mangold
,
Dustin Keller
,
Antonio Cromartie
,
Matt Slauson
,
Sione Pouha
,
Wayne Hunter
,
Bart Scott
,
Eli Manning
,
Tom Brady
,
Brian Schottenheimer
,
Todd Haley
,
Peyton Manning
,
Santonio Holmes
,
Jason Campbell
TEAMS:
New York Jets
,
New York Giants
,
New England Patriots
,
Kansas City Chiefs
,
Indianapolis Colts
,
Oakland Raiders
Mark Sanchez has taken it on the chin from a nameless selection of players in an article full of nameless sources that was somehow allowed to run in a major newspaper. It is an obviously cowardly move to throw somebody under the bus and then not put your name to it. Multiple teammates of Sanchez have since stood up to rebuke the article, most notably Nick Mangold, Dustin Keller, Antonio Cromartie, Matt Slauson, Sione Pouha, and Wayne Hunter. What is there to really make of the this situation? First off, if I was to take an educated guess, I would say the player who gave these quotes was an individual like Bart Scott. A defensive player, coming off his own subpar year that is likely out the door after this season and knows it. For all we know, the quote could have came from somebody on the practice squad. To say that Sanchez has lost the locker room based on an anonymous source when other prominent players have stepped up to defend him is crazy. What really hurt the credibility of the source was the assertion that Sanchez is lazy. I have never been inside the Jets locker room or Jets facility. Yet, I have read every word from every person who covers the team since he was drafted and by all accounts Sanchez is arguably the hardest worker on the roster and is constantly the first one in the building and the last one out. The lazy comments have been rebuked by a large group of media personalities around the team and from every player who has stood up for Sanchez. I have been an ardent defender of Sanchez, who I do believe takes on way too much unfair criticism. People ignore the reality of his accomplishments through his first three years as a starter and how it compares to other currently successful quarterbacks in the league. Sanchez has started out his career identically to Eli Manning, except Sanchez has had more playoff success early in first three years. I am not saying Sanchez will ever be a top five quarterback in the NFL but to adamantly state they can't win a Super Bowl with him, when he has already been within a half of the Super Bowl twice in his brief career is insane. Could you imagine the ESPN orgasm if Tim Tebow threw 3 touchdowns, had zero turnovers and beat Tom Brady in New England this Sunday? Then could you imagine everybody acting like Mark Sanchez didn't do the exact same thing exactly a year ago? Sanchez is going to face excessive scrutiny from being a quarterback in New York. People will point to him doing magazine spreads and dating super models as an issue, but in reality that doesn't affect his performance on the field. Critics like to ignore that Sanchez has been given a different pair of starting receivers every season of his career, a progressively weaker offensive line, and an incompetent offensive coordinator, that has been a factor in his performance. Despite being a defender of Sanchez, I won't put my head in the sand, hide behind a few statistics and say he improved from last year to this year because he didn't. Sanchez played better in bigger spots in both 2009 and 2010, particularly in 2010 he was clutch when it mattered the most. This season he wasn't that. He flamed out down the stretch and the issues with his body language, being skittish in the pocket, and being inaccurate were accentuated down the stretch of the season. The Sanchez who spouts the company line to the media and is concerned about everybody liking him needs to go. The best quarterbacks can be assholes a large part of the time. It is time he demands more from himself and this offense. The scapegoat of Brian Schottenheimer is now gone and Sanchez will have more of a disciplinarian in his face with Tony Sparano and potentially Todd Haley. Sanchez needs to embrace this and become a more mature player and more mature leader. The signs of leadership have been there in past years but just like his quarterbacking skills, it needs to be more consistent. We have seen Sanchez make every throw he needs to make. We have seen him lead fourth quarter game winning drives at home and on the road. We have seen him beat Peyton Manning and Tom Brady in the playoffs. The skill set is there but now with himself pushed into a corner of a make or break season, Sanchez must truly take over this offense in 2012 or be sent to the curb. If Santonio Holmes doesn't want to show up to team meetings or wants to pout in the corner. Get in his face and demand proper behavior from him or tell him to get off the field, just like Wayne Hunter did in the Miami game. Sanchez's teammates will respect the hell out of him for that. Peyton Manning isn't coming through those doors, Jets fans. Instead look for somebody like Chad Henne or Jason Campbell brought in to push Sanchez and provide a competent backup. Sanchez is the guy next year and if he rebounds from this past season, will be the guy for the long term.
Original Story:
http://turnonthejets.com/2012/01/name...
THE BACKYARD
BEST OF MAXIM
RELATED ARTICLES
A Look At The Jets' Predicament Surrounding The Future of Their "Franchise Quarterback". And The New York Jets select with the fifth pick….. Mark Sanchez. In 2009 The Jets placed their hopes for the future in a young man out of USC named Mark Sanchez, a college standout who impressed scouts during his 08' campaign with The Trojans throwing for 34 TDs to a mere...
  Getty Imagesteammates are questioning Sanchez's ability to lead the Jets. What happened to the New York Jets this season, and their Super Bowl guarantee? We can go down a long list to answer that question. The Jets' season wasn't...
Will the New York Jets sign soon to be free agent Chad Henne to come in and challenge the sometimes challenged Mark Sanchez for the starting quarterback position? Omar Kelly thinks so.  The Jets just hired former Dolphins head coach Tony Sparano to be the offensive coordinator so Henne will know the system the Jets will run. This would be a great move for the Jets.  Sanchez has...
Anonymous Jets sources tired of 'lazy' Mark Sanchez, want Peyton Manning
The fallout from the New York Jets failing to make the NFL playoffs is in full swing, with members of coach Rex Ryan's staff leaving, players taking shots at quarterback Mark Sanchez and other players defending him. In less than 24 hours, the coaching staff was shaken up with offensive coordinator Brian Schottenheimer walking away, former Dolphins coach Tony Sparano replacing...
The fallout from coach Rex Ryan's Jets failing to make the playoffs is in full swing, with coaches leaving, some players taking shots at quarterback Mark Sanchez and others defending him. In less than 24 hours, the coaching staff was shaken up with offensive coordinator Brian Schottenheimer walking away, former Dolphins coach Tony Sparano replacing him, and a few assistants saying they...
Jets coach Rex Ryan says embattled quarterback Mark Sanchez has the support of the organization, and he vows to clean up a team that was in turmoil late in the season. With some teammates and members of the organization anonymously questioning Sanchez's work ethic and leadership abilities in a Daily News story this week, Ryan came to his quarterback's defense. ''...
A flurry of criticism surrounding New York Jets quarterback Mark Sanchez this past week, most from unnamed sources, is puzzling to Jets legend Joe Namath, a contributor to Yahoo! Sports and The Shutdown Corner Blog. The Pro Football Hall of Fame quarterback, who has been critical of Sanchez's development — or lack thereof — was skeptical of anonymous quotes in a New York...
With Brian Schottenheimer out and quarterback Mark Sanchez coming off a disappointing season, the New York Jets looked to Tony Sparano to right the ship, hiring him as the team's offensive coordinator. "When we sat down with Tony, I knew that he was the right person at the right time for our offense," said Head Coach Rex Ryan. "I've admired his work as a competitor...
The fallout from coach Rex Ryan's Jets failing to make the playoffs is in full swing, with coaches leaving, some players taking shots at quarterback Mark Sanchez and others defending him.
Perhaps the market makes the New York Jets conducive to exceptional amounts of exaggeration surrounding their team. Maybe it is their coach. Their history. The media. Or their fans. Most likely it is a combination of all the above. Whatever it is, there is no middle ground with this team. They are either world beaters or the sky is falling. You would swear from the conversations...
NFL News

Delivered to your inbox

You'll also receive Yardbarker's daily Top 10, featuring the best sports stories from around the web. Customize your newsletter to get articles on your favorite sports and teams. And the best part? It's free!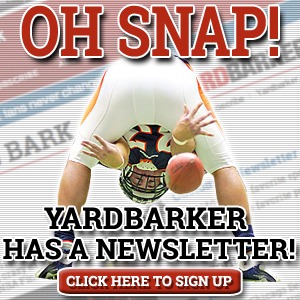 Latest Rumors
Best of Yardbarker

Today's Best Stuff

For Bloggers

Join the Yardbarker Network for more promotion, traffic, and money.

Company Info

Help

What is Yardbarker?

Yardbarker is the largest network of sports blogs and pro athlete blogs on the web. This site is the hub of the Yardbarker Network, where our editors and algorithms curate the best sports content from our network and beyond.