Found October 30, 2012 on The Sports Headquarters:
  That title is as witty as this is going to get. Frankly, I'm baffled at the way the Patriots have played this season. Sure, New England just housed the Rams, but that should be the norm, not the exception. Did it really take Josh McDaniels seven weeks to realize Rob Gronkowski is the most uncoverable receiver in the NFL? Really? Did it really take Matt Patricia seven weeks to realize the Patriots are completely vulnerable to the pass and that the front four cannot generate enough pressure by themselves? Really? Heading into the bye week, New England still has plenty to work on, so that's good for Coach Belichick as I'm sure he will find plenty wrong in the 45-7 victory over the Rams. The Rams? Yeah, well they have plenty to work on. Luckily, no one expected them to make the playoffs this season, let alone win the Super Bowl, so they have time on their side. The Patriots? They need to come out firing on a cylanders in Week 10. The next five weeks are pivotal for the Patriots in terms of playoff positioning. They need to take the bye week and get healthy. Aaron Hernandez needs to be 100% come December. Belichick made a mistake bringing him back too soon once. He cannot afford to make that mistake again. Coming off of the bye, the Patriots get two home games which should be automatic wins. Sure, the Bills are a divisional opponent, so anything is possible. But let's be real for a second. New England put 52 on them in week four after being down double digits at half time. And that was at Buffalo. The Bills aren't beating the Patriots in New England. Moving on, the Patriots host Andrew Luck and the Colts after Buffalo. While Luck has the Colts currently as the sixth seed in the playoffs, he is still a rookie quarterback. There is no reason to sit back and let him pick you apart. Even if Luck has a good game, there is no reason the Patriots' offense couldn't put 35 points on the Colts' defense. No excuse to lose that game, especially at home. Then the Patriots get the Jets again, this time on Thanksgiving. Rex Ryan's fat ass is going to be so thrown off from all that triptophene, there's no chance New England drops that game. National television on Thanksgiving against a divisional opponent. Just don't see it. Then at Miami before Houston at home. That Miami game is the definition of a trap game. On the road with a little more than a week to prepare, the Patriots cannot drop that game with Houston and San Francisco coming in the following two weeks. With three losses already on the record, a fourth loss before the Patriots even see the Texans and 49ers would all but secure a Wild Card game for New England. No need to make the playoffs that much more difficult. Take care of these next four games and let the chips fall where they may against the Texans and 49ers. For the now 3-5 St. Louis Rams, there's nothing to be ashamed of here. Jeff Fisher has now been outscored 104-7 in his last two meetings with Belichick. I don't know if maybe he insulted him one time or what but clearly Belichick thoroughly enjoys pummeling Fisher's teams. The Rams have built a solid defense (although you wouldn't realize it after the past two games) and they'll get the 49ers after their bye. That will likely put them at 3-6 before they host the Jets. If all works out positively for the Rams, they could be 5-7 heading into their trip to Buffalo. They win three of their last four (at Buffalo, Minnesota, at Tampa Bay, and at Seattle), and they will finish 8-8. Not the best season by any means, but certainly something to build upon. Now, it's more likely they'll finish 6-10 which seems just about right. But honestly, would you rather feel good about an 8-8 club with the 14th pick in the draft or finish 6-10 with a top 10 pick? Give me that top ten pick ALL day. Especially considering they will have multiple first round picks thanks to the RGIII trade.
Original Story:
http://feedproxy.google.com/~r/TheSpo...
THE BACKYARD
BEST OF MAXIM
RELATED ARTICLES
Rob Gronkowski is an interesting fella. I don't need to recount his on field efforts from this week, or last season, for you – they are well documented by now. I will mention that his catch of the day did not come on either of his two TD receptions, it was the catch late in … 
Tweet The New England Patriots defeated the St. Louis Rams 45-7 in London Sunday, with All-Pro Patriots TE Rob Gronkowski having one hell of a game with 8 catches for 146 yards and two touchdowns. After one of his TDs, Gronk had an entertaining celebration for the fans in London: I'm sure no player in [...]
New England Patriots tight end Rob Gronkowski is a total beauty.  Gronkowski's first touchdown celebration is obviously the best one, and by far the most creative.  His imitation of the Queen's guard is hilarious and you have to love the enthusiasm that he plays with.GIFs via: Deadspin
With two touchdowns against the St. Louis Rams in London on Sunday, Rob Gronkowski of the New England Patriots was given two chances to drive the football as hard as he could into the ground as he has become accustomed to doing. But these two spikes were a little different. Maybe it was being in a different country, maybe it was quarterback Tom Brady and some of Gronk's other...
Rob Gronkowski caught his sixth touchdown pass of the season as the the Patriots took on the Rams Sunday in London. To celebrate, Gronk busted out this Tin Tin soldier (or Frankenspike?) version of his infamous boom spike celly. The result? Pure Gronk Awesomeness.
In the midst of having a little fun with a pair of touchdown catches during the Patriots' win in London on Sunday, Rob Gronkowski made sure to take care of business. While Gronkowski's Buckingham Palace-guard touchdown march -- followed of course by a powerful spike to the grass at Wembley Stadium -- might be the most memorable moment of New England's 45-7 rout of...
A look back at the weekends games, what stood out - either as great, gruesome, or somewhere in between - and what we've learned. Specifically, we've come away impressed with the effort from Denver, Detroit, Pittsburgh and most importantly of all - Rob Gronkowski's TD dance.  Hit the link for more.
ESPN will air Gronk, Welker & Donald Thomas playing Cruz, Ramses Barden & Terrell Thomas in "Halo 4" tomorrow. pls don't ask me to comment.— shalise manza young (@shalisemyoung) October 31, 2012Hey, well, the Patriots have had their fair share of struggled beating the Giants since Week 17 of the 2007 season. Why not try to kick their ass in Halo!Hilarious...
Four possessions, four touchdowns for the Patriots in the first half. New England leads St. Louis 28-7 at the break in London. Shane Vereen scored on fourth-and-goal from the 1-yard line to give the Pats a 14-7 lead. With 6:51 left in the second quarter, Tom Brady found Rob Gronkowski for a 7-yard touchdown. Gronk celebrated London style, by imitating a British Royal Guard march...
NFL News

Delivered to your inbox

You'll also receive Yardbarker's daily Top 10, featuring the best sports stories from around the web. Customize your newsletter to get articles on your favorite sports and teams. And the best part? It's free!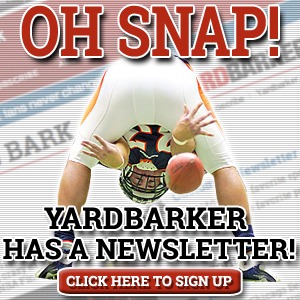 Latest Rumors
Best of Yardbarker

Today's Best Stuff

For Bloggers

Join the Yardbarker Network for more promotion, traffic, and money.

Company Info

Help

What is Yardbarker?

Yardbarker is the largest network of sports blogs and pro athlete blogs on the web. This site is the hub of the Yardbarker Network, where our editors and algorithms curate the best sports content from our network and beyond.