Found July 23, 2012 on Boston Sports Then & Now:
PLAYERS:
Tom Brady
,
Antowain Smith
,
Corey Dillon
,
Stevan Ridley
,
Danny Woodhead
,
Joseph Addai
,
Trevor Scott
,
Jonathan Fanene
,
Mike Wright
,
Rob Ninkovich
,
Terrell Suggs
,
Chandler Jones
,
Wes Welker
,
Brandon Lloyd
,
Deion Branch
,
Jabar Gaffney
,
Sterling Moore
,
Ty Law
,
Nate Solder
,
Brian Waters
,
Bill Belichick
,
Spencer Larsen
,
Tony Fiammetta
,
Heath Evans
,
Pat Chung
,
Brandon Spikes
,
Josh Mcdaniels
TEAMS:
New England Patriots
,
Baltimore Ravens
,
Denver Broncos
,
New Orleans Saints
WEEI'S Chris Price
Chris Price from WEEI, was nice enough to answer some of my Patriots off season questions.  We touch on the rookies, position battles, predictions, and even some Tom Brady.
Be sure to check out Chris' blog, It Is What It Is on weei.com and follow him on Twitter!
BST&N:
Who will emerge from the stable of running backs to be the "starter" for the Patriots?
Chris Price: I don't think we're going to see a traditional No. 1 back like in past years with Antowain Smith, Corey Dillon or BenJarvus Green-Ellis. Instead, it's going to be a collective, with certain runners breaking out by game depending on their strengths. I think Stevan Ridley will end the season with the most carries, but I think that throughout the season, you're going to have other backs pop up and play well. Two things: One, I believe that the only real constant will be Danny Woodhead, who will get between 10-15 touches a game in both the passing game and running game, and if he stays healthy, should be a very important part of the offense as the season continues. Two, I have talked with several people around the league, and they rave about the addition of Joseph Addai. If he can stay healthy, he'll be a big pickup, both on and off the field.
BST&N:
Who are your "diamonds in the rough" on both sides of the ball?
CP: Defensively, I love the Trevor Scott and Jonathan Fanene pickups, and I believe at least one will have a big impact this season. I think Fanene can give them something they've lacked since Mike Wright went down–an interior pass rushing presence. In terms of vets, I believe that after last season, Rob Ninkovich is one of the most important defenders on this team–his versatility, coachability and approach to the game have made him so important to the New England defense. Only two guys had at least six sacks and two interceptions last season … Ninkovich and Terrell Suggs. Offensively, that's a tough question–not a lot of under-the-radar guys on that side of the ball. Maybe Woodhead, who, when healthy, gives them an added dimension in the passing game and running game. I'll also say Addai … but again, if he stays healthy.
BST&N:
 How much of an impact will Chandler Jones & Dont'a Hightower make on the defense?
CP: Short-term, Hightower. I think he'll make the most impact in his first year in the league. His incredibly high football IQ, his knowledge of the Belichick-style system from his time running with Nick Saban and his versatility all have him poised for a great season (I will be excited to see the positional battle between Spikes and Hightower–two guys who do a lot of the same things). I think that long-term, Jones has a chance to be more of an impact player. At that elephant position–where he has to set the edge, rush the passer and drop into coverage–they are putting a lot on his plate as a rookie. You need to give him some time to grow into that position. Not saying he won't eventually be a quality starter in the league–it just might take him more time than some other guys.
BST&N: 
We all know Wes Welker and Brandon Lloyd will be the top two WR's for the Patriots, who will emerge
for the 3 spot?
CP: We talked about positional battles before between Spikes and Hightower, and this should be another good one. Right now, I think that Deion Branch and Jabar Gaffney are both going to make the team and compete for snaps at that spot.
BST&N: Preseason prediction for the Patriots? Record? How far will they go in the playoffs?
CP: Right now (and I know I'll regret making a prediction in July) this team looks like the kind of club that'll finish 13-3. There's always one or two games where they get outplayed or they're just not ready to answer the bell and one fluky loss you don't see coming. Playoffs? Not yet. That all depends on how you're playing after Thanksgiving, and I'm not ready to go there just yet.
BST&N: 
What do the Patriots have in Sterling Moore? A likely nickle/dime back or a bubble roster guy?
CP: More of the former. I believe Moore played himself into a spot in the regular rotation last year. He's not going to make anyone forget Ty Law, but his versatility (he can play both corner and safety), physical style and overall durability last season showed that he's earned a spot on the final 53, at least in my eyes. I'm intrigued to see what he can do with a full offseason in the program and a full training camp under his belt.
BST&N: 
The Patriots did not bring in a veteran to battle Nate Solder for the left tackle job. Can we assume the Patriots are confident with their 2011 first round draft choice?
CP: Very. I said they were going to put a lot on Chandler Jones' plate this season defensively and it will be interesting to see how he responds–they did the same to Solder last season, and he had a great year. He played both tackle positions (as well as taking an occasional rep at tight end) and did very well for a rookie who had ZERO offseason work. Complete professional who really impressed the veterans, particularly Brian Waters, who spoke glowingly of him on several occasions last year. Bill Belichick and Dante Scarnecchia really like the kid. Barring injury, there's no reason to think he won't be one of their starting tackles for the next 10 years.
BST&N: 
Spencer Larsen and Tony Fiammetta enter camp in a competition for a fullback position that may not exist. Will the Pats revert back to the Marc Edwards and Heath Evans days? Or this an instance of seeing what they have and letting the player make the decision for them?
CP: Probably the latter. I'm intrigued by the both of them, but I really think that Larsen has a better shot at making the team right now because he has some positional versatility–he's also played linebacker at the NFL level, which I'm sure appeals to the coaching staff.
BST&N: 
NFL safeties got paid this offseason (see Michael Griffin, Tyvon Branch). Do you feel Pat Chung is really worth that money entering the final season of his rookie deal?
CP: In my experience, Chung has to put together an injury-free 2012–as a starter–before he can count on a big payday. In his defense, one of the main reasons the New England D was playing well toward the end of the 2011 season was the fact that he and Brandon Spikes were completely healthy and making a real impact. At this stage of his career, when he's on the field, he's a great contributor, and if he can put together a healthy 2012, he will put himself in line for a handsome payday (or maybe the franchise tag). But as we sit here right now, he's not there quite yet.
BST&N: 
How big an impact is the return of Josh McDaniels? Are there many differences between he and Bill O'Brien scheme wise?
CP: It's a change, but not a seismic difference. It's not like they're going to start running the wishbone or something. Let's be honest: while OC's have come and gone over the years, the most important part of that offense is Tom Brady. If you get open, he'll throw you the ball. The one thing I'm interested to see is that as either an offensive coordinator or a head coach, he's had great wide receivers, but never had a pair of tight ends like Gronkowski and Hernandez. It will be interesting to see how he handles the two, and combines their talents with the wide receivers (particularly Lloyd) this season.
Original Story:
http://boston.sportsthenandnow.com/20...
THE BACKYARD
BEST OF MAXIM
RELATED ARTICLES
Wes Welker's going to look fresh to death on the sidelines this season. According to a news release, The 31-year-old wide receiver underwent a hair restoration procedure with Dr. Robert Leonard earlier this month. And yes, he'll be appearing on advertisements for the hair restoration doctor, who has had such clients as radio personality Mikey Adams and former Bruin, Lyndon...
Patriots wide receiver Wes Welker didn't receive the long-term contract he was angling for, but at least he'll be sporting a full head of hair on the sideline in 2012. Welker, 31, underwent a hair restoration procedure with Dr. Robert Leonard earlier this month, according to NESN. The procedure "involved transplanting follicles to an area of Welker's scalp where...
1985 New England Patriots win the AFC Championship (by oquatanginwann) The first of seven AFC Championships.
Curtis Martin is probably the last person who thought he would ever make the Pro Football Hall of Fame.  In fact he was probably the last one to ever think he would play football at all. The former New York Jets running back repeated what his childhood friends have been reminding him since being elected to the Hall of Fame months ago: 'Who would have dreamed this would ever...
by Chris Warner Off-season, off-season, free agents, rookies, whatchathink, whaddyaknow, blah, blah, blah. Enough. Let's do this … Jones-ing For Athleticism: Before we speak of rookie Chandler Jones, a quick anecdote about last year's defense, focusing on fan (and BSMW) favorite Rob Ninkovich. Playing against an AFC East rival, Ninkovich made two plays that defined the 2011...
2001 New England Patriots win the AFC Championship (by oquatanginwann)
According to Mike Rodak of ESPNBoston.com, New England Patriots tight end Rob Gronkowski wasn't included on the active/PUP list to begin training camp.  This likely means that he's been medically cleared. This is certainly great news for the Patriots and their offense.  Even with the additions they've made this offseason, Gronk will still be one of Tom Brady's go to guys.
zuriberry: Thoughts and storylines on the Patriots before training camp. (via 53 burning questions for the Patriots headed into training camp - Extra Points - Boston.com)
Indianapolis police officer Michael Andersen unveiled his brand spanking new tattoo of New England Patriots tight end and party animal Rob Gronkowski the other day. Andersen tweets that the new ink is "[i]n honor of the best TE in the game!" and added that "Gronk Nation is alive and well in Indy!!!" Gronk Nation. Now [...]
NFL News

Delivered to your inbox

You'll also receive Yardbarker's daily Top 10, featuring the best sports stories from around the web. Customize your newsletter to get articles on your favorite sports and teams. And the best part? It's free!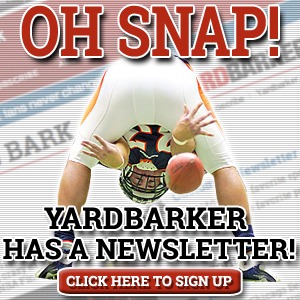 Latest Rumors
The Backyard

Today's Best Stuff

For Bloggers

Join the Yardbarker Network for more promotion, traffic, and money.

Company Info

Help

What is Yardbarker?

Yardbarker is the largest network of sports blogs and pro athlete blogs on the web. This site is the hub of the Yardbarker Network, where our editors and algorithms curate the best sports content from our network and beyond.