As his wife Giselle once pointed out, New England Patriots quarterback Tom Brady can't throw and catch the ball at the same time. While he has made a name for himself as one of the most elite players to ever play in the NFL, his team's success over the years has required more than just his skill alone. The Patriots nine postseason trips in ten years have also been the result of a dominant receiving core. Last year, Brady had players like Wes Welker, Brandon Lloyd, Danny Woodhead, Rob Gronkowski, and Aaron Hernandez on his roster of receivers and, as a group, they accounted for over 80 percent of the passing offense for the team. The good news? Brady is still Brady. The bad news? Only one of those players will be returning to a Patriots uniform this year. Welker will be in a Bronco's uniform, Lloyd remains unsigned, Woodhead will play for San Diego, and Hernandez is behind bars. The only returning receivers that Brady will have a chance to play with this year are Julian Edelman and Gronkowski, and both are trying to come back from injuries. After several injuries throughout the 2012 season, Edelman's year ended when he broke his foot on December 2nd. He has fully rehabbed and has been back on the field for the team in the off-season. Gronkowski, on the other hand, has a much more complicated injury storyline. After breaking a bone in his forearm last November, the tight end had surgery to stabilize it and returned to action on December 30th. Then, on January 13th, he re-broke his arm in the same spot, requiring season-ending surgery. He went on to get two more procedures, one in February to treat an infection from the surgery and one in May to remove and replace the original hardware. While his arm issues appeared to finally be on the road to full recovery, he also underwent surgery this summer to address a back issue that had been plaguing him for some time. If he can avoid another infection and fully rehab from his back surgery, he may finally be ready to play again at some point this season. When that will be is still very much uncertain. While Gronkowski continues to work toward returning, Jake Ballard, who played with the Giants last season, and rookie Zach Sudfeld will be playing tight end. Neither player is quite as good as their predecessors across the board, but they should be able to get the job done. It's still unclear when Gronkowski will be ready to play, creating an interesting dilemma in terms of roster decisions. Team officials have already indicated that he is extremely unlikely to play in the season opener. The question now is whether or not to put Gronkowski on the PUP list for the start of the year, meaning he would miss a minimum of six weeks but won't take up a spot on the 53-man roster. His open spot would leave room for TE veterans Daniel Fells and Michael Hoomanawanui. If the Patriots decide that Gronkowski could play earlier in the season than the six-week mark, one of the two veterans might lose their spot. As the Patriots work to determine who will play wide receiver this season, the list of possibilities has been surprisingly strong. Veteran Edelman, former St. Louis Ram Danny Amendola, and rookies Kenbrell Thompkins, Josh Boyce and Aaron Dobson have all been seeing action this off-season. While Brady used to go to Welker for his short passes in the middle, this year Amedola will take over that role. He's a veteran, unlike Jenkins and Dobson, and appears to have the No. 1 spot locked down. The biggest question mark with Amendola is his ability to stay healthy. He had multiple freak injuries last season, one to his elbow and one to his clavicle, and has missed 20 games in the past two seasons. Already this pre-season he sustained a hit to the back of the head and missed practice, perhaps just as a precaution, in the days following. The Patriots have confidence in his talent; now he just needs to find a way to avoid another injury. Behind Amendola, the rookie competition is putting veteran Edelman's spot in serious jeopardy. The competition between Thompkins and Dobson for the No. 2 spot has pushed both rookies to the top of their game. Both receivers are fast and tall and will be playmakers on balls in the air. Rookie Boyce also continues to show his value in the slot. With veteran Michael Jenkins being cut earlier this week, the Patriots have made it clear that they believe in their young receiving core and the depth chart seems to be shaping up as (in order) Amendola, Thompkins, Dobson, Edelman, Boyce, and Matthew Slater.  In their most recent pre-season performance against the Buccaneers, Brady threw to a range of receivers, including Amendola, Thompkins, Dobson, and Boyce. Brady has routinely commented on the work ethic of the group, and impressing Brady is rarely an easy feat. The biggest difference between the successes of this year's young receivers as compared to the past is this group's dedication to learning the tough Patriots offense. By showing their willingness to work hard, both mentally and physically, they have instilled confidence in Brady. Brady is comfortable throwing to them, which in turn gets them more practice and more confidence on the field, which is key to the success of this new offense as a unit. If there is any quarterback that can make a group of new receivers play at the top of their game, it's Brady. The Patriots are playing in a very winnable division and with one of the most competitive men to ever hit the field at the helm, they have every chance in the world to see the playoffs. This is a group that will have no problem proving to Giselle that Brady won't have to try to catch his own passes in 2013. Follow @ErinLikesSports Follow @TheNFLInjuryRpt Looking for fantasy football advice?
Original Story:
http://www.nflinjurynews.com/2013/08/...
MORE FROM YARDBARKER
NFL News

Delivered to your inbox

You'll also receive Yardbarker's daily Top 10, featuring the best sports stories from around the web. Customize your newsletter to get articles on your favorite sports and teams. And the best part? It's free!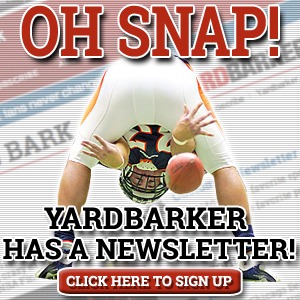 Latest Rumors
Best of Yardbarker

Today's Best Stuff

For Bloggers

Join the Yardbarker Network for more promotion, traffic, and money.

Company Info

Help

What is Yardbarker?

Yardbarker is the largest network of sports blogs and pro athlete blogs on the web. This site is the hub of the Yardbarker Network, where our editors and algorithms curate the best sports content from our network and beyond.