Found September 15, 2012 on isportsweb.com:
PLAYERS:
Marcel Jones
,
Adrian Arrington
,
Korey Hall
,
Will Smith
,
Barrett Ruud
,
Jonathan Vilma
,
Marques Colston
,
Jabari Greer
,
David Hawthorne
,
Curtis Lofton
,
Brandon Meriweather
,
Chris Baker
,
Kory Lichtensteiger
,
Brian Orakpo
,
Josh Wilson
,
Roger Goodell
,
Malcolm Jenkins
,
Drew Brees
,
Steve Spagnuolo
,
Robert Griffin III
TEAMS:
Washington Redskins
,
New Orleans Saints
,
St. Louis Rams
,
Florida State Seminoles
,
Appalachian State Mountaineers
,
Washington State Cougars
,
Ohio State Buckeyes
,
Notre Dame Fighting Irish
,
Kansas State Wildcats
,
South Carolina State Bulldogs
,
North Dakota State Bison
Well, Saints fans, it's finally time for the real games of the regular season to start the 2012 football year off right. The New Orleans Saints will host Robert Griffin III and the Washington Redskins this Sunday, September 9 in the Mercedes-Benz Superdome. More importantly, the Saints and the entire Who Dat Nation will officially welcome RG3 into the NFL! Below is the current team roster, complete with the "Reserve/Suspended" and "Exempt" players who complete the final 53 with the New Orleans Saints at this point in the beginning of the new season. Active (50) # NAME POS. HT. WT. AGE EXP. COLLEGE 42 Abdul-Quddus , Isa S 6-1 220 23 2 Fordham 9 Brees, Drew QB 6-0 209 33 12 Purdue 71 Brown, Charles T 6-5 297 25 3 Southern California 77 Bunkley, Brodrick DT 6-2 306 28 7 Florida State 25 Bush, Rafael DB 5-11 200 25 2 South Carolina State 74 Bushrod, Jermon T 6-5 315 28 6 Towson 39 Cadet, Travaris RB 6-1 210 23 R Appalachian State 52 Casillas, Jonathan LB 6-1 227 25 4 Wisconsin 45 Collins, Jed FB 6-1 255 26 2 Washington State 12 Colston, Marques WR 6-4 225 29 7 Hofstra 10 Daniel, Chase QB 6-0 225 25 4 Missouri 60 de la Puente, Brian C 6-3 306 27 3 California 47 Drescher, Justin LS 6-1 235 24 3 Colorado 98 Ellis, Sedrick DT 6-1 307 27 5 Southern California 73 Evans, Jahri G 6-4 318 29 7 Bloomsburg 93 Galette, Junior DE 6-2 258 24 3 Stillman 89 Graham, Daniel TE 6-3 257 33 11 Colorado 80 Graham, Jimmy TE 6-7 265 25 3 Miami (Fla.) 33 Greer, Jabari CB 5-11 180 30 9 Tennessee 66 Grubbs, Ben G 6-3 310 28 6 Auburn 41 Harper, Roman S 6-1 200 29 7 Alabama 5 Hartley, Garrett K 5-8 195 26 5 Oklahoma 57 Hawthorne, David LB 6-0 246 27 5 Texas Christian 19 Henderson, Devery WR 5-11 200 30 9 Louisiana State 54 Herring, Will LB 6-3 241 29 6 Auburn 76 Hicks, Akiem DT 6-5 324 22 R Regina 28 Ingram, Mark RB 5-9 215 22 2 Alabama 29 Ivory, Chris RB 6-0 222 24 3 Tiffin 27 Jenkins, Malcolm S 6-0 204 24 4 Ohio State 96 Johnson, Tom DT 6-3 288 28 2 Southern Mississippi 94 Jordan, Cameron DE 6-4 287 23 2 California 50 Lofton, Curtis LB 6-0 241 26 5 Oklahoma 90 McBride, Turk DE 6-2 278 27 6 Tennessee 16 Moore, Lance WR 5-9 190 29 7 Toledo 13 Morgan, Joseph WR 6-1 184 24 2 Walsh 6 Morstead, Thomas P 6-4 235 26 4 Southern Methodist 31 Murphy, Jerome CB 6-0 200 25 2 South Florida 69 Olsen, Eric G 6-3 305 24 2 Notre Dame 32 Patrick, Johnny CB 5-11 191 24 2 Louisville 21 Robinson, Patrick CB 5-11 191 25 3 Florida State 15 Roby, Courtney WR 6-0 189 29 7 Indiana 58 Shanle, Scott LB 6-2 245 32 10 Nebraska 91 Smith, Will DE 6-3 282 31 9 Ohio State 43 Sproles, Darren RB 5-6 190 29 8 Kansas State 64 Strief, Zach T 6-7 320 28 7 Northwestern 85 Thomas, David TE 6-3 248 29 7 Texas 23 Thomas, Pierre RB 5-11 215 27 6 Illinois 75 Walker, Tyrunn DT 6-3 294 22 R Tulsa 24 White, Corey CB 6-1 205 22 R Samford 95 Wilson, Martez DE 6-4 252 22 2 Illinois Reserve/Suspended (1) # NAME POS. HT. WT. AGE EXP. COLLEGE 53 Humber, Ramon LB 5-11 232 25 4 North Dakota State Exempt (2) # NAME POS. HT. WT. AGE EXP. COLLEGE 55 Ruud, Barrett LB 6-2 241 29 8 Nebraska 51 Vilma, Jonathan LB 6-1 230 30 9 Miami (Fla.) Practice Squad # NAME POS. HT. WT. AGE EXP. COLLEGE 62 Broughton, Braylon DE 6-6 272 24 R Texas Christian 59 Butler, Ezra LB 6-2 248 27 1 Nevada 63 Gunn, Harland G 6-2 314 23 R Miami (Fla.) 65 Henry, Ricky G 6-4 310 25 2 Nebraska 81 Higgins, Michael TE 6-5 242 24 2 Nebraska-Omaha 30 Hixson, Nick CB 6-0 189 23 R Hillsdale 37 Nelson, Jerico S 5-10 216 22 R Arkansas 14 Tanner, Andy WR 6-0 183 24 1 Midwestern State Injured Reserve # NAME POS. HT. WT. AGE EXP. COLLEGE Banyard, Joe RB 5-11 213 23 R Texas-El Paso Chamberlain, Chris LB 6-1 238 26 5 Tulsa Givens, Chris WR 6-2 203 22 R Miami (Ohio) Jones, Marcel T 6-7 320 24 R Nebraska Romeus, Greg DE 6-5 267 24 1 Pittsburgh Tiller, Andrew G 6-5 326 23 R Syracuse Toon, Nick WR 6-4 218 23 R Wisconsin Tupou, Fenuki T 6-5 323 27 2 Oregon The New Orleans Saints have announced the following roster moves today: *OT Marcel Jones has been placed on injured reserve. *The club has terminated the contracts of WR Adrian Arrington and FB Korey Hall. *DE Will Smith has been activated from Reserve/Suspended list. *LBs Barrett Ruud and Jonathan Vilma have been placed on Exempt – Commissioner Permission. Posted 10 hours ago By NewOrleansSaints.com   Week 1: Sept. 9, 2012, noon, Mercedes-Benz Superdome FRIDAY INJURY REPORT/GAME STATUS
Saints
Out: OT Marcel Jones (left knee) – DNP
Questionable: WR Adrian Arrington (right knee) – DNP; WR Marques Colston (left foot) – Limited; CB Jabari Greer (sports hernia) – Limited; LB David Hawthorne (left knee) – Full; LB Curtis Lofton (right ankle) – Full Redskins
Out: S Brandon Meriweather (knee) – DNP
Probable: DT Chris Baker (ankle) – Full; G Kory Lichtensteiger (knee) – Full; LB Brian Orakpo (chest) – Full; CB Josh Wilson (abdomen) – Full NOTEWORTHY
A three-member appeals panel vacated NFL Commissioner Roger Goodell's suspensions of four players, including Saints DE Will Smith and LB Jonathan Vilma. The move reinstates the players immediately. The panel said Goodell overstepped his bounds but punted the decision back to him, saying he could suspend the players as long as the penalties were specifically for conduct detrimental to the league. That may make the vacated suspensions null and void for only so long. Will Smith   The move was met with happiness in the Saints locker room Friday. "It's definitely some good news," Saints S Malcolm Jenkins said."I think everybody will be happy to get those guys back around just to see their faces. We know they're not going to jump in the lineup this week or anything, but just to have them guys around is big for us." Jonathan Vilma   The NFL granted a roster exemption this weekend for each of the teams affected by the ruling. This game is following the 7 year anniversary of Hurricane Katrina which just happened to be the same day as another hurricane, namely Isaac, tearing through the City Beneath the Sea, but nothing can keep the Who Dat Nation from coming out to the Superdome to support their Saints in the loudest way possible for the season opener. It will most certainly be a loud and confusing welcome into the league for RG3 in his first professional start in a game that actually counts. Drew Brees and the Saints offense should be hitting on almost all cylinders as if they are in mid-season form early and often in this game, which will make it more and more incumbent upon Washington and Griffin to have to try and catch up through the air, which will in turn feed right into the hands of New Orleans' new Defensive Coordinator Steve Spagnuolo to get pressure from 3, 4 and 5 linemen and LB's in the box. Due to the players involvement ruling in the Bounty Gate scandal being overturned by a 3 person CBA committee, Will Smith should see the field today and Jon Vilma will be on the sideline for the Saints today against the Skins. Expected outcome: Saints 34, Redskins 23  
Original Story:
http://feedproxy.google.com/~r/isport...
THE BACKYARD
BEST OF MAXIM
RELATED ARTICLES
This week Washington Redskins quarterback Robert Griffin III decided to wear a logo-free t-shirt on the field for warmups in St. Louis after what happened last week. Last week Griffin wrote the word "heart" on his pregame warmup shirt with the letter "H" covering up a Nike swoosh.  Griffin is apart of the adidas brand, but covering up the Nike logo did not sit...
Thanks to video from Yahoo! Sports, we have evidence that Redskins quarterback Robert Griffin III once again covered up the Nike logo on his pregame warm up shirt.   This time instead of writing over the logo, he wore a blank gray t-shirt over his Nike shirt. For those who don't know, RG3 has an endorsement deal with Adidas, which is likely why he's going against displaying...
WON'T BACK DOWN
Robert Griffin III, who has an adidas endorsement deal, once again covered up the Swoosh on his warm-ups, this time by wearing a gray shirt over the Nike apparel.
We have a leader in the clubhouse for bonehead play of the year, and this one may stand up for the whole season. With the Washington Redskins...
Week 1 was tough for the rookie quarterbacks, as Robert Griffin III was the only one to lead his team to a victory. But the rookies bounced back nicely as they all looked impressive in their week 2 match-ups. Andrew Luck, Ryan Tannehill and Russell Wilson all earned their first victories and the three combined to throw 4 touchdowns and no interceptions. Luck was the true star of...
2012 kicks off with five new starting quarterbacks who were playing in the college ranks just last season.  Which one of these rookie starters has the best chance of success? Robert Griffin III, Redskins — RG3′s 4.41 speed will make the Redskins' bootleg play a lethal one.  He has the instinct of an elite running [...]
Back in July during an interview on WFAN, Giants defensive end Osi Umenyiora wondered why people were calling Redskins rookie quarterback Robert Griffin III "RG3". In Umenyiora's eyes, Griffin hadn't done anything in the NFL yet so he didn't deserve to have that nickname. So instead, he would call him "Bob Griffin". Predictably, Griffin said he was fine with being called...
Matt Barkley's Heisman campaign began on December 22nd, 2011, the day he decided to return for his senior season. Denard Robinson's and Montee Ball's began even earlier in the month, on December 10th immediately after Robert Griffin III won the trophy. That's the way the Heisman works these days. The first thing I was asked [...]
You've seen the pose. You've seen it go viral. You know the one: rookie phenom Robert Griffin III sitting near an end zone at the Superdome raising his arms in joy as if he's Touchdown Jesus. Appropriate, since he's the Washington Redskins' Hallelujah! to Rex Grossman's Heck No! The District's darling comes to the Edward Jones Dome on Sunday, and won...
ST. LOUIS All eyes were on Redskins quarterback Robert Griffin III Sunday after he burst onto the scene with a record-setting performance to upset the New Orleans Saints in Week one. But Rams quarterback Sam Bradford reminded folks why he's got a Heisman Trophy as well. In arguably the best game of his young career, a motivated Bradford completed 26-of-35 passes for 310 yards...
Since ranking the NFL's five rookie quarterbacks seems to be all the rage following their respective Week 1 performances, we here at Eye On Sports figured we'd weight in with our own thoughts on each first year player's respective Week 1 performance. Let's start at the very with everyone's No. 1 pick, Washington's electrifying Robert Griffin III.RG III Washington RedskinsI...
I am sure that Washington Redskins fans are over the top on rookie sensation Robert Griffin III who did the impossible last Sunday. Griffin exceeded our excessive expectations of him. For once, the Daniel Snyder hype machine doesn't feed the excess. It is spontaneous and it affects everyone. Madden: RGIII is "a Tim Tebow that can pass": thevictoryformation.com/2012...
NFL News

Delivered to your inbox

You'll also receive Yardbarker's daily Top 10, featuring the best sports stories from around the web. Customize your newsletter to get articles on your favorite sports and teams. And the best part? It's free!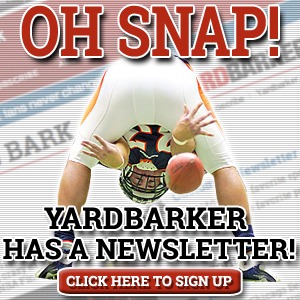 Latest Rumors
Best of Yardbarker

Today's Best Stuff

For Bloggers

Join the Yardbarker Network for more promotion, traffic, and money.

Company Info

Help

What is Yardbarker?

Yardbarker is the largest network of sports blogs and pro athlete blogs on the web. This site is the hub of the Yardbarker Network, where our editors and algorithms curate the best sports content from our network and beyond.