Found August 04, 2012 on New York Sports-Kings:
New York Giants Running Back Competition is Ahmad Bradshaw's to lose, according to Bradshaw. He spoke of his position as a leader of this team and the possibility of a younger running back stealing the job from him.
Bradshaw, 26 is going into his 6th NFL season, and he understands what it takes to maintain at the level that he needs to keep the starting job. After all Bradshaw is part of the Super Bowl champions. He also was a big part of their championship run, and will be the focus point for the Giants this season. However, rookie David Wilson has opened some guys with his camp performance so far, and the opportunity to impress people will continue to do so. Wilson has speed; he is able to bob-and-weave around opponents, which will come in handy every Sunday. He also likes making cuts so sharp and low to the ground it hurts your knees just to watch. The first-round pick out of Virginia Tech is going to erupt for some big gains in his first season, but he also may learn some harsh lessons with negative-yardage plays as he scoots rather than hits the hole.
Ahmad Bradhsaw (AP Photo/Bill Kostroun)
However, that is where Bradshaw comes in, his leadership ability will help Wilson learn the ropes as a runner in the NFL, but don't forget Bradshaw is still the main guy. He sees a lot of the same style in Wilson that he used when he came into the league. When I was young, I came in, and I was spinning a lot, doing a lot of different things that he does. Just with the fresh legs, you feel good, and you want to show your talents out there. However, everybody knows he's fast, and he can make moves. It's just the way he does it, and there are times when it's not even needed.'' Bradshaw said to the NY post. Head coach Tom Coughlin mentioned that If "David's smart he would take a little bit of that'' regarding Bradshaw's advice. As for Bradshaw, he doesn't mind the mentor role, but he's not moving aside one step for the rookie.
When the Giants lost Brandon Jacobs, some worried the running game will suffer, but all I see is a better running back combo. Bradshaw will see the majority of the carries, and late in-game when the defense is tired he will be a force to be reckoned with. We may see the new addition of thunder and lightning in New York.
Follow us on Twitter @NYSportskings
Site Manager- @NYSportschris
The post New York Giants Running Back Competition is Ahmad Bradshaw's to Lose appeared first on New York Sports Kings.
Original Story:
http://nysportskings.com/new-york-gia...
THE BACKYARD
BEST OF MAXIM
RELATED ARTICLES
Just when you think the Plaxico Burress to New York Giants speculation is over, General Manager Jerry Reese reaches out and pulls you right back in! "We keep all those options open. You never say never," Reese told ESPN of a possible Burress return. Much to his surprise, the 34-year-old Burress remains a free agent. And after a quality campaign in 2011 following a...
For the majority of cancer patients, beating the disease means simply just staying alive. However, for New York Giants linebacker Mark Herzlich, defeating cancer meant having a successful NFL career, despite being diagnosed with Ewing's sarcoma after his junior season at Boston College. Fortunately, after an intense five-month battle, Herzlich's cancer was in remission...
It is debatable how much New York Giants cornerback Terrell Thomas would have been able to contribute, even if healthy this season. Although his contract suggests that General Manager Jerry Reese brought him back to start, there is a long list of players who have suffered major knee injuries and returned to the field as shells of their former selves. Regardless, his status for this...
Let me start by stating I am a die-hard, true blue Dallas Cowboy fan. It all started in 1983 when I saw my first Cowboys game. I was nine. Since then I've been hooked. I haven't missed a Sunday of football in 25 years and haven't missed a Cowboys game since 1992. I live in central New Jersey and hate the New York Giants. Always have, always will.     It was hell for me...
AP Photo New York Giants quarterback Eli Manning has been having fun with the media and all of their coverage of the New York Jets and quarterback Tim Tebow. "I told David Carr to take his shirt off while we were running sprints after practice," Manning said on ESPN Radio (via the NY Daily News) on Thursday, "to see if he can get the same coverage." What's really funny...
Eli Manning said he isn't jealous of all of the attention the New York Jets are getting but— while the two-time Super Bowl won't go topless like the now-infamous Tim Tebow photo— the New York Giants starting quarterback thinks his backup, David Carr, should give it a shot to give the team more exposure. "I told David Carr to take his shirt off while we were running...
Shale Briskin BGB Contributor Recently at the Dallas Cowboys' training camp, owner and general manager Jerry Jones told his fans, "Y'all should come to Cowboys Stadium and watch us beat the Giants' asses." The 5,000 Cowboys fans that attended cheered after hearing the remark. It's honestly amusing that the very outspoken Jones has already lit...
Former New York Giants wide receiver Devin Thomas announced his retirement on Sunday. Thomas, 25, is perhaps best known for recovering two fumbles in the Giants' NFC championship game win over the San Francisco 49ers in January. Thomas was a second round pick of the Washington Redskins in 2008. He was in Chicago Bears camp this season before abruptly calling it a career....
The WMFL team brings you their running back rankings and also discusses the discrepancy in some of their rankings. Players of contention: Ahmad Bradshaw: Rizzla has lower than Zach (16 to 20) Rizzla (20): I have Ahmad Bradshaw ranked at 20 as I still believe he has RB2 upside, but I have him ranked lower than some others as he now has to deal with the more talented David Wilson nipping...
Giants News

Delivered to your inbox

You'll also receive Yardbarker's daily Top 10, featuring the best sports stories from around the web. Customize your newsletter to get articles on your favorite sports and teams. And the best part? It's free!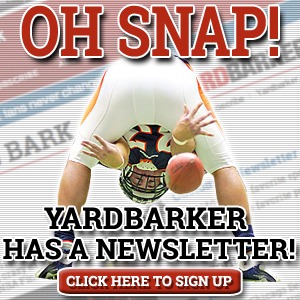 Latest Rumors
Best of Yardbarker

Today's Best Stuff

For Bloggers

Join the Yardbarker Network for more promotion, traffic, and money.

Company Info

Help

What is Yardbarker?

Yardbarker is the largest network of sports blogs and pro athlete blogs on the web. This site is the hub of the Yardbarker Network, where our editors and algorithms curate the best sports content from our network and beyond.