Found August 02, 2012 on Turn On The Jets:
TJ Rosenthal of The Jet Report is back with another feature, today looking at the New York Jets ongoing struggles with media exposure. Make sure to give TJ a follow on Twitter and to follow his work all season long at both The Jet Report and here at Turn On The Jets 
For the Jets, the offense with their return to the Ground and Pound, and the defense with their newcomers and hopeful additions of the 4-3 and the 46, are just the major concepts going under a transformation on the fly. There is more.  You have key players most notably Mark Sanchez who seek consistency and efficiency. Then there are the coaches starting with Rex Ryan who aim to have a better handle on guiding things than they did during the 8-8 disaster last year. Finally, you have the tricky open door media policy. One that provides a unique window into the minds of the personalities of this team directly, but when utilized foolishly, still threatens to divide before it conquers.
On Monday Antonio Cromartie told the world that he is currently the second best wideout the Jets have. It sounded like a joke, or a street ball challenge to us. It came off as a slight though to newly acquired Chaz Schilens. The episode made national headlines thanks to the fact that ESPN has replaced the idea of an HBO "Hard Knocks" return this summer by pitching it's own tents in Cortland to stalk the Jets every morning. The episode forced Rex Ryan to remind his club and in a way himself, to be careful about HOW one addresses the media.
After all, it had only been days since Santonio Holmes, a star who constantly struggles with timing and tone (no pun intended) when it comes to airing out his thoughts near a microphone, stated publicly that a two QB system won't work.
In Ryan's mind, who knew what player would simply step up to the podium and do some damage next. Who could tell how the next words out of a Jet players mouth would be interpreted by fans, teammates, and sportswriters?
To Ryan, Monday early evening meant warning time.
Hey, Rex's Jets will never end up quiet. Silent. Shy. It's not in their DNA. They can however, like both sides of the ball, find a groove that works for them. That embodies who they are in an effective, rather than destructive way. Post practice articles that popped up and questioned whether or not this was the first new Gang Green locker room squabble, after a plethora of them took place last year, were jumping the gun. In the same way that QB pitch counts between Sanchez and Tim Tebow are jumping the gun right now. However, Ryan's warning shot was on point in that it's never too early to establish habits worth keeping throughout an entire season.
The Jets have to realize from the top of the organization on down that the media  will continue to look for anything that keeps the newsworthy club relevant in banner headline fashion. The Jets are one of those "it" teams, especially now that some guy named Tebow has joined them. How they finished last season only dramatizes further the storyline of the rise and fall of a cocky, confident, brash club. The real question now is where does the story end. Will the Jets rise again under Ryan or sink further into confusion and disarray that to some, only scratched the surface in 2011?
At this point in time it is all a work in progress and too early to tell. Rebranding the offense to feature the ground game, while unleashing a new versatile athletic defense provides a new roadmap for Sanchez and Co. to follow, as they seek a way back to the playoffs. Heading back down the winning direction however, while avoiding the pitfalls of quotes that writers can turn into locker room wedges, may be the biggest challenge of them all for the 2012 Jets.
BUY YOUR TURN ON THE JETS T-SHIRT NOW
Original Story:
http://turnonthejets.com/2012/08/new-...
THE BACKYARD
BEST OF MAXIM
RELATED ARTICLES
YES WE CAN!
President Barack Obama chimed in on the potentially caustic situation the Jets face with having both Tim Tebow and Mark Sanchez on the roster.
Even Rex Ryan knows there are some people you shouldn't get into a verbal war with.  Bill Belichick is one thing, the President of the United States is another. In sticking with this year's new slimmer and quieter version of himself, the New York Jets head coach was quite demure in his response to President Obama's comments about the team's quarterback controversy...
CHANGE OF HEART
After initially saying he would not go to London to watch his sister Holley Mangold go for gold in weightlifting, it appears Nick Mangold has changed his mind.
Getty Images New York Jets head coach Rex Ryan is pretty intrigued about the thought of going for a two-point conversion every time his team scores a touchdown after hearing someone bring up the idea after they acquired Tim Tebow. "I don't know where it came from but they were like, 'They ought to go for two every time this year.' That might make sense," Ryan said. As tempting...
New York Jets head coach Rex Ryan provided a few thoughts on Tim Tebow what the Jets second-string quarterback needs to focus on during training camp.
With no Super Bowl guarantees to speak of, Rex Ryan and crew appear focused on building team chemistry with the regular season just around the corner.
Mike Donnelly is back with his weekly Stock Watch. This week's edition focuses on the first week of training camp in the books in Cortland. Make sure to give Mike a follow on Twitter and if you haven't had the chance yet check out our brand new Turn On The Jets shirts.  There's a lot to get to this week with Jets Camp opening, so I won't waste time coming up with an intro...
If you've flipped through the cable sports coverage on NFL training camps in the New York area, you'd have been hard pressed to find much detailed information on your favorite team. Unless you're a New York Jets fan that is. The popularity of "tabloid journalism" makes it clear why the public at large is subject to so much Jets coverage.  Certainly, the Jets have...
Rex Ryan put a quick end to a budding controversy. The New York Jets coach addressed his players during a meeting Wednesday, reminding them to consider what they say in the wake of cornerback Antonio Cromartie's remarks that he'd rank himself the second-best wide receiver on the team. Wide receiver Chaz Schilens said Wednesday he felt the comment was a ''slight...
WORLDWIDE LEADER IN JETS
Giants quarterback Eli Manning isn't bothered by all the attention the media has been paying the Jets, saying it allows his team to focus on only football during training camp.
Rex Ryan is no trash talker when it comes to the president. A day after President Barack Obama told an Ohio radio station that he is not a fan of Tim Tebow being on the New York Jets, the normally brash and bold coach resisted taking the expected humorous swipe. Instead, Ryan says Friday that he respects Obama and ''I respect the fact that this is opinion.'' Wait...
Jets News

Delivered to your inbox

You'll also receive Yardbarker's daily Top 10, featuring the best sports stories from around the web. Customize your newsletter to get articles on your favorite sports and teams. And the best part? It's free!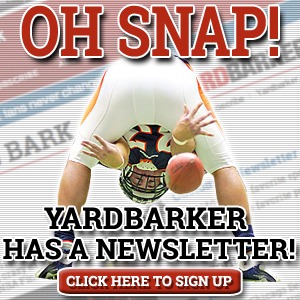 Latest Rumors
Best of Yardbarker

Today's Best Stuff

For Bloggers

Join the Yardbarker Network for more promotion, traffic, and money.

Company Info

Help

What is Yardbarker?

Yardbarker is the largest network of sports blogs and pro athlete blogs on the web. This site is the hub of the Yardbarker Network, where our editors and algorithms curate the best sports content from our network and beyond.