Found March 03, 2013 on Turn On The Jets:
David Garrard? Brady Quinn? What kind of upgrade at starting quarterback is this? Heck the Jets might as well let Vinny Testaverde sling the rock around Florham Park, right? GM John Idzik is clearly looking to change the foundation of the Jets for the better now, by trading, restructuring, and bargain shopping. Room will be made soon enough for some flexibility, but not the kind that will allow a plethora of high priced quality to enter the premises in return. So don't be shocked folks, when the parade of low budget vets brought in for workouts, begins. It will happen early and often. As the Jets try to catch affordable lightning in a bottle more than once in 2013. Let's hypothetically assume that Darrelle Revis is gone, and both Mark Sanchez and Santonio Holmes re-do their deals in order to give Idzik the room to improve the club immediately. Would this trio of choices pave the way for giving the Jets enough financial space to add a set of solid linebackers, a top notch running back, wideout, and a quality veteran quarterback? Partly yes, through the draft, and perhaps a wise free agent signing or two. As a whole however, no way. There are too many holes to fill. Period. This is why oddball shotgun-wedding spring tryouts with blasts from the past, and cheap potential signings of past their prime vets, are on the way. Taking the "clearance rack" seriously is clearly going to have to be part of Idzik's 2013 game plan "Attention K Mart shoppers, there are specials on running backs, quarterbacks and a host of other positions in aisle four." Look whose taking the shopping cart to aisle four. The Jets are.  Where they will comb over every item on sale in that row from now until week one in September. They have no other choice. So it may be time to root for guys like Garrard and Quinn to shock the doubters, as opposed to laughing at the thought of them. Or crying at the thought of what this season could become if no lightning is found…
Original Story:
http://turnonthejets.com/2013/03/new-...
THE BACKYARD
BEST OF MAXIM
RELATED ARTICLES
Tim Tebow is coming off the depth chart and the New York Jets are in need of a backup QB for Mark Sanchez. They're reportedly looking to add two QBs in the offseason, with one of them likely being David Garrard. A source, via Rich Cimini of ESPNNewYork.com, says "the Jets have kept open the lines of communication with free-agent QB David Garrard, but no deal is imminent...
There have been rumors that the New York Jets will look to trade their best player, cornerback Darrelle Revis, this offseason. While nothing is determined at this point, it appears to Gary Myers of The New York Daily News that talks are heading in that direction, and he hears from an NFL source that it's likely to get "very ugly" in New York. "I think it's going to get...
Former Wisconsin soccer player Lauren Silberman tried out for the big boys league today at an NFL regional scouting combine, but her big day only lasted two kicks. Her first kickoff try at the New York Jets practice field went 19 yards, as more than two dozen media, including E! Entertainment network looked on.
Key's got some advice for the Jets: trade Darrelle Revis. (Credit: Ezra Shaw/Getty Images) The New York Jets are in an awfully sticky situation with star cornerback Darrelle Revis. When healthy, Revis is still the most dominant player at his position in the NFL, and he deserves to get compensated as such. But the Jets don't seem to be willing or able to do that, and so talks...
According to the New York Post, Jets owner Woody Johnson, head coach Rex Ryan and general manager John Idzik will speak with season ticket holders on a conference call that's scheduled for today. Like any other organization, the Jets want to listen to their fans, the problem is they still seem to have no idea how to end the circus they created last offseason. "I think they did...
NFL free agency kicks off on March 12th, only 8 days from today. The New York Jets are not expected to be overly active considering their salary cap situation. This isn't necessarily a bad thing, considering how the team has been run in previous years, they need to sit out the first wave of overpaid free agents and settle for 2nd and 3rd tier players who they can get at bargain...
Here's a brief synopsis of the Tim Tebow experience in New York: In March of 2011, Tebow was traded to the Jets and boy was he excited to be in New York. He reportedly believed that he could beat out Mark Sanchez for the starting job, but things began to head south pretty early for Tebow. Then, former NFL player after former NFL player began to question why the Jets even traded...
ESPN's Adam Schefter hears that the Jets are close to finishing a deal with free agent quarterback David Garrard.Fantasy Spin:After a one-year absence from the league, Garrard resurfaced with the Dolphins last summer in training camp but injuries prevented him from appearing in any regular season games. Almost anything would be an uprgrade for the Jets at quarterback after the...
New York Jets tight end Dustin Keller hadn't missed a game or a practice until last season, the final year of his five-year rookie contract.Now, he's wondering if he'll get a chance to prove that it wasn't a fluke. Keller missed half of the 2012 season with hamstring and ankle issues, and the Jets' offensive production suffered. Much of quarterback Mark Sanchez...
Keyshawn Johnson has made a nice transition from former NFL player to quality NFL analyst, so when he speaks, he's usually knowledgeable about the situation. Johnson was speaking to Newsday about the franchise that drafted him, and said he would advice the New York Jets to trade Darrelle Revis right now, and get some value back in return. "I think it's a smart move if they...
Wednesday afternoon the reasonably accurate Yahoo sports reporter Jason Cole suggested the Atlanta Falcons may make a run at a Jets player.       DON'T NAVIGATE AWAY, IT WAS REVIS!   More on Revis potentially ending in Atlanta, and absolutely nothing on Tim Tebow and Mark Sanchez, after the jump.   Don't be surprised if Atlanta...
NFL News

Delivered to your inbox

You'll also receive Yardbarker's daily Top 10, featuring the best sports stories from around the web. Customize your newsletter to get articles on your favorite sports and teams. And the best part? It's free!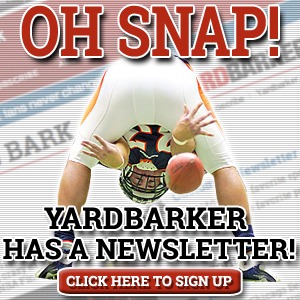 Latest Rumors
Best of Yardbarker

Today's Best Stuff

For Bloggers

Join the Yardbarker Network for more promotion, traffic, and money.

Company Info

Help

What is Yardbarker?

Yardbarker is the largest network of sports blogs and pro athlete blogs on the web. This site is the hub of the Yardbarker Network, where our editors and algorithms curate the best sports content from our network and beyond.