Found May 04, 2012 on Turn On The Jets:
PLAYERS:
Terrance Ganaway
,
Mike Mayock
,
Antonio Allen
,
Jordan White
,
Shonn Greene
,
Tim Tebow
,
Joe McKnight
,
Bilal Powell
,
Stephen Hill
,
Demario Davis
,
Robert T. Griffin
,
Robert Griffin III
TEAMS:
New York Jets
,
Washington Redskins
TOJ's very own Mike Mayock, Chris Gross has been breaking down all of the New York Jets draft picks in the film room. Check our his previous entries -
Robert T. Griffin
Antonio Allen
Jordan White
Today we look at 6th round pick, running back Terrance Ganaway. Yesterday at Turn On The Jets, we reviewed the New York Jets selection of Robert T. Griffin out of Baylor University. Just prior to selecting Griffin with the 203rd overall pick, the Jets used the 202nd pick to obtain his teammate, Running Back Terrance Ganaway. Ganaway had a very productive senior season at Baylor last year, rushing for 1,547 yards and 21 touchdowns on just 250 carries, while playing alongside two first round selections in QB Robert Griffin III and WR Kendall Wright. Ganaway is a very big back at 6'0" 240 lbs, and will pair with Shonn Greene (5'11" 226 lbs) and Tim Tebow (6'3" 236 lbs) to form one of the biggest, most powerful backfields in the NFL. However, Ganaway is more than simply a power back, and will bring an interesting dynamic to the Jets' run game this season. One of the things about Terrance Ganaway that is very eye opening on film is how elusive he is for his size. Being such a big running back, you'd expect him to be strictly a downhill power threat. However, he has repeatedly shown the ability to make people miss, while displaying an excellent burst. Ganaway has great patience in allowing his blocks to develop, coupled with a fantastic ability to hit the seam and take off the second it opens. He has exceptional vision, and when he gets to the second level he is deceptively shifty and agile, making his game very multidimensional. Along with his elusiveness, Ganaway is an extremely strong runner. Rather than being strictly powerful, by displaying the ability to run people over on contact, Ganaway is flat out strong. Very rarely does just one player take him down, and he has dragged and pulled defenders on multiple occasions. He is great after contact and falls forward when tackled, rather than being knocked backwards. Ganaway will always fight for extra yardage, and proved to be a workhorse in every phase of the game. He not only runs hard, but simply plays hard. Not once did he take a play off on film, displaying an excellent drive and great work ethic. Whether he is getting the ball, blocking, or running a route, Ganaway is going 100 mph, 100 percent of the time. His pass blocking is not perfect, but very effective. He is tough, does not shy away from contact, and most importantly is more than willing to block. His technique could use a little work, as he tends to lunge and drop his head at times, however he has proved to be an effective blocker, overall. Ganaway's ability to block is going to help him tremendously at the next level, as it will keep defenses honest when he enters the game. A running back that is unable to block in the NFL simply becomes one dimensional, and defenses know to key them as they're the most likely to get the ball when they check in. With the several aspects of Ganaway's game that are good and promising, there are certainly legitimate red flags that caused the former Baylor back to fall to the sixth round. His senior year was his only significant year of production and playing time. In 2010 and 2009, he had a combined 114 carries for just 510 yards. He ran for 5 touchdowns in '09, but just 2 the following year, so there are definitely some concerns about his consistency. Ganaway also does not possess elite receiving skills, nor does he have much experience in this area with only 12 career catches, but he hasn't proved to be completely awful here. He is certainly capable of catching passes, he just needs to prove he can do it more regularly. Ganaway's lack of elite top end speed was also a cause for his slide in the draft, however he plays much faster than his 4.67 40 time shows. He was not caught from behind once on film, and claims to have never been in his entire playing career. Clearly, this is bound to happen at some point in the NFL, but he certainly shows to be much faster than he appears on paper. The good thing about Ganaway is that he has tremendous amount of room to grow. He can complement Greene and Tebow in the Jets power running game, bringing his elusiveness and agility as a big back, to add a very interesting dynamic to the Jets' sudden surplus of runners. I'd expect Ganaway to couple with these two to wear defenses down and open up the possibility of big plays, with Joe McKnight playing the role of the home run hitter out of the backfield. I would not necessarily expect Ganaway to be a third down back due to his lack of receiving experience out of the backfield, however he has the ability to develop into this role in the future. He will certainly be a viable option to spell Shonn Greene, and has proved to be conditioned and durable enough to sustain long drives if necessary. Ganaway's role on the 2012 Jets will most likely come down to how well the offensive staff feels he can complement the other runners, something I think he will do very well. I am not sure how much the play of Joe McKnight and Bilal Powell will affect his status, because their style of play differs so greatly. I expect Greene to be the main workhorse, with Tebow running in select formations, and Ganaway developing into Greene's primary backup. The Jets have assisted in aiding their identity of becoming a run first team with big play potential. Greene and Ganaway have the ability to wear down defenses, while McKnight and 2nd round pick Stephen Hill possess the quick strike, home run threat. Editor's Notes – I love Ganaway's value in the sixth round. He has the size, downhill running style and option experience to be a perfect fit in the Jets offense this season and become an immediate contributor. Personally, I think his upside is substantially higher than Bilal Powell's and he will be the backup to Shonn Greene this year while playing in a certain package of plays, primarily with Tim Tebow. His pass protection and receiving have a long way to go but the size and motor are hard to ignore. Outside of Stephen Hill and DeMario Davis, Ganaway is the draft pick I am most excited about.
Original Story:
http://turnonthejets.com/2012/05/new-...
THE BACKYARD
BEST OF MAXIM
RELATED ARTICLES
The New York Jets eight draft picks and a large collection of undrafted free agents and tryout players will gather for a mini-camp this weekend. Focusing down on the eight draft picks, what will it take for each of them to receive playing time this season? Who will be their primary competition? Let's take a closer look - Quinton Coples – Regardless of whether Coples starts at...
NEW YORK—Jets first-round draft pick Quinton Coples obviously heard about the Jets wanting Bruce Irvin really bad. If they had their way it would have been Irvin facing the media at the Jets rookie mini-camp yesterday. While a bit over-zealous, Coples showed everyone how hard he's willing to work to prove that he's the best man for the job. Please click the link below to...
Florham Park, N.J. - Over the past three years we've heard Rex Ryan continually preach about, "playing like a Jet" and what that means to him and should mean to Jets fans. It was a tactical move as part of Ryan's desire to change the culture of the Jets. Skeptics throughout the national football media may have their doubts about whether or not Ryan has been successful...
TEEEEEEEEBOOOOOOOOW! Of course these days it takes a batsh*t crazy Tebowing to even get me excite. Just some chick Tebowing on green grass doesn't move me. Enter University of Cincinnati cheerleader Tessa and her Tebowing stunt. Of course she's risking her life, possibly a broken neck to pull off this maneuver. You want on BC for your Tebowing? It's going to take Tebowing...
Quinton Coples had just finished his first practice with the New York Jets when he walked to the sideline while everyone else headed toward the locker room. The first-round draft pick strolled over to the man waiting for him and shook his hand and smiled. It was new team president Neil Glat. Good move, kid. Talk about a good first impression. And he wasn't too bad on the field...
I was recently asked to provide some insight into the legend that is Tim Tebow. Alan Schechter of The JET Press wanted to know what I thought of Tebow as an NFL quarterback. As a fan of the New York Jets – Tebow's new team (Seriously, you didn't know that? Sheesh!) – Alan wanted to know what a Florida Gators fan thought of the former orange and blue star and his prospects...
In case you haven't noticed, all three of the New York Jets division rivals have been fairly active this off-season. Today's 12 pack is dedicated to examining which of those moves will have the biggest impact. I can promise you the Jets will be a consensus pick to battle for last place with Miami this year while Buffalo will be everybody's sweetheart pick to challenge New England...
Just as NFL teams are assembling top-notch talent to compete in the upcoming season, so too are their cheerleading squads. We take you to the New York Jets Flight Crew auditions where athletic and attractive women came from near and far to grab a spot on the team. The Jets even had some cosplay action with girls dressing up as Barbie and naughty schoolgirl. Let's get to these fantastic...
It's not unusual for high school girls to be boy crazy over their prom date, but one Iowa senior had Tebowmania. Rachel Bird of Kingsley-Pierson High School in Iowa took a Tim Tebow cardboard cutout to her senior prom. Bird asked the New York Jets quarterback to the dance via Twitter, but when she did not hear back the 18-year old cheerleader took matters into her own hands. Making...
NFL News

Delivered to your inbox

You'll also receive Yardbarker's daily Top 10, featuring the best sports stories from around the web. Customize your newsletter to get articles on your favorite sports and teams. And the best part? It's free!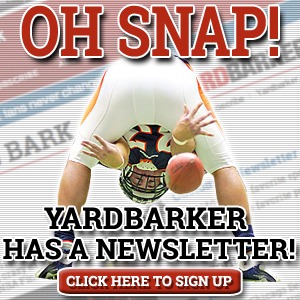 Latest Rumors
Best of Yardbarker

Today's Best Stuff

For Bloggers

Join the Yardbarker Network for more promotion, traffic, and money.

Company Info

Help

What is Yardbarker?

Yardbarker is the largest network of sports blogs and pro athlete blogs on the web. This site is the hub of the Yardbarker Network, where our editors and algorithms curate the best sports content from our network and beyond.