Found August 02, 2012 on Turn On The Jets:
PLAYERS:
Shonn Greene
,
Joe McKnight
,
Bilal Powell
,
Terrance Ganaway
,
Tim Tebow
,
Jeff Otah
,
Wayne Hunter
,
Austin Howard
,
Vernon Carey
,
Calvin Pace
,
Bryan Thomas
,
Rex Ryan
,
Mike Pettine
,
Ricky Sapp
,
Ellis Lankster
,
Darrelle Revis
,
Antonio Cromartie
,
Kyle Wilson
,
Yeremiah Bell
,
LaRon Landry
,
Josh Bush
,
Josh Baker
,
Jeff Cumberland
,
Hayden Smith
TEAMS:
New York Jets
,
Carolina Panthers
,
Miami Dolphins
,
Wake Forest Demon Deacons
Throughout the season, we will periodically poll our Twitter followers for what they want to see addressed in New York Jets Fact Or False. For our inaugural edition of The Tweeter's Choice, our readers brought the heat. Not one person disappointed with the issues they wanted to read about, which proves we have one of the most, if not the most, knowledgeable fan bases in all of football. Huge shout out to @Crazychimpan, @bleist25, @ItsOasus, @DrewFromJersey, and @Jetsforlife25 for sending in their suggestions this week. Be sure to give each of them a follow on twitter, and be sure to keep a look out all season, as we will certainly run another edition of this in the future. Thanks again, and enjoy!
8 DAYS UNTIL THE PRE-SEASON OPENER. WHERE IS YOUR NEW SHIRT?
The Jets will carry more than 5 RB/FBs going into season. (@Crazychimpman). False.
While five is a great over/under for the number of backs that will be on the active roster come opening day, don't expect any more or any less. The three guaranteed spots will be Shonn Greene, who will presumably be the starter barring an injury, Joe McKnight, for his Special Teams value will lock him in, regardless of whether or not Bilal Powell gets the nod as the third down back, and John Connor, who established himself as the starting Fullback early in training camp as the team has already decided to waive journeyman Fui Vakapuna.
The next two spots are the intriguing ones. You'd have to think that, with all the talk about Powell, he will make it. However, Powell must truly prove that he is worthy of being a valuable option as a third down back. McKnight isn't going anywhere, due to his worth on Special Teams, so for the team to carry two backs with strikingly similar skill sets, Powell must go above and beyond what's asked of him.
Rookie Terrance Ganaway is also a very interesting case. Ganaway was seemingly drafted because he looks to be a perfect situational fit for this season, with the hope that he will develop into a perfect schematic fit long term. He has great experience in the option offense, running for an astounding 1547 yards and 21 touchdowns last season at Baylor, while posting a remarkable 6.2 YPC, which makes him the most logical back in any Tebow package. Ganaway also has tremendous size at about 6'0" 240 lbs, which makes him an ideal fit for the Ground and Pound that New York plans to implement under Tony Sparano. Unless Ganaway really struggles to prove he is not yet NFL ready, he should remain on the roster.
The Jets will likely remain set with these five backs. Unless Powell is written off, it looks very doubtful that New York will look to add a veteran. If Powell does not prove to be worthy of a spot by the time the season begins, the Jets still may remain content with just four backs, while relying on Tim Tebow to be a huge contributor to the run game. The only way I truly see New York adding a veteran is if Powell tails off, and Greene struggles immensely during the pre-season. Otherwise, it looks like the Jets are ready to roll into the season with what is currently on the roster.
Trader Mike will make a move for another RT before camp is over (@bleist25). Fact.
Tannenbaum took a shot swinging a deal with the Panthers for Tackle Jeff Otah, which clearly did not work out due to the former first rounder's inability to pass a physical. With the Otah trade nullified, New York is back to square one with Wayne Hunter and Austin Howard as the two most logical choices at Right Tackle. Hunter has a serious edge over Howard, who will likely not see a significant down all season. That is a scary thought. Clearly, Mike T is aware of this, as displayed by the failed Otah trade. By now, I'm not sure anyone can argue with the notion that the Jets are not comfortable with the competition they currently have at the Right Tackle position.
The next logical step for Tannenbaum is to look to Free Agency. Many questioned why he hesitated to bring in a veteran during the offseason, but he likely wanted to see how Hunter and the other tackles looked during mini-camps and OTAs. Since Tannenbaum and the rest of the organization were clearly not satisfied, they can now look to add someone like Vernon Carey, who will come at a discount in comparison to what he may have cost them a few months ago.
"Mayhem" will play on more than just passing downs this season (ItsOasus). Fact.
Aaron "Mayhem" Maybin is already earning high praise from the media and coaching staff in the early stages of training camp. He has reportedly bulked up to 240+ pounds, which will help him greatly against the run. Calvin Pace will likely remain on one side of the field for the majority of downs, however the other side is open for competition. While most expect Bryan Thomas to retain the spot opposite Pace which he occupied prior to his season ending injury last year, there is a good chance we could see him in a limited role this season. While he has had success setting the edge on run-downs in the past, the praise Maybin has been receiving for his added size and relentless motor could propel him into an increased role to play a surplus of downs in a variety of spots on the outside. His versatility will be a huge weapon for Rex Ryan and Mike Pettine this season. Expect them to utilize that to the fullest extent.
Ricky Sapp will have more sacks than Calvin Pace this season (@DrewFromJersey). False.
Although Sapp has very exciting potential, he has still yet to record a sack at the NFL level. While he could very well break that trend this season, I wouldn't give him an edge over the seasoned veteran that is Calvin Pace, even if he is entering the twilight of his career. Since joining the Jets, Pace has gotten to the Quarterback a total of 26 times. Sure, his sack total has decreased each year since 2009, however his experience, along with the amount of reps he will receive should make him good for at least 4 sacks, if healthy. Sapp, on the other hand, may still be able to compile 2-3, but will likely be used far less. Additionally, players with very little experience in real NFL game situations, unless tremendously talented, tend to compile more QB hurries and knockdowns, rather than actual sacks. Timing is everything on getting to the Quarterback before he gets rid of the ball, and it will likely take a full season of game experience before Sapp gets used to executing his moves just at the right time.
Early Camp Star Ellis Lankster will become a serious playmaker and collect at least 3 Interceptions as a shutdown nickel-guy this year (Jetsforlife25). False.
Lankster's progress is extremely encouraging for New York thus far. With a serious question mark heading into training camp as to who would assume the role of the fourth cornerback, Lankster has provided a breath of fresh air for coaches and fans. However, he has played in just 17 total games over the course of his career, and has yet to register an interception. Additionally, the amount of reps he gets will likely be very limited. The Jets have a surplus of defensive backs including three excellent corners in All-World Darrelle Revis, Antonio Cromartie, and Kyle Wilson, whom many believe is on his way to becoming a very good corner in this league, as well as the Safeties Yeremiah Bell, LaRon Landry, and Rookie Josh Bush, who is realistically the best cover Safety on the roster. For Lankster, it will all come down to scheme. His inexperience will have some, but not much, effect on his ability to become a playmaker.
However, if the Jets choose to put out more packages of Revis, Cromartie, Wilson, and two safeties, which seems like the most logical approach, other than third and long scenarios, Lankster may not get the amount of snaps necessary to truly establish himself as a serious playmaker, while compiling 3 interceptions. As well as Lankster has been playing, it is unlikely he will beat out Wilson for reps as the third CB. You'd like to think with improved Defensive Line and Safety play, New York will not see a surplus of third and long scenarios this season. However, if these positions fail to live up to their potential, then all bets are off.
Josh Baker is the 2nd best TE on the roster (DrewFromJersey). Fact.
Baker wins the spot as New York's second best TE, somewhat by default. Jeff Cumberland has great potential, and has showed flashes of solid play in the past, but he has participated in just 4 career contests. Baker, on the other hand, saw action in 11 games last season, while hauling in 3 balls for 27 yards, including a touchdown on Christmas Eve against the Giants. Hayden Smith is very intriguing, but as a guy who has never played a down of football in his life, he certainly does not have the edge over his competition just yet. The key for whoever becomes the second Tight End this season will be their ability to block. Unfortunately for New York, not one of them has truly proved to be able to do that, so it will be very interesting to see how this plays out.
Josh Bush will struggle in a forced role as the Jets only true cover safety (Jetsforlife25). False.
The fact that Bush will be forced into a role as the only true cover safety on the roster will actually benefit him. Prior to becoming a safety at Wake Forest, Bush was a corner, and has been noted for his cover abilities throughout his career. Last season, Bush had a team best 6 interceptions earning him First-Team All ACC accolades, as well as a spot as a third teamer on the All-American squad. Bush has sub 4.5 40 speed, and under the tutelage of savvy veterans like Landry, Bell, and Revis, he should fit nicely in a center field type role for the Jets. Sure, he will have his growing pains, but Bush will ultimately succeed more often than not this season.
Original Story:
http://turnonthejets.com/2012/08/new-...
THE BACKYARD
BEST OF MAXIM
RELATED ARTICLES
YES WE CAN!
President Barack Obama chimed in on the potentially caustic situation the Jets face with having both Tim Tebow and Mark Sanchez on the roster.
TJ Rosenthal of The Jet Report is back with another feature, today looking at the New York Jets ongoing struggles with media exposure. Make sure to give TJ a follow on Twitter and to follow his work all season long at both The Jet Report and here at Turn On The Jets  For the Jets, the offense with their return to the Ground and Pound, and the defense with their newcomers and hopeful...
The New York Jets announced a few small roster moves today, signing cornerback Devon Torrence and releasing fullback Fui Vakapuna and defensive back Tracy Wilson. Devon Torrence spent time with the Minnesota Vikings and Cincinnati Bengals last season, now entering his second year in the NFL out of Ohio State. The New York Jets are staying busy with small roster tweaks early on...
Today's New York Jets practice featured some goal line action, and ultimately the first look at Tim Tebow wildcat operating in a goal line/short-yardage situation. As has been the case all offseason, the reps were scrutinized, with stats kept to compare the performances of Mark Sanchez and Tim Tebow. Beyond the the comparisons of the performances of Mark Sanchez and Tim Tebow...
Chaz Schilens was offended by cornerback Antonio Cromartie's recent comments that he thinks he's the New York Jets' second-best wide receiver, calling it a ''slight'' to the players at his position. Cromartie, who could play some at receiver this season, was asked on ''ESPN First Take'' on Tuesday where he thinks he'd rank on the depth...
It didn't take long for the New York Jets to undergo some turmoil, as they appear to be a team who just can't seem to stay out of trouble every time they open their mouths. The best thing about the Jets' controversy is that it is always someone new. That is what makes it ever so interesting. In the past, head coach Rex Ryan has spoken out about – well, everything – and...
The Jets are always in the headlines especially when it comes to off the field commentary. Jets CB Antonio Cromartie got the party started Tuesday during an appearance on ESPN's First Take by stating that he is the team's second best wide receiver. "I think I'd put myself as second," Cromartie said, "I haven't really [...]
Not sure if this guy is on his way home from NY Jets training camp, but I think it is safe to assume he has more of an allegiance to Tim Tebow than anyone else. Note the stick alongside the "TEBOWIN" license plate, just in case anyone was confused about what it said. H/T Deadspin
It's all over ESPN and now NFL network has got into the mix. Tim Tebow is the most covered back-up player in any position of any sports ever. Ever since he was traded to the New York Jets during this off-season the idea of what Tebow is going to do has been up in the air. We have had rumors of special teams, to starting quarterback. No one really knows what Rex Ryan and the Jets'...
Add President Obama to the list of people who question the move made by the New York Jets to acquire quarterback Tim Tebow from the Denver Broncos this past offseason. Even he knows that adding a less than average quarterback to a team which already includes a less than stellar quarterback is going to add much unnecessary controversy to a team who is not lacking any as it is already...
As you probably have heard (it involves NY Jets backup quarterback Tim Tebow for Christ's sake), President Obama called into a sports radio show on Ohio's 97.1 WBNS-FM: "I don't like the idea of a... Full story at Bob's Blitz ~ http://www.bobsblitz.com
Rick Laughland from Scout.com's Green and White Report joins Fox Sports Tonight to discuss the training camp drama of the New York Jets.
NFL News

Delivered to your inbox

You'll also receive Yardbarker's daily Top 10, featuring the best sports stories from around the web. Customize your newsletter to get articles on your favorite sports and teams. And the best part? It's free!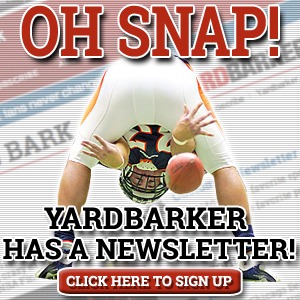 Latest Rumors
The Backyard

Today's Best Stuff

For Bloggers

Join the Yardbarker Network for more promotion, traffic, and money.

Company Info

Help

What is Yardbarker?

Yardbarker is the largest network of sports blogs and pro athlete blogs on the web. This site is the hub of the Yardbarker Network, where our editors and algorithms curate the best sports content from our network and beyond.