Found June 10, 2012 on Turn On The Jets:
PLAYERS:
Santonio Holmes
,
Mark Sanchez
,
Tim Tebow
,
Stephen Hill
,
Matt Slauson
,
Quinton Coples
,
Demario Davis
,
Darrelle Revis
,
Chad Ochocinco
,
Terrell Owens
,
Joe McKnight
,
Allen Iverson
TEAMS:
New York Jets
,
New England Patriots
,
Cincinnati Bengals
Everyone, please take a deep breath and absorb the following facts:
Today is June 10th.
The Jets first regular season game is on September 9th.
Training camp doesn't open for roughly 7 weeks.
The events taking place now at Jets OTA's are not even mandatory for the players.
Please, try to remember these things next time you take to your keyboard to bash Jets players and coaches on Twitter or your Jets message board of choice. Remember that before you bash Santonio Holmes to your co-worker at the water cooler. Hell, try to remember that before you comment on this very article or on my Twitter page to tell me what an idiot I am for saying these things. Let's all just take a deep breath and remember today is June 8th, because I'm getting awfully fed up with reading some of the things the media and Jets fans alike have been spewing the past few weeks. Let's run down the ridiculousness:
Santonio Holmes threw his Helmet- Yes, Santonio Holmes threw his helmet on the field because his body was breaking down and he felt like he couldn't continue with more reps. So? This is a far more common occurrence at spring OTA's than all the genius commentators would like to believe. Also, before Holmes sat out, he was working with all the Jets young receivers on their routes and being a leader, as much as it pains some of you to admit. And no, Holmes wasn't prepared for a full workload, which is somewhat disappointing to some. But why was that? Glad you asked..
Santonio Holmes chose to spend time in Germany instead of with Jets- Yep, some Jets fans, and even one prominent beat writer whose name rhymes with Pitch Fimini, decided to take shots at Holmes because he was late to OTA's due to being in Germany — doing charity work!  It's June, and he was a few days late to voluntary workouts because he was doing charity work. Let's just cut him right now! And don't laugh, because thats exactly what I've been reading from some super-smart internet posters. I even saw some of them say Holmes purposely schedules these charity events during football times so he doesn't have to show up. I'm literally shaking my head right now. Nevermind that Holmes is back now and committed to showing up to Jets West this year. Why does nobody care about that? Because..
TEBOW (!!!) is going to Jets West!- That's right, hold the presses! A Jets player is going to Jets practices! And not only is he just going, but because he's going, it shows that..
Mark Sanchez is scared of Tebow- Yep, these are real things we have been hearing. Mark Sanchez invited Tebow to Jets West, not because he's a quarterback and could use the offensive practice with his teammates, but because he's weak and scared of Tebow. Somehow this makes sense to some. I wish I was making this up. I wish I was also making up these big stories..
Tim Tebow's dog is named Bronx, and he may or may not live in Hoboken – Glad we cleared those things up. That's the kind of hard hitting analysis and pertinent information the internet was created for. I guess it was also created so Jets beat writers could tell us in real time that..
The Jets Offense is Terrible – Yes, the Jets offense stinks. Might as well not even show up come September. Sure yesterday's practice took place on June 7th, with the season three full months away. And sure, they're working on a whole new offensive system with many new players being incorporated. And sure Holmes, Stephen Hill, and Matt Slauson weren't participating. The fact is the Jets offense stinks, and that's final. Nevermind that the offense has to go against arguably the best defense in the NFL that has been playing together and in the same system for four years now. And let's not focus on the fact that Quinton Coples, Mo Wilkerson, DeMario Davis, and some of the other young defenders up front have looked great. The easy story to sell here is that the Jets offense stinks, and that's what we're going with! Oh, speaking of the defense and easy stories to sell..
Darrelle Revis is "an asshole"- Yep, it's true. He has shown up to every single team event, function, and practice this whole offseason but somehow he's Public Enemy #1 because he might hold out. That's right, he MIGHT hold out. He didn't say he will, or that it's even likely. He hasn't skipped any OTA's or boycotted any team events. But still, "Jets fans" everywhere have already begun bashing him on the internet, with one particularly caring fellow eloquently telling him on Twitter to "Eat *******. Stay classy! How else can we create some headlines? Just say..
Jets will be interested in (Fill in the Recently Released Washed Up Veteran here)- In this case, the Recently Released Washed up Veteran is Chad Ochocinco. Twitter pal Kristine Reese just wrote an excellent article about this. Before Ocho, it was Terrell Owens. Ochocinco was just cut from the Patriots and appears washed up, which is still a few steps ahead of his former teammate. Owens was recently released from the UFL, but hey, he was a big name a few years ago, so surely the Jets want him, right? If you're a Jets fan and you want these guys on the 2012 team, please go find a wall and slam your head into it a few dozen times until you realize the error of yours ways. When you're done doing that, you can also apologize for saying that..
Joe McKnight ate McDonalds and is fat now – Ugh. So Joe McKnight, who played last season at around 200 lbs, knew he was going to have a bigger role on offense this year and bulked up to 215 lbs to be better prepared for the season. To me, that seems like a GOOD thing. A player went out on his own time and improved his body to better perform this season. But when he showed up to camp, he joked that he put on that weight by eating McDonalds every day. Did it matter that he was just joking and there's not an ounce of fat on him? No, of course not. The fans who never quite forgave him for looking bad on Hard Knocks jumped all over this and talked about how he's out of shape and a bust. Great.
I hope Joe learned a valuable lesson there. When it comes to the Jets, every single little thing you say or do gets sensationalized, scrutinized, and talked about for days. It's easy to blame the media for all this, but it's the fans' fault too. So please, Jets fans everywhere, I implore you: Before the next time you go off on a rant about your favorite team or some of the players this summer, please try to remember: Today is June 8th, and to borrow a quote from Allen Iverson, we're talking about practice. Get back to me on September 9th. Or even better, get back to me next January when the Jets are making a run through the playoffs.
Original Story:
http://turnonthejets.com/2012/06/new-...
THE BACKYARD
BEST OF MAXIM
RELATED ARTICLES
GOOD LORD
A die-hard fan apparently thought it would be a good idea to pay tribute to his favorite Gators quarterback by getting a tattoo on his shin that has to be seen to be believed.
The New York Jets have a 3 day mini-camp kicking off tomorrow. It will be the last time the full team is gathered before training camp which starts at the end of July. The skill position offensive players will be gathering in the coming weeks for Mark Sanchez's "Jets West" camp but that will smartly be closed to the media. I threw the question out on Twitter earlier today...
Being the polarizing figure that he is, Tim Tebow has been the brunt of a million different critics. Well, keeping with the trend, here's the latest from No. 1,000,001. During a segment on ESPN's NFL32, analyst Tedy Bruschi opined that Tebow, seeing how he's not the starting quarterback, should do the team (and Mark Sanchez) a solid by ducking out of sight. "Stop talking...
I thought we'd take a minute to show you the most hideous Tim Tebow tattoo that I've ever seen, thanks to LarryBrownSports.com. I would hope that the guy who had this etched into his leg forever, either received the tattoo for free or paid under $10 for it.
At the beginning of every season as a Patriots fan, I tend to have a look around in the AFC East to size up the competition and see who might stop us from once again winning the division.  As usual, I don't see much to worry about as Miami is having quarterback issues, Buffalo trending to still disappoint, and the Chris Angel meets Pennywise the clown show in New York, home of...
THE NERVE!
It is a new week, so we have a new Tim Tebow story to talk about. This time it is thanks to ESPN analyst Ted Bruschi, who had some choice words for the superstar backup QB of the New York Jets. "Stop talking to the media so much," Bruschi said. "You need to disappear, okay, [...]
Cosby Sweaters found a nice bit of video -- NY Jets chronic walkabouter walking out on a lame Punk'd episode. A few decent zingers but, ah -- just fast forward to 16:30. Get More: Punk'd, Full... Full story at Bob's Blitz ~ http://www.bobsblitz.com
Braylon Edwards is a popular topic among New York Jets observers, as he endeared himself to the faithful with his big plays, all-out effort and physical blocking on the edge. That kind of play also left an impression on Jets head coach Rex Ryan, who has lauded Braylon Edwards for living up to the motto, "Play Like A Jet." While there is still some whispering about a possible...
Safety LaRon Landry has yet to play a down as a Jet, but could his career in New York be over before it even begins?
Jets wide receivers Santonio Holmes and Stephen Hill sat out most of Tuesday's minicamp session with hamstring injuries. Holmes' injury was previously undisclosed but isn't considered serious, coach Rex Ryan announced. Holmes expected to try to do some work this week. The heated exchange with wide receivers coach Sanjay Lal wasn't a factor in Holmes not practicing...
NFL News

Delivered to your inbox

You'll also receive Yardbarker's daily Top 10, featuring the best sports stories from around the web. Customize your newsletter to get articles on your favorite sports and teams. And the best part? It's free!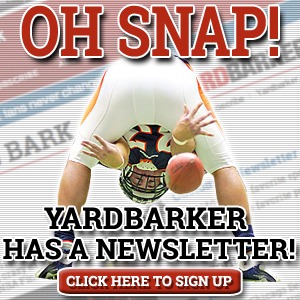 Latest Rumors
Best of Yardbarker

Today's Best Stuff

For Bloggers

Join the Yardbarker Network for more promotion, traffic, and money.

Company Info

Help

What is Yardbarker?

Yardbarker is the largest network of sports blogs and pro athlete blogs on the web. This site is the hub of the Yardbarker Network, where our editors and algorithms curate the best sports content from our network and beyond.