Found June 19, 2012 on Turn On The Jets:
PLAYERS:
Tim Tebow
,
Bart Scott
,
Rex Ryan
,
Mike Pettine
,
Mark Carrier
,
Eric Mangini
,
Yeremiah Bell
,
LaRon Landry
,
Quinton Coples
,
Demario Davis
,
Josh Bush
,
Aaron Maybin
,
Muhammad Wilkerson
,
Bryan Thomas
,
Darrelle Revis
,
David Harris
,
Calvin Pace
TEAMS:
New York Jets
,
Minnesota Vikings
,
Cleveland Browns
The buzz around the New York Jets defense heading into this season is that the potential is there to return to an elite unit in the NFL. In 2009, the Jets were 1st in total defense. In 2010, the Jets were 3rd in total defense. Last season they were down to 5th in total defense. It isn't exactly like they were awful but much of the luster was gone, particularly when Tim Tebow drove down the field on them for a game winning touchdown, New England shredded them in their own building and Philadelphia embarrassed them late in the season.
Simply put the Jets defense lost their swag, aptly demonstrated by the loudest mouth on the team, Bart Scott struggling through a subpar year. This was a unit that was too slow, didn't make enough big plays and didn't put fear into opposing offenses the way it did for stretches of the 2009 and 2010 season. They became predictable and stopped attacking.
Why is there such a high amount of chatter about improvement this season?
Coaching – Rex Ryan will be taking a much more hands on role with the defensive playcalling this season after giving many of the duties over to Defensive Coordinator Mike Pettine last year. This isn't a knock on Pettine but it will be good to have Rex more involved in the day to day planning of the defense. In 2009, Ryan taught his system with great success and the Jets are now "going back to square one" with their installation which will help with fundamentals and preventing the amount of mental mistakes that occurred last year.
Beyond that, the Jets wisely hired Karl Dunbar away from the Minnesota Vikings to be their defensive line coach. We have sung Dunbar's praises at length here at TOJ and for good reason. The Jets had a defensive back coaching their defensive line last season in Mark Carrier, they now have a well-respected line coach who coached one of the league's best defensive lines over the past few years. More importantly, Dunbar has the knowledge to help the transition to using more 4-3 looks.
Versatility – The Jets aren't going to be as locked into the 3-4 as they were in the past. With the strength of this year's defense (outside of cornerback) being the defensive line, they will be using more 4-3 and 46 alignments. This is a wise move and credit the coaching staff for not trying to fit square pegs into round holes (something Eric Mangini loved to do). The Jets have better depth and talent on their defensive line than at linebacker, so why not make more of an effort to get those players on the field?
Personnel Additions – There weren't a ton of these but they notably they improved the safety position by adding Yeremiah Bell and LaRon Landry and added needed speed in the front seven by drafting Quinton Coples and Demario Davis. Bell, Landry and Coples all project as opening day starters and Davis should see action on passing downs. They also drafted Josh Bush in the sixth round, who will see action at free safety.
Internal Improvement – Bart Scott has dropped weight and by all indications looks poised to be more of the player he was in 2009 and 2010 than he was in 2011. Aaron Maybin has now had a full off-season to work with the coaching staff and improve his craft in Rex Ryan's system. Muhammad Wilkerson had a terrific off-season and looks ready to build on a quietly strong rookie year. Bryan Thomas is returning from missing most of last season with injury.
Still Elite – Darrelle Revis and David Harris. The best corner in football and one of the top five inside linebackers in football still suit up in Green and White.
What you should have is a unit that is deeper at linebacker, defensive line and safety than it was last season. It should also be a unit better equipped to bounce between a 3-4, 4-3 and 46.
Is there still question marks? Yes. The Jets still lack a proven coverage safety. They would be wise to add another corner for depth purposes (Drew Coleman anyone?) and Bart Scott, Bryan Thomas, and Calvin Pace have plenty to prove at linebacker. However, from top to bottom the Jets are equipped to have the best defense in their division and one of the best in the NFL.
Original Story:
http://turnonthejets.com/2012/06/new-...
THE BACKYARD
BEST OF MAXIM
RELATED ARTICLES
An ongoing narrative this off-season in the NFL has been a love affair with the Buffalo Bills, who have been crowned by many as New England's biggest threat in the AFC East and a sleeper Super Bowl contender. The consensus seems to be that the New York Jets window has closed and the Bills are ready to overtake them in the divisional standings. Where does the logic of this thinking...
Jets quarterback Tim Tebow has been lauded for his work off the field as frequently as he's criticized for his on-field performance. Tuesday, the Pro Football Writers of America named Tebow the 2012 Good Guy Award winner. Tebow, traded to the Jets in March following the Broncos' acquisition of Peyton Manning, was given the honor, which is bestowed upon a player each year...
The New York Post reported earlier today that the Jets have decided against bringing back wide receiver Braylon Edwards for a sequel this autumn in the swamps of Jersey. Since the 29-year-old Edwards was cut by the San Francisco 49ers … Continue reading →
The San Diego Chargers will announce later this afternoon that they will sign RB LaDainian Tomlinson to a one-day contract in order to allow the veteran running back to retire as a member of the team which drafted him 2001. Tomlinson was a free agent after playing out his two-year contract with the New York Jets, but drew no interest from teams around the league. The five-time Pro...
Will wonders never cease? Despite his reputation of being something of an irrepressible cad, New York Jets quarterback Tim Tebow has been named the recipient of the Professional Football Writers of America 2012 Good Guy Award, defined as follows: "The Good Guy Award is given to a NFL player for his qualities and professional style [...]
LaDainian Tomlinson has decided to call it a Hall-of-Fame career, as he announced he will sign with the San Diego Chargers and retire where it all started for the 11-year veteran. Tomlinson will retire in 5th place on the all-time rushing yards list behind only Emmitt Smith, Walter Payton, Barry Sanders and Curtis Martin. What is even more impressive is that LT is in extremely rarified...
HOW SWEET
As if it wasn't already clear that the media loves Tim Tebow, the writers have given him an award to make sure you knew it.
Running Back and Charger great Ladainian Tomlinson will end his storied career after 11 seasons in the NFL, nine of which were spent with the Chargers. He was drafted by the Chargers with the fifth overall pick. (Chargers originally picked in the number one and traded down with the Atlanta Falcons). The future Hall of Fame back leaves the league after a legendary list of achievements...
LaDainian Tomlinson announced his retirement Monday in San Diego, and there was no debate about his place in Chargers' history. "Few players, if any, have meant more to this franchise than LT. He was the heart and soul of this team through one of the most successful decades in our history," said team president Dean Spanos. "I couldn't wait to watch him play...
Most of the world failed to witness that, before retiring Monday, LT was a living legend.   Sometimes, we struggle to witness greatness when it should be most tangible. That is especially true in the world of sports. Names like Jim Brown, Walter Payton, and Earl Campbell become immortalized in the lore of football, rendered superhuman, mythological, and untouchable. They are the...
Click on the photo for six sexy moments in advertising Using sex in advertising isn't a new thing.  In fact it's one of the most tried and true methods of attracting attention in the universe.  It will be around forever and as long as it exists I will be linking to instances of it on [...]
Tim Tebow is the player that every analyst seems to love to hate. They continually mention his poor mechanics and the 46.5 percent completion rate and 72.9 passer rating he posted last year. They also bring up the thrashing that the Broncos took at the hands of the eventual Super Bowl runner-up New England Patriots.. What they fail to mention is the ride he took the Broncos on...
NFL News

Delivered to your inbox

You'll also receive Yardbarker's daily Top 10, featuring the best sports stories from around the web. Customize your newsletter to get articles on your favorite sports and teams. And the best part? It's free!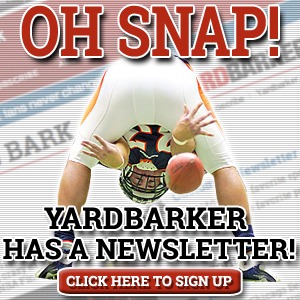 Latest Rumors
The Backyard

Today's Best Stuff

For Bloggers

Join the Yardbarker Network for more promotion, traffic, and money.

Company Info

Help

What is Yardbarker?

Yardbarker is the largest network of sports blogs and pro athlete blogs on the web. This site is the hub of the Yardbarker Network, where our editors and algorithms curate the best sports content from our network and beyond.