Found August 14, 2012 on Turn On The Jets:
PLAYERS:
Mike Tannenbaum
,
Jeff Cumberland
,
Manny Lawson
,
Mark Sanchez
,
Justin Peelle
,
Daniel Graham
,
Stephen Hill
,
Patrick Turner
,
Jordan White
,
Royce Pollard
,
Santonio Holmes
,
Jeremy Kerley
,
Cedric Benson
,
Shonn Greene
TEAMS:
New York Jets
,
New Orleans Saints
,
Green Bay Packers
It has become a weekly topic here at Turn On The Jets to question the New York Jets depth on the offensive side of the football.  In general, Mike Tannenbaum has done more good than bad since becoming the team's general manager. The extent he is criticized by outlets like Pro Football Talk and Mike Lombardi on NFL.com is overdone and out of touch with reality. Regardless, facing arguably the most important season of his career, he has been surprisingly (and somewhat disturbingly) inactive in addressing his team's issues. Let's start with something as simple as acquiring a blocking tight end before getting into the tired running back/wide receiver debate. The New York Jets want to be physical on offense. The New York Jets want to run the football. The New York Jets have pass protection issues at right tackle. The New York Jets don't have a single blocking tight end on their roster. This makes no sense. You can't bring in Jeff Cumberland to help block if he can't even get a hand on the immortal (sense my sarcasm?) Manny Lawson before he steamrolls Mark Sanchez. There was no logical reason for the Jets not to bring a player like Justin Peelle, Daniel Graham or another blocking tight end before training camp. Pittsburgh just signed Peelle to improve their depth at tight end and fullback because of an injury they sustained because smart teams who are perpetually in the playoffs and Super Bowls make sure they have depth. If Jeff Cumberland keeps getting beat like a drum, perhaps Tannenbaum will sign a player a week or so before the season starts. That player will then have limited time to master the offense and pick up chemistry with the offensive line, likely leading to an early season slew of penalties and miscommunication…aka Matthew Mulligan 2.0. Why wait? At wide receiver, Stephen Hill hurt his finger today in practice. Let's say the Jets play it safe and keep him out this week against the Giants. Mark Sanchez will be throwing to a top three of Patrick Turner, Jordan White, and Royce Pollard. Not exactly the best way to break in a new offense for the Jets starting quarterback, right? Throughout the year if Hill gets hurt because he is a rookie and isn't used to the rigors of a NFL season or Santonio Holmes re-injures his ribs or Jeremy Kerley's balky hamstring acts up, where is the depth? The Green Bay Packers just signed Cedric Benson. They did this because smart teams who are perpetually in the playoffs and Super Bowls make sure they have depth. Green Bay might run the ball 25% less than the Jets do this year but now have better depth than them at running back. Is Mike Tannenbaum and the Jets front office that much smarter than Green Bay that they couldn't take on Benson for a veteran's minimum deal? All it takes is a rolled Shonn Greene ankle for the Jets to have the worst depth chart of running backs in the NFL…I repeat all it takes is a rolled Shonn Greene ankle for the Jets to have the worst depth chart of running backs in the NFL. The mighty Ground and Pound who is going to run it more than any team in the NFL will not have a single back on the roster who has eclipsed 150 yards in a season. Smart teams who are perpetually in the playoffs and Super Bowls make sure they have depth. Wake up Mike.
Original Story:
http://turnonthejets.com/2012/08/new-...
THE BACKYARD
BEST OF MAXIM
RELATED ARTICLES
There are two problems with Chad Johnson signing with a new NFL team The first one is because he was cut so early in Dolphins camp, we don't really know what his skill set is right now. Was last season with the Patriots a fluke or has he just lost it? The second problem is that the team that brings him in, has to have a coach as flamboyant as he is. That eliminates a lot of...
Curious about how the Jets are planning to use Tim Tebow in their new offense? Well, too bad. The Jets aren't telling -- and they're not letting anyone else spoil the surprise, either. New York practiced its Tebow-led Wildcat offense on Monday, although the team is doing its best to keep that a secret. So much so, they aren't allowing the media to report on the goings...
ESPN has a love affair with Tim Tebow and the New York Jets.  As a Jets fan, I should be really happy about all this coverage, but I'm going to tell you, I would IF the coverage was about football. What's the new cheer in CT these days?  E-S-P-N JETS JETS JETS!! Other than Jets fans, do you think the sports world cares about what movies the Jets saw on their off days, a...
Tim Tebow is on the cover of GQ Magazine for the September issue.  You can no longer call Mark Sanchez the GQ QB.  They both are, but there is a buzz about the article.  Read it here.  In the spread, there is a photo of Tim in the Jesus Pose and it's probably going to cause a stir.  GQ knows what they are doing, don't they?   Cha-Ching.  Craiq Carton, on his show this...
"Third drive we started to move the ball a little bit. Got a little scramble there, channeling my inner Tebow and got a first down so that was good." Those were New York Jets quarterback Mark Sanchez's remarks during a sideline interview in his team's first preseason game (and loss) against the Cincinnati Bengals. The off-the-cuff remarks were both humorous and...
Introducing the hottest wives and girlfriends in the NFL – 2012 edition.  This is a fun little article that seems to draw plenty of interest every year from the public, and we like to take votes to see who you think is the hottest. Please take a moment to register for an account so you can cast your vote, and talk fantasy football in the forums.   #1 Gisele Bundchen (Wife...
The New York Jets and team general manager Mike Tannenbaum announced Wednesday that they signed cornerback LeQuan Lewis. Lewis signed last July as an undrafted free agent with the Tennessee Titans during training camp and performed well, but wound up being one of the last cuts prior to the start of the 2011 regular season. After he was waived by the Titans, Lewis was out of the...
Chad Pennington thinks the New York Jets, Tim Tebow and the wildcat are a perfect fit. The former NFL quarterback would certainly know. He was part of the tricky offensive scheme in Miami, when he played with the Dolphins under current Jets offensive coordinator Tony Sparano. ''If the wildcat allows you to win and be more successful,'' Pennington said Tuesday, ...
AP Photo New York Jets head coach Rex Ryan said that wide receiver Santonio Holmes might miss the rest of the preseason due to the rib injury he suffered about a week ago during practice. "Santonio Holmes may miss the entire preseason. Rex Ryan said on Wednesday that the Jets' No. 1 wide receiver may not be on the field again up the regular-season opener against the Bills on...
New York sports fans aren't exactly the most patient bunch in America. They want results and they want them fast. When the Jets traded up in the first round to get Mark Sanchez four years ago, the mindset became Super Bowl or bust. Sanchez led the team to two AFC Championships in his first two seasons as starting quarterback, but last year was a disappointment. Despite the slide...
The New York Giants have lost interest in the New York Jets, and some don't even see Rex Ryan and his circus as their biggest rival. The teams in the NFC East are the Giants' biggest concern these days, and some members of the Super Bowl champions could care less about bragging rights when the teams meet in their annual preseason game at MetLife Stadium on Saturday. Giants...
New York Jets defensive end Quinton Coples looked like a seasoned pro in his NFL debut. Find out how the former North Carolina standout prepared for his for the big moment during training camp.
NFL News

Delivered to your inbox

You'll also receive Yardbarker's daily Top 10, featuring the best sports stories from around the web. Customize your newsletter to get articles on your favorite sports and teams. And the best part? It's free!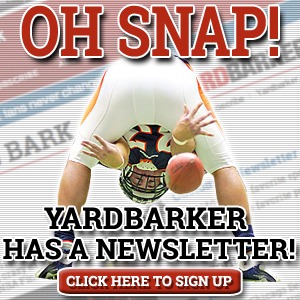 Latest Rumors
Best of Yardbarker

Today's Best Stuff

For Bloggers

Join the Yardbarker Network for more promotion, traffic, and money.

Company Info

Help

What is Yardbarker?

Yardbarker is the largest network of sports blogs and pro athlete blogs on the web. This site is the hub of the Yardbarker Network, where our editors and algorithms curate the best sports content from our network and beyond.